Benzoyl Peroxide
Benzoyl peroxide is a topical ingredient used to treat acne.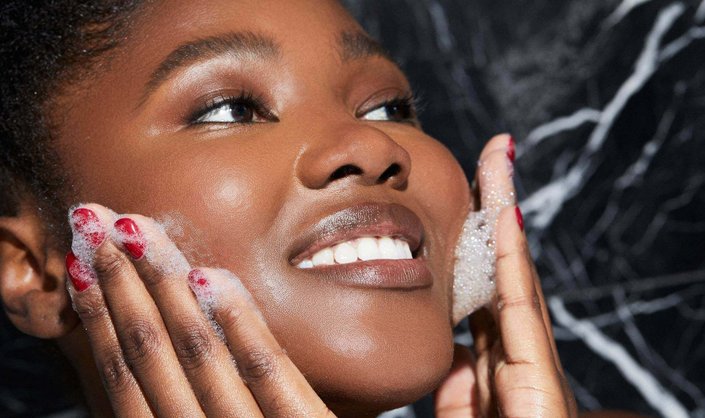 Benzoyl peroxide is a common topical treatment that's used to treat mild to moderate acne. It can be found in over-the-counter and prescription skincare products. When applied to the skin topically, it works to reduce acne-causing bacteria and pore-clogging dead skin cells to help minimize breakouts. 
The Benefits of Benzoyl Peroxide
Benzoyl peroxide is an antibacterial, acne-fighting ingredient made of benzoic acid and oxygen. It works by penetrating the pores or follicles of the skin to kill acne-causing bacteria and reduce oil production. You can find the ingredient in many different kinds of skincare products, including cleansers, creams and spot treatment. 
Benzoyl peroxide can be found in percentages between 2.5 and 10%. A higher concentration doesn't necessarily mean increased effectiveness and can cause potential irritation in the form of excessive dryness and peeling. Speak with your dermatologist about which percentage is best for you.
How to Use Benzoyl Peroxide 
Benzoyl peroxide comes in many forms, so it's important to select the right one for your needs and lifestyle. If you're using a benzoyl peroxide cream, lotion or gel, apply a thin layer to the affected area once or twice a day after cleansing. If you're using a cleanser, rinse all of it off before applying other products. Once you get started, remember that consistency is key — it may take several weeks to see results.
Because benzoyl peroxide can stain fabric, be sure to keep it away from towels, pillowcases and clothing. It's also important to note that benzoyl peroxide makes the skin more sensitive to the sun, so make sure to wear an SPF of 30 or higher to protect the skin from sun damage. 
Benzoyl Peroxide vs. Salicylic Acid
Like benzoyl peroxide, salicylic acid is a common zit-zapping ingredient used in acne-fighting skincare products. The key difference among the two is that benzoyl peroxide kills acne-causing bacteria, while salicylic acid is a chemical exfoliant that removes dead surface skin cells that can clog pores. Both can help address acne and prevent new blemishes from forming, which is why some patients choose to combine them. Keep in mind, however, that some may experience excess skin dryness or irritation when pairing the two ingredients together. Talk to your dermatologist about whether using the ingredients together is right for you. 
Our Editors' Top Products With Benzoyl Peroxide
CeraVe Acne Foaming Cream Cleanser 
This creamy cleanser is formulated with 4% benzoyl peroxide to help clear acne and  dissolve dirt and excess oil. It  also contains hyaluronic acid to help retain the skin's natural moisture barrier and niacinamide to soothe skin.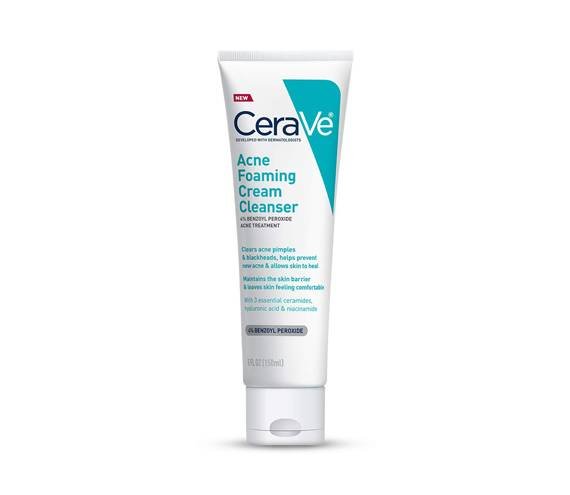 La Roche-Posay Effaclar Duo Acne Spot Treatment
This acne spot treatment is formulated with 5% benzoyl peroxide to help reduce the number and severity of acne blemishes, pimples, blackheads and whiteheads. We recommend applying a thin layer of the product on clean, dry skin before bed.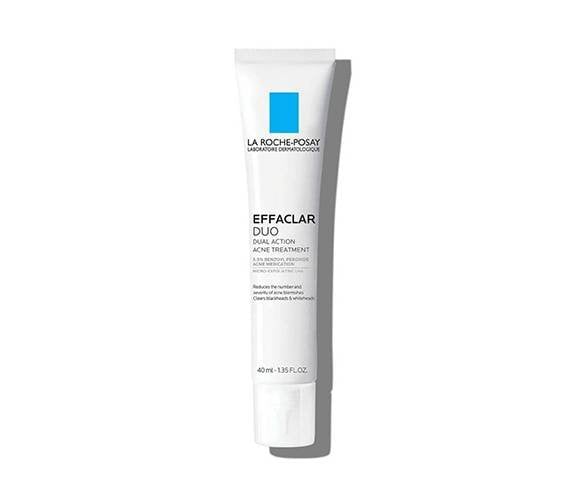 Back to top