These NYC Gyms Have the Best Skin-Care Products
April 02, 2019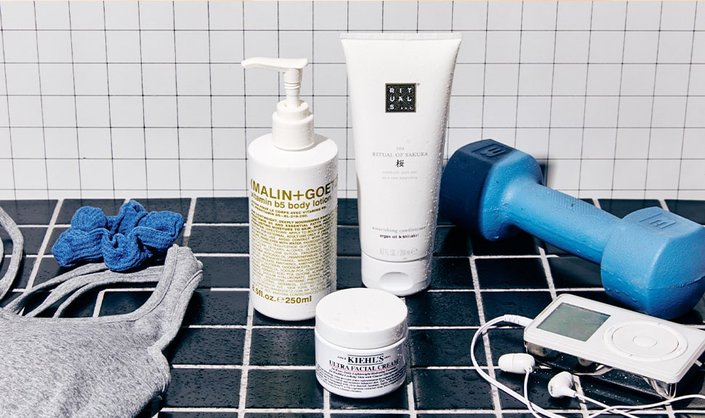 One of the biggest struggles I deal with as a human being is making decisions. The biggest ones include figuring out where to get dinner for date night, what I'm going to wear in the morning and my current debacle: where I should commit to getting a gym membership. In my defense, making a decision like this in NYC is akin to dishing out hard-earned funds for a new apartment or a brand-new car — in short, it ain't cheap. My ongoing struggle to find a gym makes it difficult to stay in shape, but on the bright side, I've finagled my way into trying a bunch of different gyms and classes (see: ClassPass, free trials and guest passes from my friends).
So as a beauty editor, you can bet that I'm going to scope out the locker rooms for quality products. And because NYC is home to so many fancy gyms with equally fancy products, I set out on a quest to test out as many as possible. In turn, I've discovered products I no longer want to live without. I may not have a gym to call my home, but I do have the following skin-care products — and it could be so much worse:
EQUINOX
Equinox is comparable to the following: an opulent spa, luxe-living or that fancy smoothie spot you treat yourself to about once a year. For that reason, it makes sense that the fitness center supplies Kiehl's in the locker rooms — and in its fully stocked shop. After showering with all things Kiehl's, you better believe I'm going to slather myself in Creme de Corps and Ultra Facial Moisturizer before taking on the day. As far as locker-room regimens go, this is a solid one.
MILE HIGH RUN CLUB
No matter what class you sign up for at Mile High Run Club, you're going to step off your treadmill sweatier than you ever imagined. Chances are, no amount of dry shampoo will be able to save your post-sprint hair, which means a shower is painfully unavoidable. Nevertheless, I've grown so attached to the Red Flower Icelandic Hair Wash and Softening Conditioner in the gym's showers that I look forward to using it while sprinting through my last few minutes of class. The smell of the shampoo and conditioner is a refreshingly floral fragrance that will hydrate and clean your hair thoroughly.
306 FITNESS
Everyone needs to twerk their heart out at 305 Fitness at least once in their lives — and then be prepared to do it all again and again. If you've been, you already know that it falls somewhere between the coolest party around and the sweatiest workout in the city. To pair with the studio's cool-ass vibe, it makes sense that the simple-yet-über-trendy skin-care brand Malin & Goetz lives in the changing rooms. Two products I look forward to using every time I'm at 305 are the Rum Body Wash (scented with the brand's top-selling dark rum fragrance that's so addictive) and the Peppermint Shampoo that transforms my sweaty gym hair into refreshed, clean locks.
CRUNCH GYM
On days when I'm not sprinting my a** off at Mile High, I'll book an hour's worth of open gym time at Crunch early in the morning. The workout is always good, but if I'm being honest, I also go for the hand soap. The number of times I've stared at the red square-shaped Happy Buddha Hand Wash from Rituals in the bathroom and considered stealing it is alarming. Don't worry, I've never actually done it, but the sweet yet zesty fragrance instantly boosts my mood, and it's infinitely better than the $5 generic soap I have it home.
Photo Credit: Photo: Chaunte Vaughn, Props Styling: Katrina Rozeville
Read More:
The Busy Girl's Guide to Post-Gym Skin Care
Gym Skin Care: Give Your Skin-Care Routine a Workout
Read more

Back to top