7 Skin-Care Products To Try This March
March 01, 2019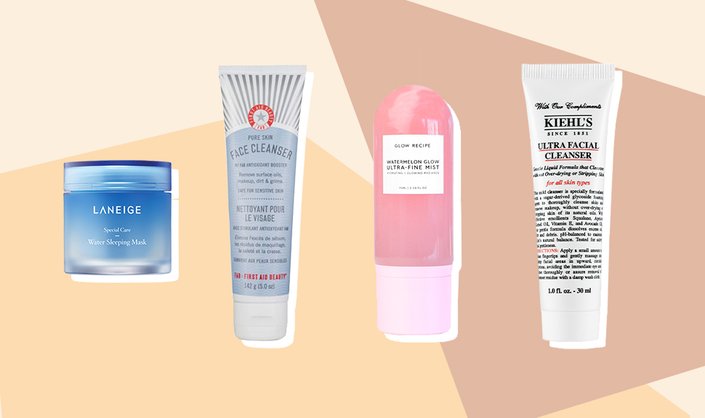 It's a brand new month, which means a new products are making their way into our bathroom cabinets and skin-care routines. These are the products Skincare.com's editors can't live without this March.
Minou, Growth Strategist
This is my go-to face wash for the winter as it doesn't over-dry my skin and it leaves my face feeling extra smooth and clean, whether I use it first thing in the morning or after I take off my makeup at night. Plus I love that the ingredients include vitamin E and squalane!
Jessica, Creative Producer
First Aid Beauty Skin Dreamzzz
Skin Dreamzzz by First Aid Beauty is a nice collection of moisturizing products that keep my skin feeling hydrated and fresh in the colder months. I'm especially loving the Face Cleanser, which is my go-to on the daily. It has a super thick consistency which gives my skin that *super clean* feeling.
Hannah, Graphic Designer
I don't know about you, but during the winter, my face becomes overly sensitive, dry and flakey. This is why I'm currently obsessed with this sleeping mask. Since I began wearing it over my moisturizer at night, I wake up with softer, smooth-looking skin and haven't seen a dry patch in weeks. I'm not kidding when I say this mask saved me this season.
Marisa, Associate Editor
 Like most people, I love a skin-care routine that's simple, yet effective. I've been in love with the brand Go-To for a while now, but it wasn't until recently that I started using the brand's Exfoliating Swipeys more frequently. I've been dealing with random breakouts, and when I use these at night, I notice a difference in the morning after. It helps that they smell so, so good (like oranges!) and feel cooling and refreshing on my skin. I'm tempted to use them every day, but exfoliating too much is never a good idea, so I stick to these twice a week.
Alanna, Associate Editor
Glow Recipe Watermelon Glow Ultra-Fine Mist
When I was first introduced to this foggy mist at an intimate breakfast for its launch in the cozy Pietro Nolita of Soho, I knew I was going to be hooked. Now, let me be clear here: I'm not typically a fan of face mists because I find that they often spritz out too much liquid, making my makeup feel runny and wet. This one creates a fog-like cloud of mist instead — making my makeup feel like it's still intact and my skin feel hydrated. Not to mention, the smell is simply addictive.
Tembe, Associate Editor
CeraVe Hydrating Hyaluronic Acid Serum
Usually I don't speak on a skin-care fave until I've had it in my routine for a few months, but this pick is so good that I couldn't resist. Let's begin with the texture. It borders on a lotion-like consistency that quickly dissolves when you work it in (a dream). It's a hyaluronic acid serum which means lots of hydration, but it also contains ceramides 1, 3 and 6-II, a CeraVe signature. I'll be wearing this everyday until further notice and anticipate an enviable, moisturized glow for many seasons to come.
Jessica, Assistant Editor
Kiehl's Creamy Eye Treatment With Avocado
I'm super late to this party but I just tried the Kiehl's Creamy Eye Treatment with Avocado this month and I can see why it's a best-seller. The nourishing eye cream delivers the perfect amount of hydration and goes on so smooth, especially under makeup. I use it morning and night every single day now.
Read more

Back to top