Career Diaries: Celebrity Esthetician Renée Rouleau
May 21, 2019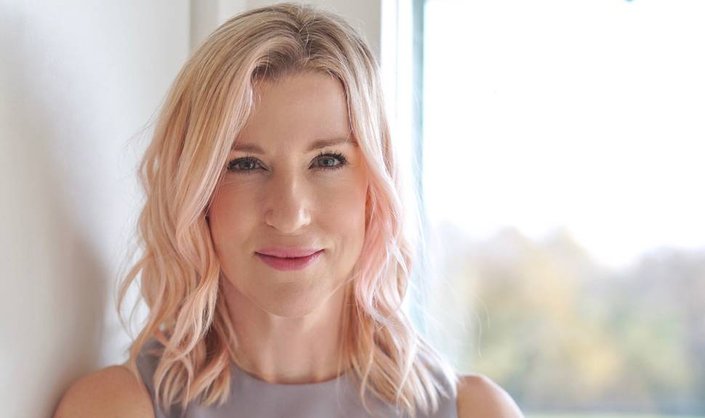 The first time I met Renée Rouleau, she gave me the best facial of my life, complete with some extractions, her signature Triple Berry Smoothing Peel and another soothing mask that made me look like an green-faced alien (in the best way). I also left with a skin type diagnosis, which, if you've tried Renée's product line before, you know is very important. Rather than your traditional skin-type classifications (oily, dry, sensitive, etc.), she has developed her own system that has worked wonders for celebrities and normal people alike who deal with major skin issues (cystic acne, be gone). She's the go-to esthetician for Demi Lovato, Bella Thorne, Emmy Rossum and more.
Ahead, learn more about Rouleau's skin types, how she got her start in skin care and which product skin-care newbies need to pick up, stat.
How did you get your start in skin care?
I was first introduced to the beauty industry as a young girl. My grandmother was a hairdresser and owned a salon called the Powder Puff Beauty Shoppe. It was really inspiring to grow up watching my grandmother, a single mother who became an entrepreneur, work in a business that made others feel good and look good. This had a profound effect on me and was instrumental in leading me on my path in the beauty industry.
At what point did you realize you wanted to start your own business? Did you face any challenges in this process?
I worked at a salon and became close with one of my coworkers who was an esthetician and about 13 years older than me; she acted as my mentor. When I first started in the skin-care industry, my mentor had been wanting to open up her own business for quite some time, but she had two young children, so she didn't want to do it alone. She took a chance on me and asked me to be her business partner. She saw how enthusiastic and passionate I was about skin care, how I was always helping others and that I was business savvy. When I was 21, we opened a skin-care salon together and successfully ran it for five years until I sold my half of the business. I moved to Dallas and started my own company. I'm sure I would have eventually started a business had she not asked me, but she looped me in at a young age. She and I are still great friends and I'm so grateful to have had a mentor as well as a great business partner, too. As for the challenges I faced in this process, I think the benefit of starting a business when you're 21 is that you're fearless. Any obstacle that came my way I figured out and continued moving forward. There weren't necessarily any major challenges, other than just trying to educate myself both in business and in skin care so that I was continually learning and growing in this industry.
Can you give us some insight into your skin-type guide?
When I first became an esthetician, I realized very quickly that the standard dry, normal and oily skin types I had learned about didn't work. The famous Fitzpatrick skin-typing system, which breaks the skin down into different skin types, provided some insight but didn't target the specific concerns people had about their skin. When I created my skin-care line, I realized that one size or those three sizes didn't fit all and I wanted to provide customized and personalized skin care. Around seven years after I became an esthetician, I realized there were nine types of skin. I've worked with thousands of clients throughout my years as an esthetician, and I can fit almost everyone into one of those nine skin types. Ultimately, people really relate to the skin types that I've provided. You can see the Skin Type Quiz I've created here. People appreciate being able to identify with this process and find a skin-type regimen that addresses all of their skin's needs because dry, normal or oil only recognizes how little or how much oil your skin produces. This is an important factor, but it doesn't touch on any other skin concerns that you might have such as aging, brown spots, breakouts, sensitivity, etc.  
If you had to recommend just one of your skin-care products, which one would you pick?
I most likely would pick my Rapid Response Detox Masque because so many skin types can use it. At some point, everyone deals with clogged pores and those stubborn breakouts that act up every once in a while. Rapid Response Detox Masque provides the skin a total reset. This is especially helpful after flying on a plane as it can disrupt the skin's ecosystem.
Can you share your daily skin-care and makeup routine? 
My morning routine and evening routine have similar steps. I start with cleansing, using a toner, applying a serum and then a moisturizer. In the morning I use a cleansing gel, and in the evening I usually use cleansing lotions because they remove makeup better. I always use a toner to remove tap water residue as well as providing hydration to the skin. During the day, I use a vitamin C serum and at night, my Vitamin C&E Treatment. I rotate nights between a retinol serum, a peptide serum and an exfoliating acid serum followed by a moisturizer and an eye cream. 
I treat my skin to masks and peels about once a week. You can read more on my blog post" Renée's 10 Skin-Care Rules She Swears By." There's never a day that I do not have some sort of face makeup on my skin. I think of makeup as skin care because it provides additional sun protection. You can find titanium dioxide in a lot of face makeup, and this ingredient is also used in sunscreen. On days when I'm not in the office or out in public, I still have some sort of mineral powder or something on my skin to protect it. If I'm not seeing anyone I'll typically just wear face makeup and that's it. However, if I'm going to be seeing people, I'll always put on eyeliner, mascara, a little cream eyeshadow, foundation, blush and light lip gloss or lipstick. After all, I do live in the South and makeup is a big part of our culture.
What advice do you have for aspiring female entrepreneurs?
We are all wired a certain way. Everyone has her own strengths and weaknesses. It's so important to seek out advice for your weaknesses. I believe that people should spend time making their strengths even stronger, but not spend time trying to improve their weaknesses. Seek out the best people you know to provide guidance for areas that you're not as strong in.
What's a typical day like for you? 
A typical day for me is doing what I love with people I love. I work in the office three days a week, so while I'm there I'm usually in a lot of meetings, connecting with each person on my team, checking in with them. My meetings are on our product development, operations, inventory, solving issues that come up, sharing with my marketing team, new blog posts that I'm working on, etc. Then two days out of the week, I work from home, and this is where I have spent a lot of my time writing content for my blog and continuing my skin research. 
If you weren't an esthetician, what would you be doing?
I would probably be in PR or marketing. I'm the ultimate promoter and love sharing things I'm passionate about by shouting about it from the rooftops.
What's next for you?
While we are a fast-growing company, I am much more focused on building a great company not a big company. This means hiring amazing talent and developing them. My goal is to be recognized as one of the best companies or places to work; receiving that kind of acknowledgement would be such an honor. In addition to that, I'm continuing to hire more and delegate more, so that I can be exclusively in the visionary seat of our company and continue to lead the brand down the path I imagined.
Read More:
Skin Crush: April Lockhart Is Changing the Skinfluencer Game
John Legend Talks Sustainability and His Favorite Skin-Care Products From Kiehl's
Dry or Dehydrated Skin? Here's How to Know Which One You Have
Read more

Back to top