How Collagen Creams Can Benefit Skin
September 09, 2021
If you're a fan of anti-aging skincare products, you've likely heard of collagen, a naturally occurring compound that makes the skin look plump and youthful. Collagen can be found in supplements and skincare products like creams that promote a younger-looking skin. To find out what collagen is and whether using products that contain it can actually stimulate new collagen growth, we spoke to Dr. Winnie Moses, a board-certified medical aesthetics doctor based in Pasadena, California. 
What Is Collagen?
According to Dr. Moses, collagen is a protein found in the body's connective tissues, meaning it's something all of us naturally have. "As we age, we begin to lose collagen proteins and the creation of new collagen begins to slow down," she says. "This causes the majority of aging concerns like fine lines, wrinkles, volume loss, jowls, sagging and dull skin." It's no wonder, then, that most of us are on a pursuit to stimulate new collagen growth as we age.
Can Collagen Creams Stimulate Collagen?
The collagen found in skincare products often comes from either animal or plant-based sources. Because the molecules of the collagen found in topical skincare products are too large to penetrate the skin's barrier, it's not effective at stimulating the growth of new collagen in your skin. However, they can still moisturize and tighten the skin, leading to a visibly younger, plumper appearance. For example, the L'Oréal Paris Age Perfect Collagen Expert Night Moisturizer, which contains niacinamide, glycerin and collagen peptides, can help reduce the look of age spots and deeply hydrate the skin.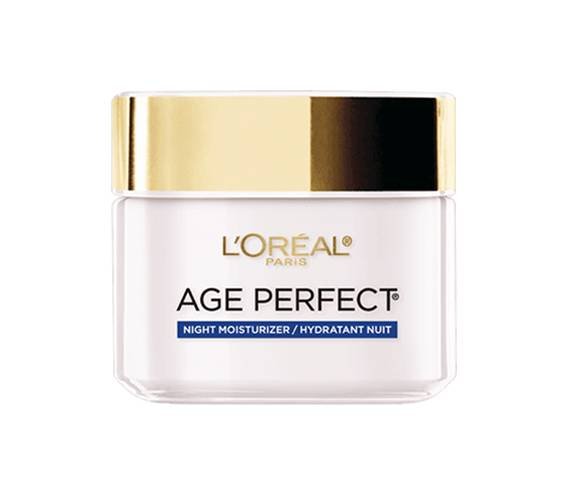 How Can You Stimulate Collagen Production?
"In my professional opinion, the best way to increase collagen is with professional treatments and exfoliating products to stimulate collagen synthesis, rather than topically apply it," says Dr. Moses. She recommends the Parfaire Red Carpet Lift, a radio-frequency treatment that heats skin tissue, leading to micro-injuries that trigger the collagen-building process. Talk to your dermatologist about what treatment is right for you. 
Photography: Chaunte Vaughn, Art Direction: Hannah Packer, Associate Creative Producer: Becca Solovay
Read More: 
How to Visibly Reduce the Appearance of Wrinkles Under Your Eyes
7 Retinol Products That Will Change Your Anti-Aging Skincare Game
The Ultimate Anti-Aging Body-Care Routine
Read more

Back to top