This Just In: Dermablend Professional Is Officially a Cruelty-Free Brand Certified by PETA
August 20, 2019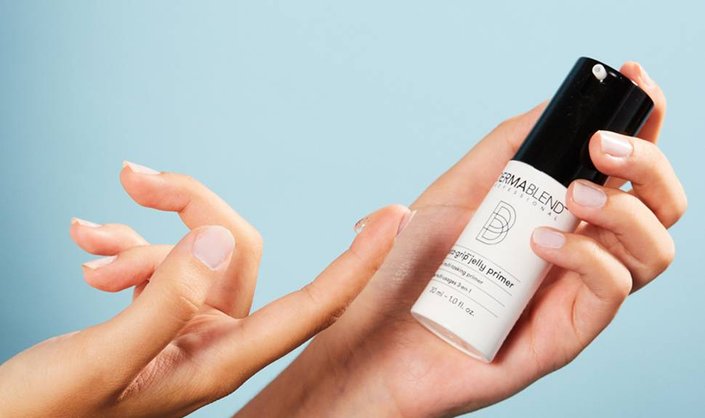 Dear fellow animal lovers, we have some great news for you! If you're always on the hunt for cruelty-free beauty products, you can now add another compassionate company to your list: Dermablend Professional. It recently hit our radar that the number one dermatologist-recommend coverage brand is continuing to take strides towards humane beauty with their latest announcement. That's right, Dermablend officially received its cruelty-free certification from PETA. We sat down with Malena Higuera, General Manager at Dermablend Professional, to learn more about the exciting news. Keep reading to find out more about this brand's journey to becoming cruelty-free and what their plans are for the future. 
If you're familiar with the brand, you may already know that Dermablend has actually never tested its products on animals. Their prior commitment to animals is what makes this new certification that much sweeter. "It allows us and brings us that validation of our efforts and commitment to animal welfare," says Higuera. It was important to the brand to be recognized by a third party for their dedication to animals because they felt it reinforced their work and mission, and restored confidence in consumers on their hunt for responsible beauty brands. "We've made that commitment in order to really empower our consumers with confidence to know that they're making the best decisions for their beauty routine and then align with what they truly value."
With the addition of the PETA logo added to all of the packaging on their products, Dermablend is also now a part of their Beauty Without Bunnies program. This is a free resource that helps conscientious consumers distinguish what companies are vegan and cruelty-free. And the timing couldn't have been more perfect: Higuera also shared with us that the company recently began to reformulate their products so that they can continue to deepen their commitment to animals by producing 100% vegan-friendly beauty buys. While most of their products are vegan-friendly, minor switches are being made to some of the franchises that originally contained beeswax.
So, celebrate the big news by heading over to Dermablend.com and get yourself some new goodies with the official PETA stamp of approval. You can rest assured that no fur babies were harmed in the making of those products. 
Read More: 
If You Have Oily Skin, Say Hello to Dermablend's New Poresaver Primer
Stay Cool With These 4 Insulated Skin-Care Bags Perfect for Travel
Derm Dms: Can You Use a Chemical Exfoliator if You're Using a Retinol?
Read more

Back to top