5 Things You Should Never Do to Your Eyelashes, According to an Expert
April 30, 2019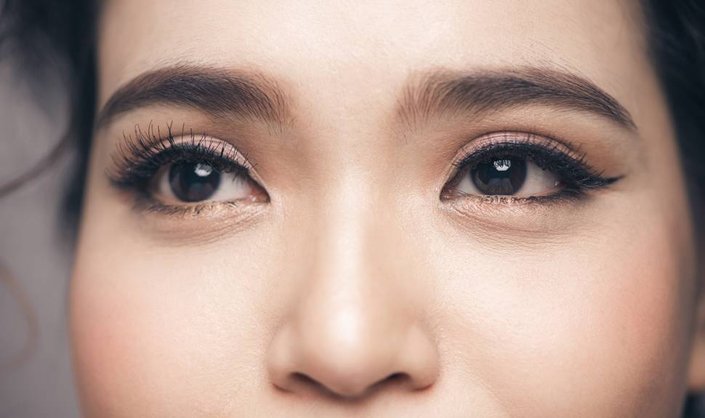 "My lashes aren't important to me," said no one, ever. In the same way that you protect and care for your skin every day, the same should be done for lashes — even if that's as simple as cleansing them thoroughly every night or being extra conscious about the ingredients in your favorite mascara. To ensure we're doing everything we can to keep our lashes healthy and looking their best, we reached out to celebrity lash expert Clementina Richardson, founder of Envious Lashes in NYC. Ahead, find five things she says you should never, ever do to your lashes.
TIP 1: Don't Cut Them — Ever
"Do not cut your lashes yourself," warns Richardson. "Hormonal changes, certain prescription medications, vitamins and other factors can all lead to your lashes growing longer than usual. If your lashes are too long, it's best to seek out a professional before taking those scissors into your own hands."
TIP 2: Don't Sleep in Your Eye Makeup
"Don't forget to take off your eye makeup before bed," Richardson says. All your creams, shadows, liners, mascara, etc. can cause buildup and debris that can get into the eye and lead to an infection. Gently remove your makeup with an eye makeup remover or a cleanser to keep your lashes strong and healthy." Need a new eye makeup remover? We recommend Lancôme Bi-Facil Double-Action Eye Makeup Remover or Garnier SkinActive Micellar Cleansing Water for Waterproof Makeup.
TIP 3: Don't Share Mascara
"To avoid cross contamination, never share your makeup with others. If you're at a makeup counter, make sure the makeup artist cleans any brushes and uses a fresh disposable mascara wand when applying your makeup," Richardson adds.
TIP 4: Don't Use a Mechanical Eyelash Curler (If You Can Avoid It!)
Although it may be difficult to change your ways, Richardson recommends avoiding mechanical eyelash curlers completely. "They can damage your natural lashes in many ways, including pulling lashes out at the root or breaking them in half. Instead you can use a heated eyelash curler like we have at our studio to lift the lashes."
TIP 5: Don't Forget Lash Serum or Conditioner
Depending on your eyelash goals, you may prefer a lash serum to a lash conditioner. Conditioned lashes make it easier to remove mascara, resulting in less lash fall-out and lashes that look thicker. Every formula is different, so do your research to find one that meets your specific needs and follow the instructions carefully. Our recommendation? Keep your eye out for a new drugstore-price lash serum launching from L'Oréal Paris this month. This new formula conditions and cares for your lashes, with the result of denser, thicker-looking lashes in four weeks.
Read More:
Which Eye Cream Formula Is Right for You?
These Micellar-Infused Pads Take Eye Makeup Removal to a New Level of Convenience
3 Kiehl's Influencers Share the Products They Can't Live Without
Read more

Back to top