Is There Such Thing as Too Much Face Mist?
June 27, 2019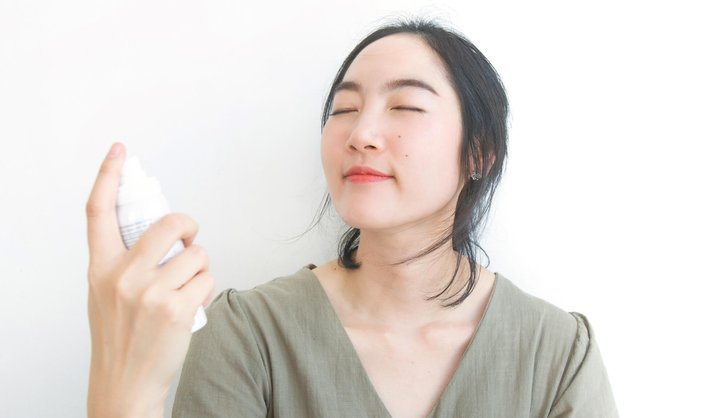 A shameless fact: Here at Skincare.com, my co-workers and I have been known to spray face mist like our lives depend on it. If you're close by when it's happening, you'll find yourself immersed in a glorious cloud of hydrating, soothing mist. Chances are (knowing our editors), it will be a combination of Glow Recipe Watermelon Ultra-Fine Mist, lilah b. Aglow Face Mist, Garnier SkinActive Soothing Facial Mist with Rose Water, and Vichy Mineralizing Thermal Water. So, it's safe to say that we've become dependent on said mists to keep us awake when we're getting sleepy, make us radiant when we're feeling dull and generally, keep our faces moist (sorry) all day long. But where do we draw the line? Is there a such thing as too much face mist, or can we continue spritzing our days away?
"Generally speaking, it is difficult to harm your skin by over applying a face mist," explains Skincare.com consulting dermatologist Joshua Zeichner, MD. "In the end, high levels of a mist on your face is the equivalent of washing your face with specialized water. It likely causes no damage but will not add any additional benefit, either." The key takeaway here is that, yes, it's okay to mist obsessively, as long as you understand that it won't have any long-term benefits for your skin. Short term, though? Definitely.
When you're looking for a new face mist, you should keep your personal skin type in mind, though. If you have sensitive skin, Janelle Vega, M.D, Co-founder of BIA Life, recommends avoiding mists with fragrances, parabens or formaldehyde derivatives. "Repeated exposure to any of these known allergens can increase your risk of developing a reaction to them," explains Dr. Vega. "Face mists that only contain water will not have a moisturizing effect (just a refreshing one), as water absorption into the skin and moisturization are limited without the help of other ingredients. Look for an oil-free formulation if you have blemish-prone skin, as products that contain oils can worsen breakouts for this skin type."
So for some derm-approved picks to add to your growing collection, Dr. Janelle Vega recommends Replenix Soothing Antioxidant Mist. "It contains green tea, chamomile and is paraben- and fragrance-free." As for Zeichner's recommendation, he swears by love La Roche-Posay Thermal Spring Water. "It's made for sensitive skin," he says. "It's sourced from a unique aquaphor in La Roche-Posay, France, and is naturally rich in minerals with scientifically demonstrated soothing and antioxidant properties." Which one will you be picking up and spraying compulsively? We'll be taking 'em both because — as you already know — this misting addiction is serious.
Read More:
6 SPF Products for People Who Hate Sunscreen
How to Make a DIY Rose Water Face Mist 
5 Skin-Care Essentials to Pack in Your Beach Bag This Summer 
Read more

Back to top