How to Organize a Skin-Care Fridge for Instagram Success
April 25, 2019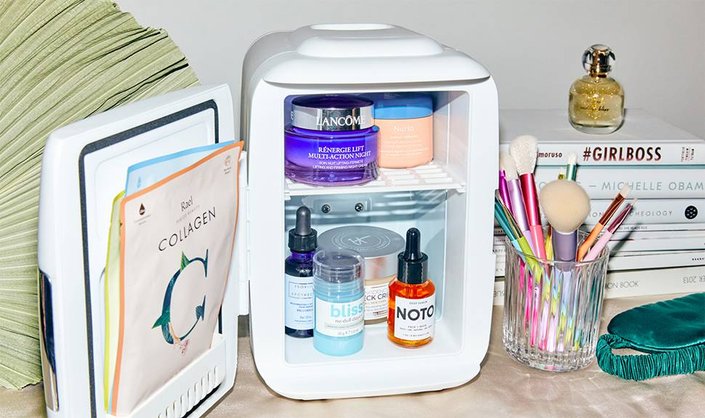 High up on the must-try list of many beauty lovers is a cute skin-care fridge to call their own — to house their face mists, stockpile sheet masks and chill that jade roller for a cooling self-care session. Besides the actual soothing feeling of putting a cold skin-care product on overheated or irritated skin, some products actually work better when they're chilled. With these facts in mind, you probably already have a clear idea of what you need to store inside of your future skin-care fridge. Now, find our tips about how to organize your fridge as efficiently (and 'grammable) as possible.
TIP #1: Choose a Fridge With Room to Organize Your Favorite Products
When searching for your ideal skin-care fridge, keep in mind what products you're hoping to keep inside. For example, if you intend on keeping an array of tall products in your fridge, ensure that you choose a skin-care fridge with a removable shelf in the middle. And if you plan on storing your favorite sheet masks, choose one with a pocket on the side to stand them upright. Two reliable options we love are the Cooluli Mini Fridge and Makeup Fridge.
TIP #2: Don't Go Overboard
While it can feel enticing to squeeze every one of your chill-able products into the skin-care fridge, we advise you to keep things simple. Don't store two of the same type of product — just keep the staples you'll need for a full skin-care routine. We recommend chilling face mist, a few different sheet masks, exfoliating pads, serum and moisturizer.
TIP #3: Make Sure Your Most-Used Products Are Easy-to-Reach
This tip is dedicated to those of you who face mist ten-plus times a day. If you know you're going to be reaching for one or two products more than others, organize your fridge so that you can easily grab them without having to move around all of the products inside.
TIP #4: Establish Your Aesthetic
If you just rolled your eyes at us, it's fine, we accept it — but before you knock our idea completely, think about how excited you'll feel every time you open your skin-care fridge to reveal an organized, aesthetically pleasing array of products. Opt for a minimalist look by choosing products with a no-fuss feel, choose to come up with a monochrome display of your products or commit to chilling only your travel-size products, so you can comfortably fit more inside. Perhaps you're a die-hard fan of one skin-care brand in particular. Devote your skin-care fridge to the brand and in turn, become an unofficial brand influencer — just don't forget to tag them when you post to the 'gram.
TIP #5: Dare to Be Different
We've all come across the traditional mini-fridge, but what about a fridge that opens from the top — making it easy for you to reach in and pull out your favorite products. One alternative fridge idea in particular is this refrigerated beauty box from Beautigloo. It's sleek, professional and definitely giving the traditional fridge a run for its money.
Photo: Chaunte Vaughn, Props Styling: Katrina Rozeville
Read More:
Luxe Sunscreens for When You Want to Feel Like Your Bougiest Self
6 Skin-Care Essentials You Need When It's Humid
5 Affordable Hyaluronic Acid Serums to Add to Your Skin-Care Routine
Read more

Back to top