#SkinCrush: Influencer Morgan Brown Shares Her Everyday Skin-Care Routine
February 12, 2019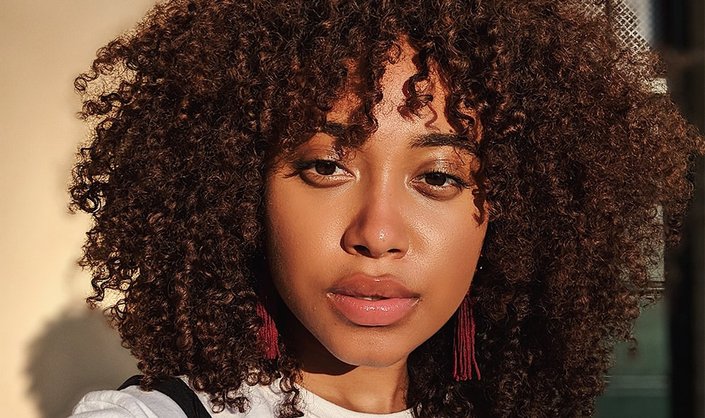 #SkinCrush digs into the routines of people who love skin almost as much as we do.
Skin influencer Morgan Brown of @ItsHeyMorgan is everything our skin goals are made of. She's honest about her skin struggles, and inspires us to try something new with our regimens nearly every day. Below, she shares her current routine, the last product she finished and her most asked question in her DMs.
Name: Morgan Brown
What you do: Content creator
Skin Type: Combination (but we know that truly means whatever our skin decides on that given day lol)
We're obsessed with your skin-care series on Instagram stories. What inspired you to start it?
Honestly, it was inspired all by my followers. Since I've been in the social media space, I've handled all things but skincare. Here and there I might upload a selfie or two, showing my "pore-less" (an absolutely joke) skin. Those would be followed with comments and demands that I talk more about my skin and the magical sorcery behind it — and even just skin care in general.
Tell us about your current skin care routine.
Ok, go grab your popcorn because this will be a long one (jk…).Currently I am cleansing my skin with Kiehl's Ultra Facial Cleanser — it's super gentle and great for sensitive skin (I highly recommend for all skin types).
Go-to Skincare Face Hero: After cleansing, I always reach for an oil. Go-to Skincare Face Hero gives me the best hydrated base! I follow it with the antioxidant-rich PX Prescriptives Vibrant-C Cream and the Seed Phytonutrients Facial Hydrating Lotion.
Then, because most of my work consists of being glued to my computer screen, I use the Kiehl's Avocado Eye Treatment under my eyes.
What's the last skin-care product you finished? Would you buy it again?
I just hit pan on my Kiehl's Rare Earth Deep Pore Cleansing Mask (I promise this isn't sponsored!) but absolutely no worries, I'm adding another to my shopping cart as we speak.
What's one thing you wished you learned sooner, in regards to skin care?
Oil combats oil!
What's your skin-care guilty pleasure?
Masking — 100 percent!
What's the skin-care ingredient you can't get enough of?
Hmm, this is a tough one. If I had to chose one, I would have to say glycolic acid. For my skin, I feel that it's the best ingredient for clogged pores and evening out skin tone.
Wait, sorry, can I chose two? Let's add Vitamin C to the bag as well.
What's the most-asked question in your DMs?
"How is your skin so perfect?" This is still a joke, I promise.
What's your favorite thing about skin care?
Geez, there are so many. My favorite thing about skin care is learning how so many ingredients work together in order to develop X product with X and Y benefits. These products (along with my parents' genes — thank you, parents) allow me to be comfortable in my skin and bask in all of its glory. Whether it's me treating a stubborn pimple or a bad breakout, I remain patient with my skin, and remember that skin care is all about doing what feels good.
Where can we find you on the internet?
You can find me here @ItsHeyMorgan (both Instagram + Youtube)
Read More
The Best Affordable Facial Serums
Read more

Back to top