Why Skin Care Is Stress Relief, According to skyn ICELAND Founder Sarah Kugelman
May 27, 2020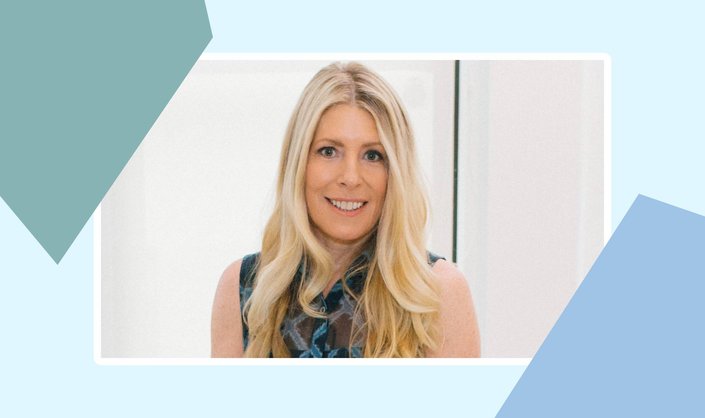 Skin care is stress relief. That's the mantra that skyn ICELAND founder Sarah Kugelman based her entire beauty brand on, guided by naturally healing Icelandic ingredients. Ahead, we spoke with the entrepreneur about her life as a mom, how she practices self-care over the weekend and why everyone should use their skin-care routine as an outlet for stress relief. 
Tell us a little bit about your background and how you got started in the beauty industry? 
I was always a huge beauty junkie and obsessed with my skin. Even when I was a teenager, I used millions of products and spent hours examining my skin. It was destined to be. Ultimately, I went to business school, and when I went to business school, I was looking at fashion and beauty. The placement office was perplexed as to why I wanted to waste my MBA in the beauty industry, but it was my passion, so I figured out my way there. My first job was working for L'Oréal. [Note: Skincare.com is owned by L'Oréal] I was an assistant brand manager, and I worked in skin care. 
After L'Oréal, I took a job with Bath & Body Works, and I was based in Columbus, Ohio. I was born and bred in New York City, so that was definitely a big change for me, but as a marketing person, it was interesting because I realized that women didn't have the same access to beauty in Columbus, Ohio, that they had in New York and L.A. This was in 1994. The internet was just starting to come to fruition, and people were talking about it. Some were saying, "You know everyone will do their banking online someday," and other people laughed about it, but I thought, "If you can talk about beauty online and buy it online, that is going to really revolutionize beauty."
What was the concept behind skyn ICELAND? Tell us what inspired you to begin the brand. 
The concept for skyn ICELAND is rooted in my own health issues related to stress. I became very sick and took a leave of absence from my job to recover. During this time my doctor told me that if I didn't learn to manage my stress, I wouldn't live to see 40. That was a huge wakeup call, so I dove into getting well and I became very interested in the connection between stress and skin. I left my job and collaborated for a year and a half with a team of doctors and experts —  a dermatologist, cardiologist and nutritionist — and we looked at the research on how stress affects you and your skin. I worked with a dermatologist who had a lot of access to research, and I partnered with the American Institute of Stress. We came up with five symptoms of stressed skin: accelerated aging, adult acne, dullness, dehydration and irritation. Once we categorized the symptoms of stressed skin, then I started developing products that addressed those symptoms. During that time, I went to Iceland with my sister. I became completely enamored with Iceland. It's so clean, beautiful and natural. It epitomized what I was trying to do with my brand. Skyn is an Icelandic word that means "senses." I ended up sourcing Icelandic glacial water for the products, and that's really how it all started.
What does a typical day look like for you? 
There's never a typical day, but generally I wake up at 6:45am, get my daughter ready for school then drop her off at 8:10am and head to the office. Often I'm running from meeting to meeting, either in my office or all over town. I also typically travel frequently (although obviously not during social distancing!). I try to squeeze in a cardio workout either in the morning or the evening, but I like  to be home by 6pm so I can make dinner for my daughter and help her with her homework. I try not to go out during the week so that my time is focused on her, but I do often have to go to business dinners and work functions. I am a night owl, so usually I do some work after my daughter goes to sleep, and then do my self-care routine (that can include my daily skin regimen and a facial massage, or using my foam roller to work out kinks in my body, a warming neck pillow, a warm shower and body oil, etc). Then I take all of my supplements (vitamin C, B1, probiotics, anti-inflammatories, magnesium for stress)  and meditate. I try to get to bed by 12am. I do need my sleep!
What does your skin-care routine look like, and what is your skin like?
My skin is dry and aging, so I use a routine to address those concerns. In the morning I use our Glacial Face Wash, Icelandic Youth Serum, Pure Cloud Cream and our eye cream. In the evening, I use Glacial Face Wash, Arctic Elixir, Brightening Eye Serum, Oxygen Infusion Night Cream and our Icelandic Relief Eye Cream.
I also use the Nordic Skin Peel about three times a week for exfoliation. And I use all of our patches on a regular basis; they are the best! I love indulging once a week in a good mask like our Fresh Start Mask or our Arctic Hydration Rubberizing Mask. On the weekends I'll often wash my face, put on a serum and then slather my face with our Arctic Face Oil, which is 100% natural and just nurtures/feeds my skin, bringing it back into balance.
How has working on skyn ICELAND impacted your life, and what moment in your career are you most proud of so far?
How has it not impacted my life?! I live and breathe skyn ICELAND and it's a part of everything I do. It's my story, it's my experience and it's my aspiration for a healthier life. It has made me smarter, healthier, more confident, gratified and fulfilled. It has made me a role model for my daughter and given me the ability and skills to lift up other women. I am most proud of being one of the 2% of women in this country running a business that does more than $1M a year in revenue. We need to increase that number!
If you weren't in beauty, what would you be doing?
I studied to be an actress for many years. I would probably be doing that, or something else in the field of wellness.
What's your favorite skin-care ingredient right now? 
I would have to say Astaxanthin. It's a super powerful antioxidant that we source from Iceland. We cultivate micro-algae there, which turns red when it releases this active, so the serum we use it for is red and super potent. It's really magical and has incredible skin-care benefits.
What does the future of skyn ICELAND and the beauty landscape look like to you?
Being clean and vegan has always been core to our business, so we were way ahead of our time and now is our moment. I feel we are at a tipping point to really capture the overwhelmed, overscheduled, stressed customer who wants healthy, clean, vegan and sustainable products .
In terms of the beauty landscape, there is going to be a huge move around DIY (especially with COVID-19), so things you can do at home that are highly effective and which you may have had to go to a spa or salon for in the past. Also, purity and safety will be of the utmost importance with products, testers and usage. Customers need options that are guaranteed to be safe and healthy. I also think the distribution matrix is going to shift. There are going to be a lot of stores/chains going out of business and people wanting to shop in different venues. Lastly, I feel there will be a continued focus on/rise in digital spending. 
What's your advice for an aspiring beauty leader?
It's a crowded marketplace, so make sure you have a product or idea that has a very strong point of difference and really fills a void in the marketplace. Make sure you have enough money to get the idea off the ground and scale. Lastly, never give up!
And finally, what does beauty mean to you?
It means confidence combined with a personal aesthetic. It is taking care of yourself and looking/feeling your best. It's inner as well as outer beauty that creates 'beauty' and it's an individuality, personality, sensuality and energy that all come together as one.  
Read More:
The Best Illuminating Moisturizers to Try
Read more

Back to top