5 Overnight Skin-Care Hacks for Better-Looking Skin in the A.M.
March 26, 2019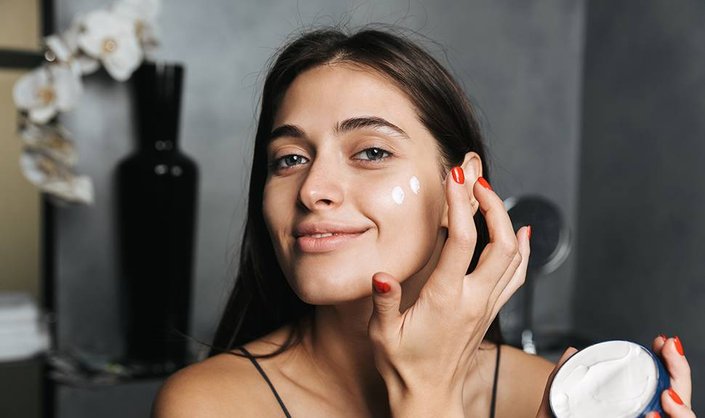 We know it's going to be a great day when we wake up to our skin looking clear, plump and glowy. Such an occurrence makes us wonder why we got so lucky — and how we can make our skin look that good all the time. In an effort to make radiant, I-woke-up-like-this skin a more common occurrence, we did the research to bring you five overnight skin-care hacks everyone needs to try. Ahead, discover the easy skin-care tips that will help make your skin look good every morning.
TIP 1: Stick to a Nightly Routine
Remember this: You need to thoroughly cleanse your face every single night to remove makeup, dirt and  impurities. This hack is #1 in for a reason — unwashed skin can lead to blemishes, dull skin and skin that looks way older than it actually is. So clearly, this is the most important step before trying any other hack. After cleansing, go about your nightly skin-care routine. Apply a toner and moisturizer that meets the needs of your specific skin type. Sticking to this nightly routine will help your skin look its best.
TIP 2: Apply an Overnight Mask
Overnight masks are worth the hype because they give your skin a surge of ingredients. The difference between an overnight mask and a nightly moisturizer is that an overnight mask is oftentimes meant to be used just one to two times a week. It's meant to replace your nightly moisturizer, not be used in addition to it on those days.. We love the Kiehl's Facial Overnight Hydrating Mask for dry skin once a week,  and the Lancôme Énergie de Vie Overnight Recovery Sleeping Mask to bring the glow back into dull skin.
TIP 3: Target Your Blemishes
Calm the look of inflamed blemishes overnight with the help of a ZitSticka pimple patch. First, wipe down your pimple with the provided cleansing cloth and then apply the patch over your blemish. The patch has microdarts containing salicylic acid, niacinamide and hyaluronic acid to help flatten and flush the blemish at the source. Unlike some other pimple patches that slide off of your face, the microdartsin this patch help it cling to your skin.
TIP 4: Pick Your Pillowcase Wisely
A surefire way to give your skin an extra boost overnight is by choosing the right pillowcase. According to a research study, copper-oxide containing pillowcases have the potential to reduce the appearance of wrinkles and boost the skin's appearance overall. Pillow cases like these are sold in some of our favorite stores like Sephora. The Iluminage Skin Rejuvenating Pillowcase with Copper Oxide,  is designed to help reduce the appearance of fine lines and wrinkles in as little as four weeks.
TIP 5: Consider Adopting a Weighted Blanket
Weighted blankets are more than just a super-cozy alternative to your current duvet. According to a pilot study, early trials have shown some promise that they could also have the potential to reduce the appearance of stress from your skin's surface. Bearaby founder Kathrin Hamm explains, "Weighted bedding helps ground the body during sleep by simulating deep touch pressure (DTP), a type of therapy that uses firm pressure to reduce stress and anxiety. A medical study shows that sleeping under weight reduces nighttime cortisol, the stress-hormone, lowering stress and anxiety levels, leading to a calmer and deeper sleep." (Note: This pilot study is a start to validating the idea of grounding the body during sleep. However, further research is needed to concretely prove weighted blankets work.)
Hero Image Courtesy Dean Drobot via ShutterStock
Read More:
This Hack Is About to Make Reapplying Your Sunscreen So Much Easier
Your Overnight Action Plan for Dry Lips
3 Thing You Didn't Know About the New Kiehl's Cannabis Sativa Seed Oil Concentrate
Read more

Back to top