5 Science-y Skin-Care Influencers to Follow on the 'Gram
April 15, 2019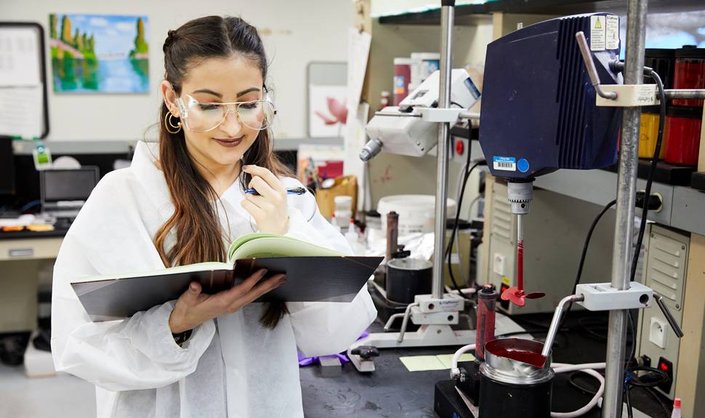 Any beauty guru can post a skin-care shelfie or two on the 'gram — but when it comes to straight-up education, there are only a handful of skin-care influencers that are able to deliver. Ahead, we rounded up five of our favorites who do an incredible job of breaking down the science and ingredients behind your holy-grail skin products. Get ready to hit follow.
Hannah of @ms_hannah_e
Scientist @ms_hannah_e shares all of her favorite products, skin treatments, empties and her ever-changing routine. This account is one for you to follow if you want to stay up-to-date on new products and how their ingredients *really* affect your skin and hair.
If you're anything like us and you like to understand the ingredients behind the skin care you apply, check out Chemist Confessions. This Instagram account is dedicated to breaking down exactly what goes into your skin-care regimen on a granular level, including explaining everything you need to know about ingredients like retinoids or silicones.
For all ASMR beauty lovers, if you don't already follow @lush_jack, this is your PSA to do it now. Straight from the Lush lab itself, this account is a behind-the-scenes look into how different bath bombs are created — and more importantly how they fizz. If you're easily mesmerized by texture and sound, prepare to set a few hours aside to get lost in this feed.
Stephen Alain Ko of @kindofstephen
Stephen Alain Ko brings science and beauty to life on his account @kindofstephen by showing a serious look at what really happens in the lab. He also hosts a Q&A series in which he does a deep dive into different topics — complete with f statistics and data to back up what he says.
Lab Muffin Beauty Science
Lab Muffin Beauty is all about separating skin-care myths from skin-care truths — and this account helps to break down exactly when to use ingredients like AHAs, different types of sunscreens and common face cleanser ingredients. From dispelling blue light myths to differentiating salicylic acid and acetylsalicylic acid, this account is a must follow.
Read More
5 Cactus-Infused Beauty Products We Love
Should I Apply Skin Care on Wet Skin?
Yes, You Can Get a Spray Tan While It's Raining
Read more

Back to top