#MaskMonday: The Skinceuticals Sheet Mask That Made Me Reconsider My Stance on Pricey Single-Use Products
April 29, 2019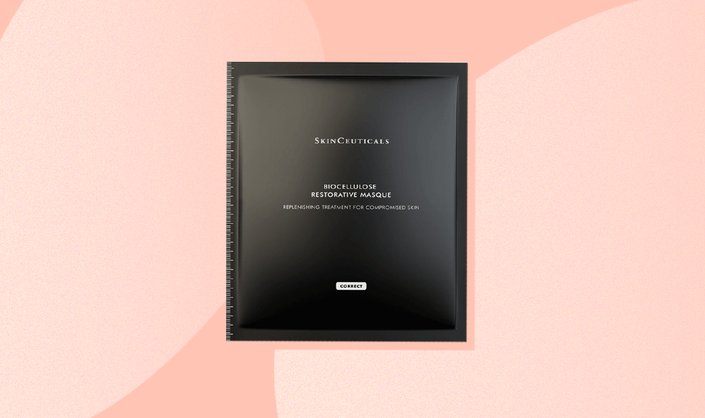 #MaskMonday is where Skincare.com editors try the latest and greatest skin-care masks buzzing on the interwebs and reveal their honest thoughts.
In my opinion, there aren't many sheet masks worth a hefty splurge — in fact, I'd even put sheet masks in the "save money" skin-care category if I had to choose between a drugstore or high-end version. So when I heard about the Skinceuticals mask that goes for a whopping $120 (MSRP) for six sheets, I had reservations. But for the greater good (ahem, all of you), I gave it a shot. It's officially the most expensive water-soaked sheet that's ever been on my face but was it worth it? Read on to find out.
Mask: Skinceuticals Biocellulose Restorative Mask
Price: $120 MSRP
Editor & Skin Type: Alanna, Combination Skin
Laying my hands on this mask — luxe package and all — made my fingers feel like they turned gold with each grasp. The sleek, matte pouch is black, with the brand's name typed neatly on the front in white letters and looks like the type of product you'd find at a dermatologist's office — not at your local makeup or skin-care store. "Replenishing treatment for compromised skin" is the main subhed on the front package, which sounded just about right as my skin was due for some TLC.
I slowly tore the top end open and pulled a pristinely folded mesh netting out of the package. Within the netting sat the biocellulose mask in two pieces, and in the moment I began to peel it off of its protective shell, I knew it was going to be a special masking experience.
This biocellulose mask felt different than others — it was firmer, felt more higher quality and didn't tear or rip apart when I placed it on my face. The consistency of this mask actually felt like it was made with care and detail, and it melded onto the sharp angles of my nose and cheeks quite naturally. On top of that, its bio-fiber technology and heat-reducing water was cool to the touch and felt great on my skin after a long day.
The directions for the mask suggested keeping it on for seven to ten minutes, and I decided to go for the max. It felt comfortable on my face, I didn't feel the need to adjust it too often, and I was pleased with the fact that it was not dripping in water. Instead, it had just the right amount of moisture that I could feel penetrating the areas where the mask sat without flooding my nose or eyes.
After ten minutes, it was time for the big reveal: I gently peeled off both the top and bottom portions of the mask and immediately noticed that my skin felt restored. I blended in the rest of the water in with my hands, and by the next day, my skin was noticeably soothed and hydrated. I even found that I needed to blend less concealer and CC cream onto my dark circles and blemish spots — my face was plump, moisturized and happy.
Final Thoughts
All in all, this is a great mask if you're looking for a hydrating, heat-reducing luxe experience. It makes you feel like you've just visited a fancy derm's when you use it, and for six "treatments," it's well worth the $120 price tag. Even though I'm still a fan of saving when it comes to single-use sheet masks, this is the only one that may make me break my rule and splurge when I need a burst of cooling refreshment.
Read More
5 Sheet Masks Perfect for Selfies
The Ultimate Nighttime Lip Routine
How to Determine Your Skin Type
Read more

Back to top