How to Spring Clean Your Skincare Routine in Just 4 Steps
March 02, 2022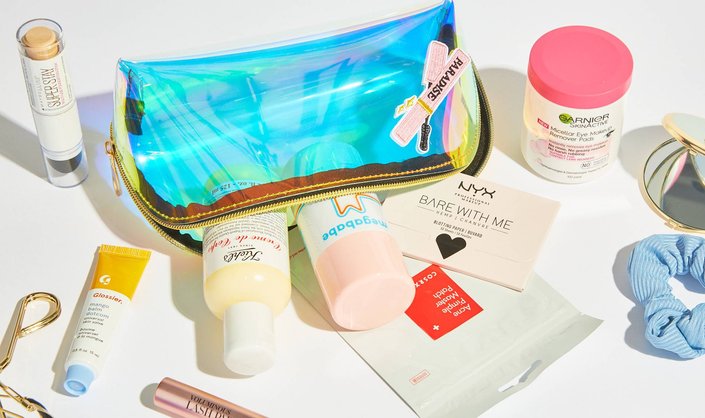 As a self-proclaimed makeup and skincare hoarder, I've learned a thing or two about organizing my stash. If you're looking to declutter your collection just in time to transition your skincare routine for spring, keep reading. Ahead, I've rounded up some tips and tricks to make your skincare spring cleaning go a lot quicker. Trust me, you'll feel like Marie Kondo in no time.
If You Don't Use It, Toss It
The hardest part of cleaning out a skincare routine is knowing what to throw out. My rule of thumb? If you don't use it — toss it. Sure, we all have the products we need and love but don't reach for everyday, (cue an exfoliator like the La Roche-Posay Ultra-Fine Face Scrub or a mask like the Kiehl's Ultra Facial Overnight Hydrating Mask with 10.5% Squalane) but if there's a bottle you find yourself literally never touching, throw it out. Every two to four months, try purging the products you didn't use, and you'll find that your collection will become a lot less cluttered.
If It's Not Empty, Gift It
On that note, I don't recommend throwing out a product that you don't use that's nearly full and not expired. Instead, gift it to a fellow beauty lover — your mom, your grandma, etc. Better yet, there are organizations like the Beauty Bus Foundation or Project Beauty Share that will collect gently used products for hospital patients, homeless shelters and women in need. You can also reach out to your local shelter to see if they are looking to collect these products.
Color, Temperature and Light Coordination Is Key
I like to color coordinate my serums, moisturizers, masks and other treatments to make them easy to find on my shelves. My top shelf consists of all purple, pink and white products, and the bottom has oranges, yellows, greens and blues. I make sure to keep my serums that are in dark bottles away from the sun and keep the temperature in my room on the colder side when I'm not at home.
Most-Used Products Go in Front
Perhaps the key of any stash organization is to make sure you're keeping your most-used products at the front of your shelves. This makes it a lot easier to reach for what you need on a daily basis (especially when you have T-minus-ten minutes to get ready!). I also like to keep a few skincare products that I always use out on my vanity for a little decoration and major convenience.
Now, go forth and cleanse that collection — your skin will thank you later.
Photo: Chaunte Vaughn
Read More:
An Editor-Approved Nighttime Routine Using IT Cosmetics Products
The Prettiest Pink-Hued Products for Supercharged Skin
The Unassuming La Roche-Posay Face Mist Is My Secret to Calm, Hydrated Skin
Read more

Back to top