Beyond Aloe: Known Ingredients to Help Soothe a Sunburn, According to a Skin Expert
July 08, 2021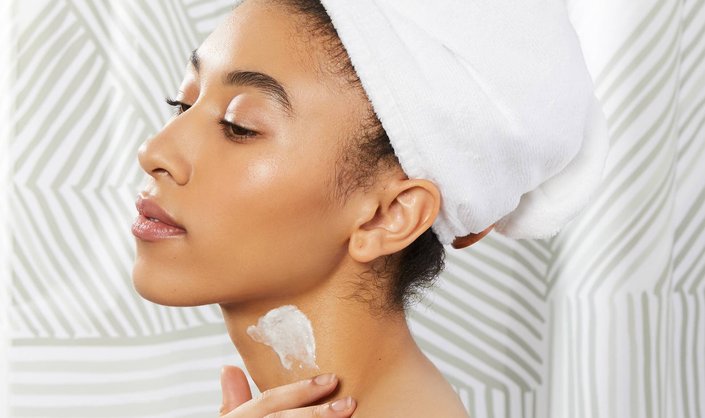 If your skin is sensitive to the sun, a jumbo-sized, fluorescent green bottle of aloe vera is likely a staple in your bathroom. We have no complaints about the ingredient — aloe has been proven to be anti-inflammatory and effective in healing first- and second-degree burns. But if you don't have any aloe on hand or you're looking for an alternative, we asked Candace Marino, a medical esthetician known as  "The LA Facialist," if there are any other soothing ingredients that work on sunburns. Read on for her top picks. Hey, it's always good to have options.  
Greek Yogurt
"Greek yogurt is an incredible skin healing ingredient that many of us likely have on hand," says Marino. "It is formulated with lactic acid along with probiotics to help decrease skin sensitivity and redness while pulling the heat from sunburned skin."
While you can use greek yogurt straight from your refrigerator, you can also use a product that contains the ingredient. Marino likes the Korres Greek Yogurt Cooling Gel. "It's suitable for both face and body and doesn't leave a film or sticky residue like aloe sometimes can," she says. 
Witch Hazel
Because it's an anti-inflammatory, witch hazel can help calm sunburned skin, says Marino. You can spritz it on skin or create a witch hazel-infused cold compress. Just soak a washcloth with the ingredient and cold water and apply it to the affected area.  


Green Tea
Green tea is another anti-inflammatory ingredient that can be applied as a cold compress or mist. Because it's antioxidant-rich, Marino says it can potentially help repair skin damage as well. 


Hyaluronic Acid 
"This super skin-care ingredient is known for its hydrating benefits and and helps binds moisture to the skin," explains Marino. "Anyone who's spent the day outside can benefit from hyaluronic acid because you're likely dehydrated, regardless of being sunburned or not." 


For the face, we like the La Roche-Posay Hyalu B5 Pure Hyaluronic Acid Serum because it also contains soothing madecassoside, a derivative of centella asiatica. 
Photo: Chaunte Vaughn


Read More:
The Best Moisturizers for Dry Skin, According to Our Editors
This DIY Ice Facial Is So Easy to Do and So Relaxing
Everything You Need to Know About Using Calamine Lotion for Bug Bites and Heat Rashes This Summer
Read more

Back to top