How To Use The Urban Decay Drop Shot Mix-In Facial Oil
February 14, 2019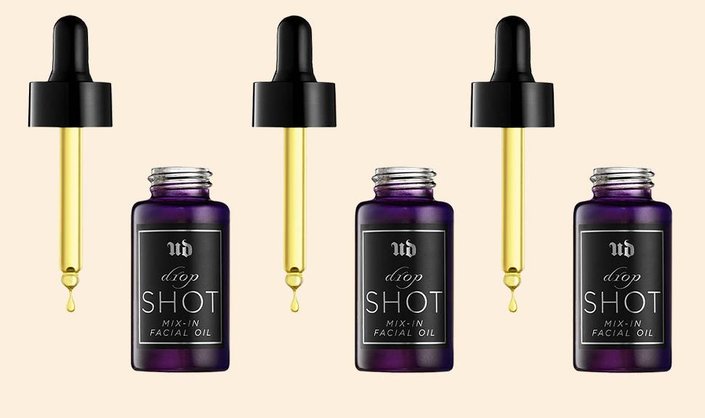 Urban Decay is perhaps best-known for its colorful portfolio of makeup: eyeshadow palettes, matte lipsticks and vibrant eyeliners among them. But the brand is making a name for itself in the skin-care realm, too, with its  Drop Shot Mix-In Facial Oil, a multi-medium makeup-prep product that will make your base look as flawless as ever. Here's the break down.
What's the deal with face oils?
Face oils are exactly what you think they are, an oil—or combination of oils—used on the skin. We know, we know: The idea of applying oil onto your skin — as far as breakouts are concerned — sounds disastrous, but when used correctly face oils can actually deliver a handful of skin benefits. Among them? Hydrated skin. Some popular oils used in these types of skin care products may include coconut, argan, jojoba, apricot kernel, avocado, marula, rosehip and calendula.
At first glance, you may mistake Drop Shot Mix-In Facial Oil for a serum. That's because it's housed in an apothecary-style bottle with a dropper. But don't be fooled — the product is more than what meets the eye and is not a serum at all. Drop Shot is an easy-to-use face oil that allows you to customize your makeup and skin-care products to your skin's needs.
Mix It Into Your Foundation
Mix one shot of Drop Shot into your foundation before applying it all over your face. If you're a fan of Urban Decay foundations, mix it with the All Nighter Liquid Foundation, Naked Skin Liquid Makeup or Naked Skin One & Done and then apply as usual.
Mix It Into Your Moisturizer
After mixing Drop Shot into your foundation, don't be surprised if you're suddenly tempted to mix it into your moisturizer as well. Mix in one drop of Drop Shot into your mattifying moisturizer before applying it onto your skin.
Wear It On Its Own
Skin feeling dry? Warm up a drop or two of this face oil (a little goes a long way) in your hands and gently press it onto your skin.
Read More
Morgan Brown Shares Her Skincare Routine
Read more

Back to top