When To Apply a Mask — According to A Celebrity Facialist
April 02, 2019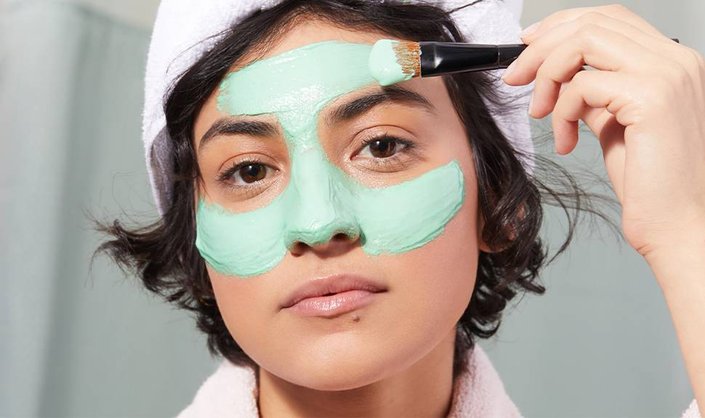 In a world where face masking has become standard fare, it can feel like knowing when to apply it in your skin-care routine should be second nature. But nothing in skin care is one-size-fits-all — masks included. There are, however, a few quick and easy tips to ensure you get it right every time. To get the scoop on all things masking, we tapped celebrity facialist and skin-care brand founder Joanna Vargas, known for her nature-meets-technology approach and award-winning serums. See her full breakdown, ahead.
Vargas recommends cleansing and exfoliating before applying a mask of your choice. This method helps ingredients better penetrate the skin's surface and ensures you have a clean canvas for application. One of our favorite cleansers is CeraVe Foaming Face Cleanser for Normal to Oily Skin and exfoliators Garnier SkinActive Deep Pore Exfoliating Face Scrub with Green Tea —. If your skin looks particularly dull or dry pre-mask, Vargas has an old-school application hack that she says works like a charm: "Apply your masks and face products in an upwards motion." According to Vargas, this encourages more circulation and helps skin achieve that glowy, nourished look. Post-masking, Vargas recommends applying any serums and essences, even if your mask is packed with similar ingredients. "The mask is meant to be added into your routine to enhance your skin and shouldn't replace a step," she says.

As for frequency, Vargas recommends applying a mask once a week as a way to give your skin a "pick me up" after a hectic Monday-Friday or weekend. This ensures you're not overmasking while still getting all their wonderful skin-care benefits. The kind of mask you choose is ultimately up to you, but we've offered a few suggestions, ahead, to help you choose:
For a Spa Experience on the Go
If you're in need of a mask that offers hydration and can also be done in-flight, look no further than the Summer Fridays Jet Lag Mask, a nourishing mask formulated with skin-loving ingredients that can be washed off or left on for extra moisture.
To Deep Cleanse Your Pores
Kiehl's Rare Earth Deep Cleansing Masque
Formulated with Amazonian white clay and aloe barbadensis, Kiehl's Rare Earth Deep Cleansing Masque helps to draw out impurities from skin's surface while also detoxifying and minimizing the appearance of pores, making this a go-to mask for congested skin days.  
A Night Cap For Your Skin
Joanna Vargas Twilight Face Mask
The Twilight Face Mask is like a deep conditioning mask for your skin and packed with Epidermal Growth Factor, witch hazel and niacinamide so you can wake up with a luminous glow.
For a Five-Minute Facial
Vichy Double Glow Peel Face Mask
Designed to boost skin's radiance in five minutes, the Vichy Double Glow Peel Face Mask is ideal for anyone who wants luminous skin but is short on time. The mask gently exfoliates with a combination of AHAs and volcanic rock particles, which help leave skin looking healthy and glowy.
Read More
How to Apply a Face Mask Like a Top Esthetician
These Are the Best Times to Use a Face Mask
Clay, Sheet or Peel-Off Mask: Which One Is Right For You?
Read more

Back to top