A 3-Ingredient DIY Lip Scrub for a Super-Smooth Pout
June 22, 2016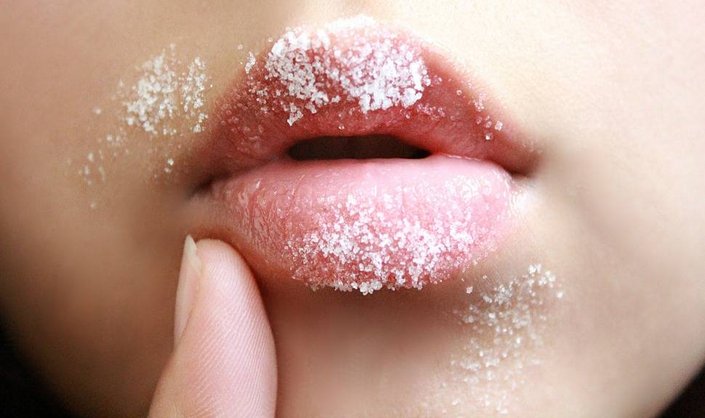 By now, you're (hopefully) using a body scrub for your body. But are you doing the same for your lips? There's no question that our lips are one of the most neglected areas of skin when it comes to a daily beauty routine. The delicate skin on the lips is thinner than other parts of the body, making it more susceptible to drying out. Aside from slathering lip balm to get rid of that awful rough, chapped feeling, try lip exfoliation. It's a painless (and quick!) way to slough off dead skin cells that can accumulate on skin's surface and make a pout look flaky and dry. The newly-exfoliated skin will be smooth, and products, like your favorite lip balm, may even work better and last longer. Yes, you can buy a lip exfoliator or scrub from the store, but you could also make one at home in a cinch, so why not?
This DIY recipe calls for just three ingredients: brown sugar, coconut oil, and honey. Sugar gets a bad rap when it comes to your waistline, but it works wonderfully in this recipe as the exfoliating agent. Cult-favorite coconut oil is rich and nourishing, and honey, a natural humectant, draws moisture onto the skin. So whether you're new to DIY lip scrubs or a seasoned veteran, give this recipe a try and say hello to smooth—and dare we say, kissable—lips! 
INGREDIENTS
2 tablespoons brown sugar
1 tablespoon coconut oil 
1 tablespoon honey, raw and organic if possible 
DIRECTIONS
In a bowl, mix the coconut oil and honey together. Next, add in the brown sugar and mix until it is fully integrated into a paste. Adjust the sugar-to-base ratio—more sugar for a coarser texture, more coconut oil for a smoother texture—to achieve your desired consistency. Transfer the lip scrub into a glass container (don't forget to add the date!) with a lid and keep refrigerated.
To use, let the scrub adjust to room temperature. Apply a liberal amount of scrub to your lips in a circular motion. Let it sit for a few minutes and then gently remove with a lukewarm washcloth. Follow up with your favorite moisturizing lip treatment for added hydration and smoothness. 
Read more

Back to top