Vitamin Sea: The Beauty Benefits of Salt Water Plus, a DIY Sea Salt Scrub
September 21, 2016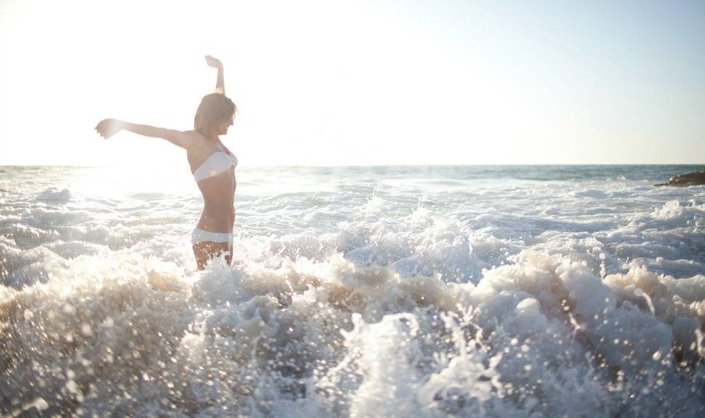 They say the fix for anything is a little ocean air…and we couldn't agree more. There's nothing like a day spent seaside to ease your worries, clear your mind, and hit the reset button. But, if you've ever noticed a literal glow after spending a day at the beach, it could be thanks to vitamin sea. To discover some of the beauty benefits of salt water we chatted with Skincare.com consultant and board certified dermatologist, Dr. Dhaval Bhanusal. Turns out there's a whole lot of beauty packed into that day at the beach! 
CLEANSING
Like rinsing off in the shower or taking a bath with Epsom salts, swimming in the ocean can cleanse the skin's surface of impurities and debris. Talk to any beach dweller and they will also say that the ocean has the ability to cleanse the mind, too! Though that is not for certain, the sea is worshipped by many and sitting on the beach staring out at the ocean can be a calming experience.
EXFOLIATING
"More than anything, salt water serves as a great exfoliator," says Dr. Bhanusali— and if you've ever swam in the ocean and felt your skin after, you can probably agree. Salt water can gently rid the skin's surface of built up dead skin cells and other impurities, helping to leave it feeling softer.
HYDRATION
Salt water may get a bad rap for being drying, but in fact, spending time swimming in the ocean can actually help to hydrate your skin—that is, if you remember to moisturize after taking a dip! According to Dr. Bhanusali the vitamins and minerals found in salt water can help lock in hydration when you moisturize your skin after swimming. After swimming, apply a hydrating lotion (like this one from Kiehl's) to your body and an ultra-hydrating face moisturizer, like Vichy's Aqualia Thermal Mineral Water Gel Moisturizer. Formulated to lock hydration in, this lightweight gel moisturizer is infused with the highest concentration of the brand's Mineralizing Thermal Water— which can strengthen the skin's natural moisture barrier and protect against environmental aggressors. (And, it goes without saying, but post-swim, be sure to reapply the broad-spectrum SPF of 30 or more you brought with you to the beach!) 
Vichy Aqualia Thermal Mineral Water Gel Moisturizer, $31 
Since summer has come to an end and our beach days have become few and far between, we like to treat the skin on our bodies to a fall inspired DIY sea salt scrub using sea salt. Find out how to make it, below. 
INGREDIENTS:
½ cup almond or coconut oil
½ - 1 cup sea salt
WHAT YOU'LL DO:
In a medium size bowl, combine the salt and almond oil. For extra exfoliation (i.e. exfoliating your heels), add more salt to the mix.
Store in an air-tight container or use right away  
HOW TO USE:
Apply the salt scrub in circular motions to dry skin.
Let it sit for a moment and then rinse off in the shower.
Follow up with a nourishing body oil or lotion. 
Read more

Back to top