The Ultimate Color Correcting Cheat Sheet
May 24, 2018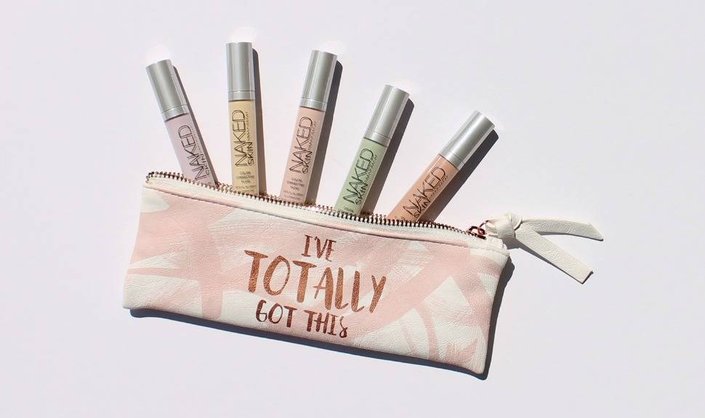 Interested in giving color correction a try? We share the ultimate guide to color correcting blemishes, dark circles, sallow-looking skin, and more, ahead!
Color correcting is more than simply covering up a blemish, it is a technique used to create the illusion of anything from clearer-looking skin to an even-looking skin tone to a brighter, more youthful-looking complexion. And though smearing some pastel green formula across your face may seem a bit unnatural, incorporating color correcting beauty products, like Urban Decay's Naked Skin Color Correcting Fluids, into your makeup routine can change the way you put on your face forever. With the Naked Color Correcting Fluid from Urban Decay, you don't need an art school degree to learn the basics of color correction. We share the details in our ultimate color correcting cheat sheet, ahead.
THE BASICS ON COLOR CORRECTING 
Before we hop into the benefits of the Naked Color Correcting Fluids from Urban Decay, let's go over the basics of color correcting. By now you're well aware of traditional concealers, but what's the deal with color correcting concealers? Think back to your elementary school days when you learned about the color wheel. As a recap, the colors directly across from one another on the wheel cancel each other out, and that same theory can be applied to makeup. Color correcting involves using different shades of concealer that can help balance out your skin tone to create a flawless-looking finish. Pastel hues of green, purple, yellow, pink and more can help counteract the look of key skin concerns, whether it be dark under-eye circles or sallow-looking skin.
THE BENEFITS OF URBAN DECAY'S NAKED SKIN COLOR CORRECTING FLUID 
Formulated with antioxidant-rich vitamins C and E, the Naked Skin Color Correcting Fluid's lightweight formula can help conceal, correct, and protect your skin all at once. Based on the brand's Naked Skin Concealer, the Color Correcting Fluid uses special pigment technology with pearlescent pigments to diffuse light and create the illusion of a more perfect-looking complexion. With six color correcting shades to choose from—green, pink, lavender, peach, yellow, and deep peach—you can accentuate your best features and camouflage those pesky dark circles, discoloration, redness, and more without any fuss. Another reason to love these skin-benefiting cosmetics? The creamy liquid formula glides onto the skin easily, allowing you to blend the correctors into the discolored areas of your skin without looking cakey…
Need help matching your skin concern to a color? We've created a guide to make things a little bit easier—and help you decide which color to use where—for you. Keep reading for the ultimate guide to color correcting.
SKIN CARE CONCERN: SPOT REDNESS
Color: Green
Reason: Did you know that the color green can help to counteract red hues and, in turn, diffuse spot redness (which can range from blemishes to discoloration to broken blood vessels)? Using Urban Decay's Color Correcting Fluid in the shade of green under your foundation or concealer—or, both! —can help neutralize the look of pesky red tones, resulting in a more even-looking skin tone and clearer-looking complexion! 
SKIN CARE CONCERN: DARK UNDER-EYE CIRCLES 
Color: Deep Peach, Peach, Pink, or Yellow
Reason: Whether they are hereditary or caused by lack of sleep, under-eye circles are a pain to deal with—but not anymore! For those with a darker skin tone, using the Color Correcting Fluid in deep peach or peach can help to counteract those blue-hued dark circles. If you have lighter skin, you will want to stick to using the Color Correcting fluid in the pink shade, as pink can better disguise the look of dark circles on light skin and blends easily onto the complexion. If you experience purple-hued dark circles, reach for yellow to help counteract those undertones. 
SKIN CARE CONCERN: DULL SKIN 
Color: Lavender or Pink 
Reason: Using a lavender hue is ideal for dull-looking skin with strong yellow undertones. The lavender helps neutralize both the yellow tones and dull appearance, giving you a corrected canvas to apply your foundation over. Glowing skin, anyone? 
Dull skin can give the complexion an overall lifted appearance—think of it as the first step to highlighting. Apply a few dabs of the Color Correcting Fluid in pink to the cheek bones, tops of the brow bone, down the bridge of the nose, and in the corners of your eyes for a more glowing, lifted look.
SKIN CARE CONCERN: A LACKLUSTER COMPLEXION
Color: Yellow 
Reason: If your complexion is looking a bit drab, brighten it up with the Color Correcting Fluid in yellow. The color yellow can work to counteract dull skin on the cheeks, forehead, chin, or wherever else you might experience a lackluster tone. Apply a few dabs to these areas—or mix a little into your BB cream or foundation for all over coverage—and blend!
SKIN CARE CONCERNS: SUN SPOTS ON DEEP SKIN TONES
Color: Deep Peach 
Reason: Like dark circles, sun spots can be hard to cover up. That being said, Urban Decay has a deep peach Color Correcting Fluid can help mask the appearance of darker blemishes—i.e. sun spots—on deep complexions. The more intense peach can glide onto the skin and blend easily into the complexion for a seamless application.
SKIN CARE CONCERN: SALLOWNESS
Color: Lavender
Reason: If your skin—or certain areas of your skin—experience sallowness (meaning, it appears to have a yellow or brownish tint to it), you can reach for the lavender-hued Color Correcting Fluid to balance out the look of sallowness and make way for a more balanced, even-looking complexion.
Urban Decay Naked Skin Color Correcting Fluid, $28 MSRP 
HOW TO APPLY COLOR CORRECTING CONCEALERS
Now that we've covered what colors to use for various skin concerns, let's discuss application. The application for color correcting concealers all depends on the imperfections you're hoping to cover up. If you experience the imperfection all over your complexion, you can apply the concealer the same way you would your foundation or BB cream, or you can mix it into your face makeup for a more multi-tasking approach. If you experience dullness on your nose, upper lip, chin, and forehead, you can apply a few dabs to these areas, blend, and follow up with your foundation or BB cream. And so on and so forth.
We recommend applying the color correcting concealers to your complexion after you've primed and before you've applied any face makeup or a concealer that better matches your skin tone. This will help deflect the imperfection and create the perfect canvas for flawless foundation, BB cream, and concealer application. To apply a color correcting concealer to your complexion, you can do so in a few different ways (depending on your preference): either dab a little onto the area using the applicator wand and use a damp beauty blending sponge to blend, apply a little to your complexion and use your fingers to blend, or apply to your complexion and blend with a concealer brush. 
After the color correcting concealer has made its mark on your complexion—and is well blended—follow up with a coat of BB cream or foundation, then top things off with a concealer that matches your skin tone. This will help ensure that all traces of the color corrector are hidden, and all you're left with is a flawless-looking complexion. 
Thought that color correcting stopped at your complexion? Think again! Your nails can get in on the action, too. If your tips are boasting a yellowing hue, try neutralizing the discoloration with essie's Color Corrector for Nails.
Read more

Back to top