3 Leg Workouts For Toned-Looking Legs
September 28, 2016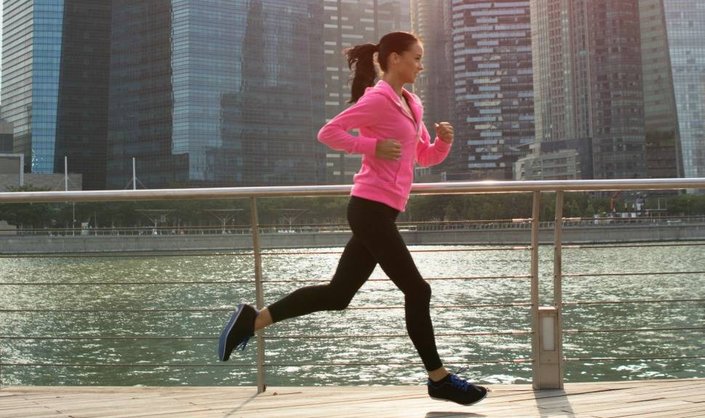 In Part II of our workout series with Brianna Sky of @BSKYFITNESS we're giving a little love to leg day. These three leg workouts are great to help you get toned-looking stems!
From incorporating products into our regimen that can exfoliate, moisturize, and give us beach-worthy legs to finding the best sunscreens for our skin type, we are all about being beach ready at any given moment— even if the weather (and the season) does not permit it. So, it should come of no surprise that one of our favorite body parts to exercise is our legs. In addition to our beach-ready skin care regimen, we like to incorporate simple leg workouts into our daily fitness routine that focus on the toning the look of our legs all year long. To create a simple leg workout routine that you can practice in the comfort of your own home, we turned to personal trainer Brianna Sky of @BSKYFITNESS. Ahead, we share her three must-try exercises for gorgeous-looking legs.
STEP UPS
From helping you train for running or biking up hill to targeting both the quads (the muscles on the front of your legs) and the glutes, there are so many benefits to incorporating step ups into your workout regimen. And the best part is that you don't need any fancy gym equipment to do so! Using a sturdy chair from your kitchen or dining room table, place your right foot on the seat of the chair (creating a 90° angle) and step up with your left leg. Now, bring your right leg back down to the ground (followed by your left leg) and repeat this motion with your left leg. Complete three reps of fifteen step ups on each side (thirty in total).
PULSE SQUATS
Pulse squats are a great way to incorporate a little bit of cardio into your leg workout. To start, stand on a cushioned yoga mat with your legs slightly more than shoulder width apart and your feet turned out into a plié. Now, clasp your hands together in front of your chest and squat down until you are sitting with your knees creating an angle that is slightly higher than 90°. Move up and down quickly and in small motions fifteen to twenty times. Once you've completed the exercise, take a 30 second break, drink some water, and complete two more sets of pulse squats.
SINGLE LEG STAND UP
Incorporating the single leg stand up exercise into your leg day is a great way to use your body weight to target your leg muscles. Using a sturdy chair or bench, sit down with your right leg bent in a 90° angle and touching the ground and your left leg slightly bent and off the ground. Now, engage your ab muscles and bring yourself to a standing position using just your right leg. At this time, your left leg should move upward and bend into a 90° angle— like a flamingo— sit back down in your same starting position and repeat this motion fourteen more times. Once you've finished your first rep of single leg stand ups, take a breather, then switch legs and do it again. Complete three sets of fifteen reps on each leg.
Editor's Note: As always, if you take your workout outside, be sure to apply a broad-spectrum SPF of 30 or more. After working out cleanse and moisturize your skin within 10 minutes after you end your exercise. Finally, to enhance the look of your leg muscles, dab on a little bit of dry oil to your legs. Doing so will act as a highlighter and bring attention to those newly defined muscles. We share four shimmering body oils that we can't live without, here.
ICYMI:
Part I: 3-Move Arm Workout For Sexy-Looking Arms
Part III: 3 Glute Exercises For a Better-Looking Booty
Part IV: 3 Easy Exercises For a Strong Core 
Part V: At-Home Back Exercises To Help Improve Posture
Read more

Back to top