At-Home Back Exercises To Help Improve Posture
October 03, 2016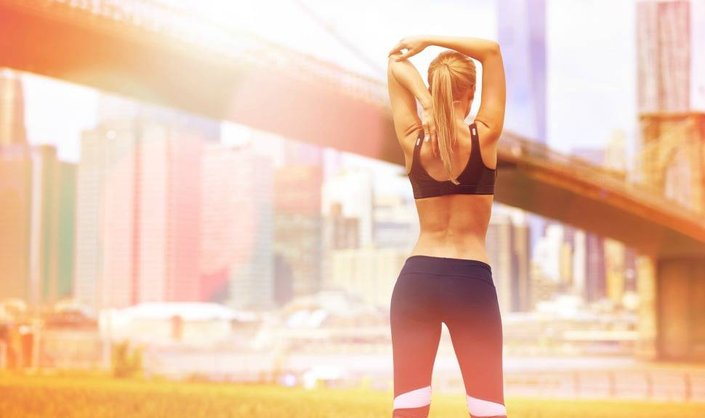 Since breaking a sweat is known to come along with a few mind, body, and skin benefits, we've been sharing exercises you can try at-home. In the final part of our full-body workout series with Brianna Sky of @BSKYFITNESS we're focusing on our back. Peep the tutorial, below!
RENEGADE ROWS
Similar to push-ups, renegade rows use both the strength of your core and your arms to target your back muscles— only you start with your hands closer together versus shoulder-width apart and use two 5-10 pound dumbbell weights or kettlebell weights. You can also do these without weights, like we have in the pictures above. To start, position your weights so that they will be at the center of your chest once you get into a plank position. Now, position yourself into that plank position, with your hands gripped around the weights or handle of the kettlebell. Keeping your arms close to your sides and your elbows back, lift your right arm back into a 30° angle. Alternate between your left and right arms until you have completed fifteen on each side. Take a break and repeat this exercise two more times.
ALTERNATING SUPERMAN
Superman exercises are another great way to target the muscles in our backs— if you've ever taken a yoga or pilates class, chances are you have tried some form of superman exercise. To start, lay flat on your stomach on a cushioned yoga mat with your arms straight and in front of your head and your legs a few inches apart. Now, lift your right arm and left leg off the ground and hold, followed by your left arm and right leg. Alternate between these two motions until you've completed fifteen reps on each side. Once your first set is over, take a quick rest break before diving into two more sets. 
Editor's Note: We've said it before and we'll say it again, if you take your workout outside make sure you apply a sunscreen with broad-spectrum SPF of 30 or more. After working up a sweat, wash it away within 10 minutes of finishing your exercise. After cleansing, moisturize your skin and follow the rest of your skin care routine.
ICYMI: 
Part I: 3-Move Arm Workout For Sexy-Looking Arms 
Part II: 3 Leg Workouts For Toned-Looking Legs
Part III: 3 Glute Exercises For a Better-Looking Booty 
Part IV: 3 Easy Exercises For a Strong Core
Read more

Back to top