Full-Body At-Home Workout Series With BSKYFITNESS
October 17, 2016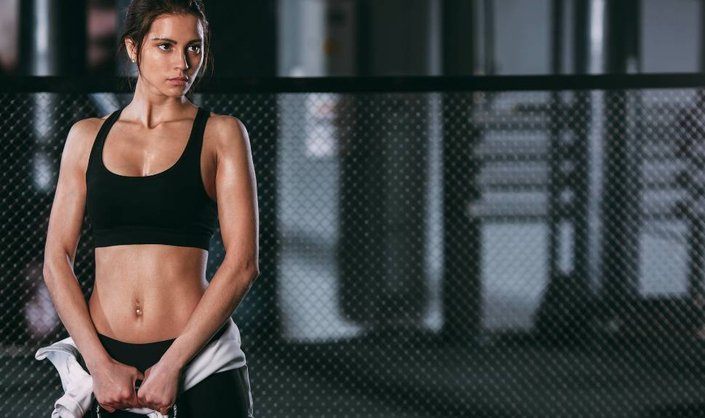 According to the American Academy of Dermatology, moderate exercise can improve circulation which can in turn give your skin a more youthful appearance. That said, at Skincare.com we believe that breaking a sweat each day should be a part of your healthy skin lifestyle! This is why we recently teamed up with personal trainer, Brianna Traynor of @BSKYFITNESS to bring you a 5-Part At-Home Workout Series to help you do just that. ICYMI we're sharing each of the workouts below! Use them separately to help target (and tone!) various parts of your body or all together for full-body at-home workout!
When breaking a sweat, you'll want to keep a few things in mind: 
Wash your face before your workout

. Excessive sweating on a face full of makeup is a recipe for disaster—and by disaster we mean breakouts. If you can't make it to the sink reach for a makeup remover wipe or micellar water.

Wash your face (and body!) no later than 10 minutes after you exercise. You know what also causes acne on your face, back, and chest? Failing to rinse off after a sweat sesh. The enzymes in your sweat can mix with excess oils and other impurities on the skin's surface and cause pores to get clogged and breakouts and blemishes to ensue. Reach for your favorite body wash and face cleanser and be sure to lather up.
After cleansing always, always, always moisturize your skin. Few things can dehydrate your complexion faster than skipping this step.
Like to take your workouts outdoors? You better apply broad-spectrum SPF of 30 or more at least 20 minutes before heading outdoors (and reapply at least every two hours!) Not sure how much sunscreen to use? That's easy! One FULL shot glass worth. Believe us, your skin will thank you!
Now, onto the workouts.
Part I: 3 Move Arm Workout
To start things off Brianna shared an easy three-move arm workout that utilized a chair and bodyweight—no dumbbells needed! The moves target the entire arm, from those pesky triceps at the back of your arm to your shoulders. To bring even more attention to your arms, consider reaching for a gradual self-tanner which can help to define your muscle tone and give you a sunless faux glow! Stronger, sexy-looking arms? Sign us up!
Part II: 3-Move Leg Workout
Part II of our workouts with Brianna focused on the legs. While we're big on using skin care to accentuate our stems—dry oil for the win!—we know one of the best ways to get toned, long, lean-looking legs is by working on our fitness. Brianna shared three easy moves—Step Ups, Pulse Squats, and Single-Leg Standups—that simply use your body weight and a chair that you have at home!
Part III: 3-Move Glute Workout
Next up we moved on to the booty, because who doesn't want a better-looking backside? These moves only require your bodyweight so they can be done nearly anywhere. (Side note: this editor straight up does the Sumo Squats in the office bathroom when it's empty… no shame in my game!) In addition to the squats, there are also lunges with a glute kickback, and single leg glute bridges. And, while we're on the topic of your derriere, if you wear yoga pants while you workout and have seen an increase in booty blemishes you may want to read this!
Get the full glute workout here
Part IV: 3-Move Abs Workout
While a rock-hard flat tummy isn't always achievable, a stronger core can be. Next, Brianna shared three easy abs exercises—and there are no tiresome crunches to be seen ladies! The workout includes leg raises, windshield wipers, and straight-leg sit-ups. After you're done working on your fitness, consider filling your belly up with a little goodness care of this delicious recipe for a post-workout pumpkin smoothie.
Part V: 2-Move Back Workout
To close out the series, Brianna moved her attention to the back. This workout only includes two exercises—renegade rows which you can do with or without dumbbells and the alternating superman.
Get the full back workout here
Curious how Brianna cares for her skin between training? Lucky for you, we got her to spill her skin care secrets! 
Read more

Back to top