Our Editors Share Their Post-Workout Skin Care Tips
August 23, 2016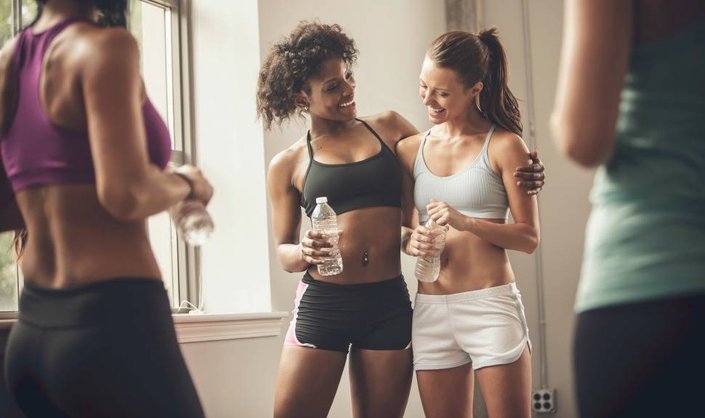 As employees of L'Oreal USA, Inc. at Skincare.com, we're very serious about skin care, even after an intense workout when all we want to do is crawl into our beds and hope that we can still move our legs the next day. Below, we share our top tips and tricks to help you save time post-workout without sacrificing your skin care.
JESSIE, JUNIOR EDITOR: 
I always double cleanse my face pre-workout, so that my makeup doesn't end up running down my face while on the treadmill. This also helps post-workout because I don't end up having to do as much dirty work. Following my sweat sesh, I wash my face again with a water-based cleanser, to ensure that I get any and all sweat and debris off of my face. When it comes to taking care of your skin post-workout, I have two pieces of advice: The first one is to always wash your hands before you cleanse your skin because you never know what kinds of germs you've touched while using the machines. And the second is to never leave for the gym without tossing a refreshing facial mist in your gym bag. Using a facial mist post-workout can revive your complexion and add moisture back into your skin post-workout. Plus, it can give you something to look forward to when your workout is complete. I currently alternate between Shu Uemura's Depsea Water Facial Mist in Rose and Kiehl's Cactus Flower & Tibetan Ginseng Hydrating Mist.
JESSICA, JUNIOR EDITOR:
Post-workout, the only thing on my mind is making sure that a breakout doesn't ensue. Since I can't always rush home and jump into the shower, I like to stash some cleansing wipes in my gym bag to help rid my skin of excess oil and sweat that can clog my pores!
JACKIE, EDITOR IN CHIEF: 
After board-certified dermatologist and Skincare.com consultant, Dr. Lisa Ginn told me that the chances of developing back and chest acne increase if you don't rinse off at least 10 minutes after working out the first thing I do is hop in the shower. If I can't get to one, I make a point of using cleansing towelettes—I've been a loyal fan of the Refreshing Remover Cleansing Towelettes since they launched—or a micellar water and quickly just wipe away the sweat. I wash my face (no matter what!) using a micellar water if there is no sink available or, if I can get to a sink, I use a cleanser formulated with glycolic acid to chemically exfoliate my skin—my go-to is the L'Oréal Paris RevitaLift Bright Reveal Brightening Daily Scrub Cleanser. I follow up with a toner and then a moisturizer and I'm good to go!
NOELLE, SOCIAL MEDIA EDITOR:
I typically go to the gym right after work, so I am always in a bit of a hurry to get home and relax. That being said, I rely on grab-and-go products, like L'Oréal Paris' Ideal Clean All Skin Types Makeup Removing Towelettes because they don't contain alcohol and don't dry out my skin. I've also noticed that since using them, they have made a difference on my skin and improved the overall appearance of my pores.
Read more

Back to top