Peppermint Tea Is the Secret to Your Most Relaxing Bath Ever
February 22, 2022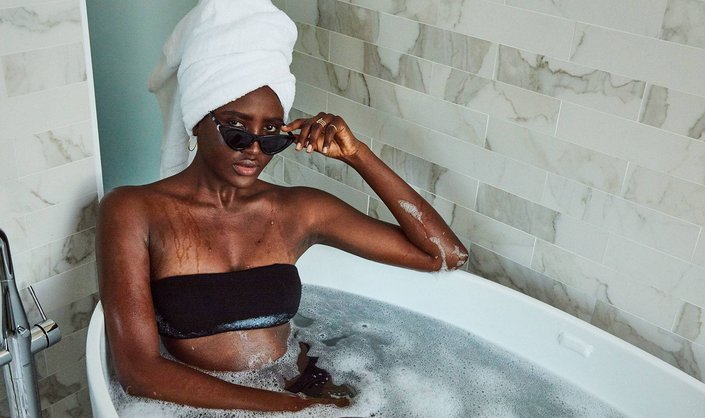 Whether you're drinking it or soaking in it, peppermint tea can be a great — and aromatic — way to relax. When combined with green tea and Epsom salts, you've got yourself a homemade bath soak that can awaken your senses and put your body and mind at ease. So, what are you waiting for? Make a large batch and keep it in a big crystal vase by your tub, package it up and gift it to a skincare-obsessed friend, or make a single use batch and soak the night away with a face mask on. Ahead, we share a DIY peppermint tea bath soak to help you unwind after a long day. 
What You'll Need:
2 tablespoons of loose leaf peppermint tea

1 tablespoon of loose leaf green tea

1-2 cups of Epsom salt

1 empty large loose leaf tea filter
 
How to Make a Peppermint Tea Bath
STEP 1: Mix Tea
In a small bowl, combine two tablespoons of loose leaf peppermint tea with 1 tablespoon of loose leaf green tea and mix.
STEP 2: Filter the Tea
Gently pour the tea mixture into the empty loose leaf tea filter and tie a knot at the top to close.
STEP 3: Draw a Bath
Draw yourself a nice, relaxing warm bath.
STEP 4: Add Your Tea Leaves and Salts
While the bath is filling, pour in one to two cups of Epsom salt and gently place the tea filter (filled with loose leaf green and peppermint tea) in the bath. The tea filter makes things less messy, but if you prefer, you may sprinkle the tea leaves into the bath without the tea filter.
STEP 5: Steep
Let the tea steep in the bath water for about 10 minutes before taking the tea filter out and disposing.
STEP 6: Enjoy
Sit back, relax, and let the invigorating aroma of mint tea de-stress your mind and relax your body.
Editor's tip: Give this mint tea bath soak as a gift by combining Epsom salt and the loose leaf teas in an airtight jar and attaching a small wooden spoon and extra tea filters to the jar with a piece of ribbon or string. 
Photo: Chaunte Vaughn
Read More: 
6 Moisturizing Body Products for a Frothy, Milky Bath or Shower Experience
This DIY Spa Day Is the Ultimate Self-Care Activity
This DIY Under-Eye Sheet Mask Hack Is Genius
Read more

Back to top