Fall Flavor: Pumpkin Spice Smoothie Recipe
October 12, 2016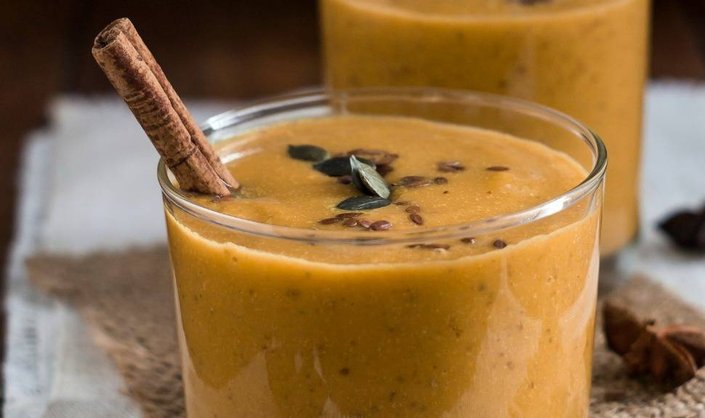 Rich in vitamins and minerals, pumpkin is a great source of nutrients like vitamin C and carotenoids. When combined with potassium-rich banana, delicious fall-spice blend—cinnamon, nutmeg, ginger, and clove—  protein-packed peanut butter and almond milk, you've got yourself a delicious and nutritious fall-flavored smoothie. Plus, it tastes like pie… and who doesn't love pie?! 
Here's what you'll need: 
WHAT YOU'LL NEED: 
• 1 ripe banana
• 1 teaspoon ground cinnamon
• 1 teaspoon ground nutmeg
• ½ teaspoon ginger powder
• ½ teaspoon ground clove
• 1 tablespoon of peanut butter or peanut butter powder
• ½ cup of pumpkin puree
• 1-2 cups of almond milk
• ice (optional)
WHAT YOU'LL DO:
1. In a blender, combine spices, banana, peanut butter, pumpkin puree, ice (optional) and almond milk. You might want to start off with 1 cup of almond milk and add the second cup if needed.
2. Blend until smooth.
3. Pour into a cold glass and serve immediately. 
Editor's tip: Turn this fall smoothie into a protein shake by adding 1 scoop of plain or vanilla flavored protein powder. To keep it vegan, look for a plant-based protein powder at your local health food store. 
Read more

Back to top