Backpacking Beauty: Products You Need For Your Next Trip
November 01, 2016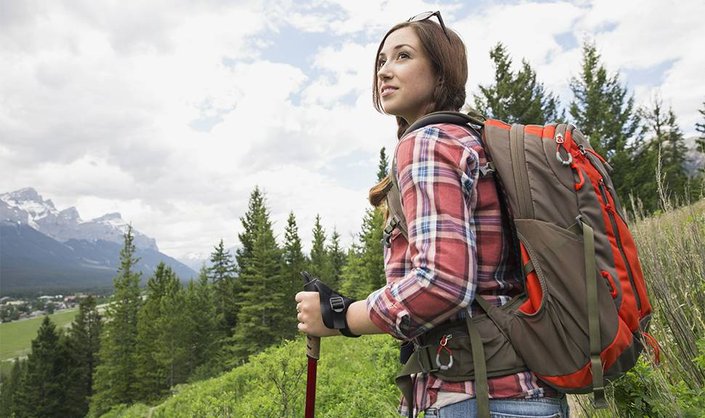 Planning your next fall getaway? Autumn's not-too-hot, not-too-cold weather lends itself perfectly to hiking the great outdoors. With the right attitude, crew, and environment, backpacking can be one of the most memorable trips of your life. However, there are some things to consider—as it relates to your skin, of course—before you start trekking. You'll be carrying heavy gear on your back from place to place, so only the true essentials of your skin routine should make the cut. Not sure what that includes? Don't fret! Below, we're sharing the skin care items no hiking trip should be without.
Facial Cleansing Wipes
If you're backpacking in remote areas, keep in mind that you may not always have access to fresh, running water—much less a functioning bathroom and sink. But that's no excuse to skip cleansing your skin of the dirt, pollution, and grime that will surely be residing on it. Stick Garnier The Refreshing Remover Cleansing Towelettes into your bag to rid skin of impurities and sweat, and revitalize it in one convenient step morning and night. The towelettes are lightweight and there's enough of them to last you for a good while. 
Sunscreen
As soon as you hear the word 'outdoors,' sunscreen should come to mind. But instead of bringing one SPF formula for face and another for body, just pack one that works double-duty, like Kiehl's Activated Sun Protector Water-Light Lotion for Face & Body. The non-comedogenic blend boasts broad-spectrum UVA/UVB protection and transforms to a unique, water-like texture upon contact to skin. Be sure to liberally coat all exposed areas of skin and re-apply at least every two hours.
Moisturizer
There's no doubt that backpacking long distances can push your mind and body to the limit, especially if it's your first time. Your muscles might start to feel exhausted and worn out after just one day, so you can bet your skin is going through the same sort of suffering. Wind, air pollution, UV rays, and other environmental assaults can wreak havoc on a complexion that's not adequately protected. In addition to wearing broad-spectrum SPF and drinking a lot of water, make sure your skin is hydrated at all times with a solid, antioxidant-rich formulated moisturizer. The Body Shop Vitamin C Glow Boosting Moisturizer is a great option to offer intense hydration. The formulation is infused with Amazonian Camu Camu Berries, which boast up to 60x the vitamin C power of an orange.
Lip Balm
Not a day hour should go by without your lips receiving much-needed hydration, which is why lip balm is a mainstay in our purses, desks, cars, nightstands…you get the idea. Needless to say, a formula with SPF—like Maybelline Baby Lips Moisturizing Lip Balm in Quenched—should join you on a backpacking journey no matter what. Apply it liberally and often to achieve baby soft lips that are protected against harmful UV rays.  
Read more

Back to top