How to Change Your Skin-Care Routine for Dry Climates
March 29, 2019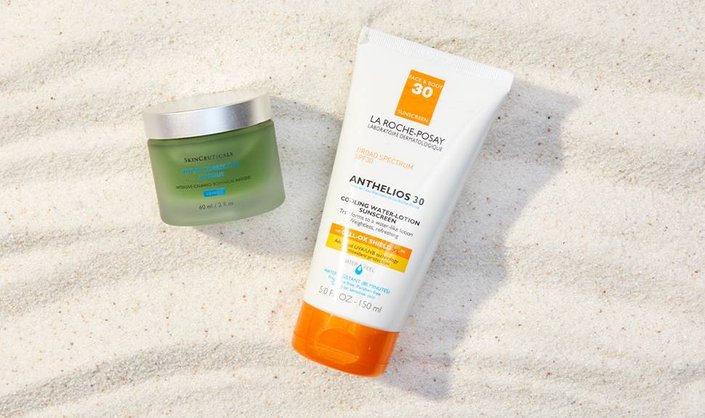 Seeking refuge from the cold weather? Pack your bags and head out for a holiday in the sun, desert style! But, before you head out for those dry climates check out our skin-care packing guide. From the skin-care swaps you'll need to make to the products you'll want to add into your routine during vacation, we're sharing a full breakdown below.
The most important thing to know about dry climates is that there is very little-to-no moisture in the air. These low levels of humidity can cause skin to become dry, dead skin cells to build up (this can make your skin appear dull) and for wrinkles to become more noticeable. What's more? When skin is dehydrated, it can sometimes cause the sebaceous glands to overcompensate for what your skin perceives as a lack of moisture. This means your skin may produce extra oil, which can cause the skin to appear slick and greasy. When these excess oils mix with dead skin cells and other impurities on the skin's surface, it can cause clogged pores and even breakouts. This is why the number-one thing you'll want to focus your vacation skin-care routine on is moisture.
SKIN-CARE SWAPS
While your normal skin care routine may suffice in your hometown, when you travel to places with dry climates you'll want to make a few formula swaps.
Cleanser
Some cleansers can be harsh and strip the skin of its naturally hydrating oils, so we recommend switching to a hydrating face wash. Try Vichy Pureté Thermale Foaming Cream. This hydrating and cleansing foaming cream helps to effectively cleanse impurities, makeup and pollution from the skin's surface without leaving the skin feeling tight and dry.
Moisturizer
After cleansing the skin, you'll want to make sure you moisturize, and L'Oréal Paris' Hydra Genius Daily Liquid Care Normal/Dry Skin fits the bill. Formulated with hyaluronic acid and hydrating aloe water, this water-based moisturizer is lightweight yet packs a hydration punch.
Sunscreen
Sunscreen is a skin-care routine non-negotiable — but perhaps even more so in hot, dry climates like the desert where there's lots of direct sunshine and little shade. Look for a broad-spectrum sunscreen that offers a refreshing feel like La Roche-Posay Anthelios 30 Cooling Water-Lotion Sunscreen. This weightless, refreshing sunscreen formulated with advanced UVA/UVB technology and antioxidant protection is fragrance- and paraben-free. It transforms to a water-like lotion upon contact with skin, giving a cooling effect.
`



ADDITIONS TO YOUR ROUTINE
The basics are enough to get you by, but to truly look your best in a dry climate you'll want to add a few products into your skin-care routine.
Facial Mist
Facial mists are the cherry on top of a hydrating skin-care routine. Using one can offer your complexion a boost of moisture on the go, whether you're on a plane, hiking in a canyon or lounging by the pool. One we love is Vichy Mineralizing Thermal Water. Available in travel-size, this thermal water from the French volcanoes is rich in 15 rare minerals. It not only soothes and hydrates skin, it also can help to strengthen the skin against external aggressors. Give your skin a spritz as often as you'd like during your travels — and long after you've returned home!
Lip Balm
While many of us use lip balm already in our everyday routine, when traveling to dry climates it's even more important. Kiehl's Lip Balm #1 temporarily helps to soothe dry lips on the plane and throughout your trip. If your lips feel extra dry, whip up a makeshift lip scrub using a little sugar and honey in your hotel room.
Masks
Traveling with a face mask in tow is one of the tricks of the trade for beauty editors. Look for a mask that helps to soothe and calm the skin like SkinCeuticals Phyto Corrective Masque. This mask cools on contact — great after a drying plane ride or a day hike in the desert — and helps to comfort skin sensitivity and restore a radiant appearance to skin.
Read More
6 Travel-Size Skin-Care Products for Your Next Trip
The Ultimate Travel Skin-Care Emergency Kit
6 Ways Summer Travel Can Affect Your Skin
Read more

Back to top