The Ultimate Holiday Travel Beauty Packing List
December 21, 2016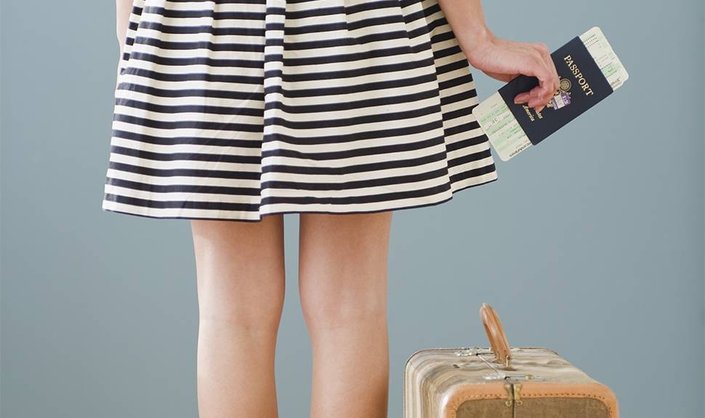 Whether you're off to the sunny Caribbean islands or the bitterly-cold north, keep reading to discover the must-haves you shouldn't leave home without. Traveling light but still looking your best? Amen to that! 
FOR THE PLANE
One of the biggest downsides—as it relates to your skin—of air travel is dry cabin air. The low humidity levels—at about 20 percent—on airplanes are less than half of what skin is comfortable in (and probably used to). You can guess what that lack of moisture can mean for your body's largest organ. Yup, dryness and dull-looking skin! To help combat the harsh drying effects your skin might experience at a cruising altitude of 30,000 feet, your airplane beauty bag should largely consist of hydrating products, from moisturizers to lip balm. Ahead, we share a checklist of the essentials you should pack in your carry-on bag to combat skin dryness—plus, our product recs for what to buy (in case you're stumped). Oh and don't worry, we've tripled-checked that they're TSA-approved.
Face Mist: For a quick mid-flight pick-me-up, few products work as well as face mist. Vichy Thermal Spa Water 50G (make sure to get the 50G travel size!) formula is enriched with 15 rare minerals and antioxidants from the French volcanoes and can help soothe and fortify skin.
Moisturizer: Another good (and fairly obvious!) weapon against dry cabin air is a hydrating, heavy-duty facial moisturizer that'll keep the moisture locked in. Slather on La Roche-Posay Toleriane Riche whenever your skin starts to feel tight and dry. Also, use it daily during your entire trip (and always after cleansing) to ensure your skin is consistently hydrated and nourished!
Sheet Mask: It's possible your seat neighbor wakes up in a fright seeing you look like a prop from a horror film, but it's worth it—in our opinion—to bring a sheet mask on board to help hydrate your skin even further. Try Lancôme Génifique Youth Activating Second Skin Mask. The mask adheres to the contours of your face, almost like a second skin, for an intensely hydrating, spa-like treatment. Keep it on for 20 minutes, gently massage any excess product into your skin, and enjoy the benefits!
Lip Balm: Think your lips are immune to the drying effects of airplane cabins? Think again. Since your delicate pout contains no oil glands, it's likely one of the first areas of skin to dry up and chap. No thank you! Store your favorite lip balm, salve, emollient, or jelly in your purse and apply it liberally when needed. Kiehl's Lip Balm #1 is a great choice since it's formulated with nourishing oils and vitamins.
SPF: Sunscreen should be on every single packing list, regardless of whether your final destination is humid and sun-filled. All skin needs daily coats of broad-spectrum SPF to help protect it against UV rays. Keep in mind that you're closer to the sun in the air, meaning that UV rays—which are more intense at higher altitudes—can penetrate through windows and prolonged exposure could harm your skin if it's not protected. Always apply broad-spectrum SPF 30 or higher—like Vichy Idéal Capital Soleil SPF 50—before boarding and reapply while on board if it's long-haul or over two hours.
FOR THE HOTEL
Most hotels offer basic skin care supplies—think: bar soap, body lotion, etc.—which you can rely on if you're short on space or feeling gutsy. The reason we don't love doing that is because there's no way to guarantee that the hotel-provided products are a good match for our skin. That's why we'll always bring along our own trusted arsenal of goodies, even if requires leaving behind some jeans to make extra room. Keep scrolling to discover the beauty products that will always make it into our suitcases, be it for the hotel or otherwise!  
Lipstick:

We're firm believers that lipstick pulls an outfit together, so of course we'll never leave it behind. In addition to our mascara, foundation, blush, bronzer…you get the idea…we'll always pack some lipstick. In honor of the holidays, why not go with a bold, flirty red shade? It'll surely make you standout in all of the family photos you're bound to take. Try

NYX Professional Makeup Velvet Matte Lipstick in Blood Love

.
Makeup Remover:

All that makeup has to come off somehow, right? (No, bar soap won't do.) Don't leave home without a cleanser/makeup remover, be it micellar water or cleansing towelettes. One of our favorite travel-sized micellar water formulas is by La Roche-Posay.

La Roche-Posay Micellar Water

(100ML) cleanses skin from dirt, oil, makeup, and even pollution without harsh rubbing or the need to rinse!
Cleansing Brush:

For a deeper clean than what your hands could provide, reach for a cleansing brush like

Clarisonic's Mia FIT

. When paired with your favorite cleanser, the brush can help remove impurities, dirt, makeup and residue. Its compact and lightweight design lends itself to traveling for radiant, smooth skin on the go.
Bon voyage!
Read more

Back to top