Soak it Up: 4 Bath Blends With Unique Mind-Body Benefits
August 16, 2016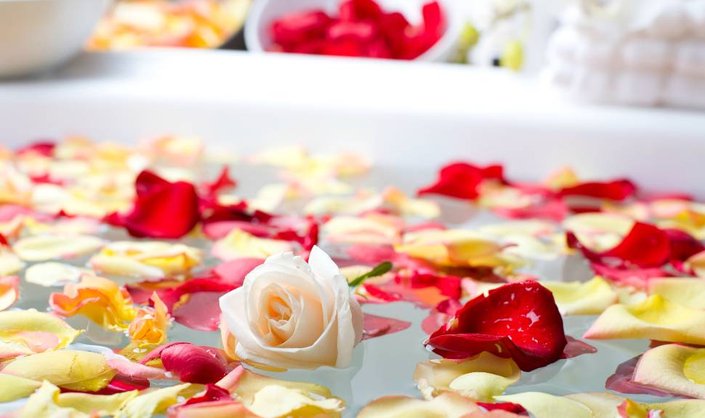 There's nothing as relaxing as leaving your worries behind to soak in a warm bath. But, what if we told you that you can elevate your soaking experience thanks to a few simple-to-find add-ons?  Whether you're feeling tired after a long work week, have dry skin after a day in the sun, or need to calm a cluttered mind, we have an aromatherapy bath blend for you. So, go ahead, draw a warm bath and get ready for some mega mind-body relaxation!
Feeling Fatigued?
After filling the tub up with lukewarm water—too hot and you may dry out your skin—use a few drops of peppermint and lemon oil. The invigorating blend of mint and citrus scents can even help to liven your mood. We love this soak on a Friday afternoon, post work week but pre fun night out with the girls.
Stressed Out?
Put those never-ending to-do lists away for a minute (or 30!) and lay back and relax in a tub filled with the scent of lavender and chamomile. These aromas are popular for de-stressing the mind and promoting calm. Perfect before bedtime when you need to quiet your mind and hop on the fast track to snooze city. Take the relaxation up a notch and sip on a warm cup of chamomile tea while you're at it.
Big Date?
If you're gearing up for a big date, chances are you want your legs to be silky smooth. Before reaching for the razor, draw a warm bath and reach for powdered milk and honey. The fats and proteins found in the whole milk can help to hydrate and nourish the skin while the honey acts as a humectant, locking in all of that much-needed moisture. Just be sure to use a hydrating body lotion post-bath to give that silky-smooth feeling staying power. Another benefit of this bath? Your skin will smell amazing! 
A Little Blue?
The soothing scent of rose oil, known to be one of the most luxurious oils available, can help to lift your spirits and ease any tension you may have. Make your bath fit for the queen you are by adding fresh rose petals to the water! After your bath, you can continue to enjoy the aroma of rose thanks to this collection from The Body Shop. 
Read more

Back to top