4 In-Flight Travel Essentials You Need in Your Carry-On
April 13, 2016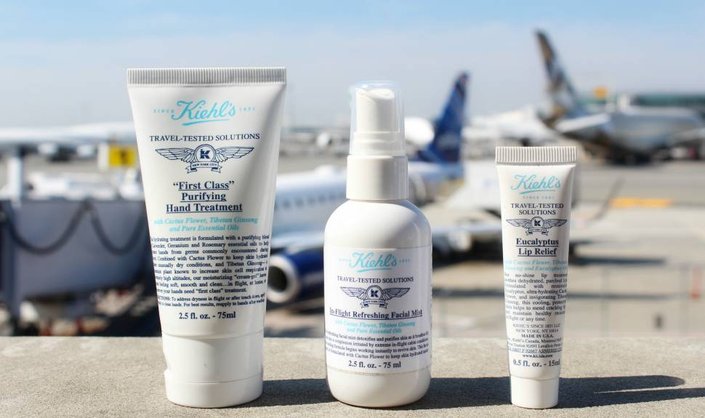 Thanks to the ultra-low levels of humidity in pressurized cabins––not to mention the sheer stress of traveling, itself––flying can take a serious toll on our skin. The moisture loss can cause everything from dryness to uneven skin tone to breakouts, but thankfully, there are "travel-tested solutions" that can help you combat these side-effects of flying and get first-class skin––even when you're stuck in coach. Make some room in your carry-on, because these four in-flight essentials from Kiehl's are worth leaving that extra pair of shoes behind.
Hydrate a Parched Pout
The lack of moisture in the air during flights can cause even the poutiest of lips to chap and crack. Kiehl's Restorative Lip Treatment is a no-shine formula that soothes dehydrated lips. The formula––a blend of cactus flower, and invigorating Tibetan ginseng––feels cool on contact and features a relaxing eucalyptus scent.
Wake Up Tired Eyes
The only bags you want when you're traveling are the ones you pack yourself and unfortunately, it's not just redeye flights that lead to dark circles and puffy under-eye bags. If getting shuteye en route isn't possible, fake it with Eye Alert.  This energizing treatment uses a potent blend of vitamins and caffeine to help fight the visible effects of fatigue. Made with cooling extracts to energize and hydrate the thinner skin of the eye area, this product is a must-have, even when you're not en route.  
Soothe Rough Hands
Protect and hydrate dry hands with the Purifying Hand Treatment. With a cream-gel texture, this treatment leaves hands feeling soft and hydrated despite the lack of humidity in the cabin. This product has soothing plant extracts of cactus flower and Tibetan ginseng and helps skin retain moisture while improving the overall texture and feel.
All-Over-Hydration
With the exception of increasing your H2O intake, nothing quite deserves the title of Holy Grail of in-flight essentials quite like a facial mist. Kiehl's Refreshing Mist was created to hydrate and purify the skin. A blend of cactus flower and Tibetan ginseng help preserve moisture to keep skin soft and smooth. In addition, it contains a blend of essential oils—like rosemary and lavender—to help purify and protect parched in-flight skin. 
Heading out on a flight and want more tips for staying radiant en route? Check out these skin care tips from a seasoned flight attendant. 
Read more

Back to top