How Dry January Affected My Skin After the Holidays
January 01, 2019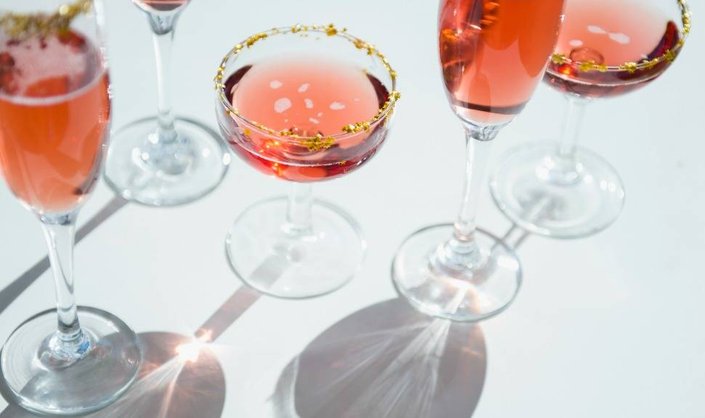 Ever wonder what happens to your skin after a Dry January? Last year one of our contributing writers made the decision to go alcohol-free during the first month of the New Year to find out. Check out her Dry January diary below. 
When it comes to setting New Year's resolutions, many people like to put health and fitness at the top of their list of priorities. And, us being the beauty editors that we are, like to kick these health-inspired resolutions up a notch and focus on lifestyle changes that may benefit—you guessed it—the appearance of our skin! In honor of the New Year, we decided to give the ever-so-popular New Year's resolution, Dry January, a try. If you haven't heard, Dry January is a no-alcohol pledge that lasts for the entire month of January; we figured this would be a great resolution to experience because it is known that excessive alcohol consumption can dehydrate your body and affect the appearance of your skin. Find out what happened when one beauty editor went an entire month without so much as a sip of alcohol, ahead.
If I'm being honest, my relationship with alcohol is, for the most part, nonexistent. I don't typically spend my weekends day drinking, nor do I spend my weeknights sipping on a glass of chardonnay while watching bad TV— though I still watch the bad TV. But, that all changes around the holiday season. As soon as November begins, my mind is set on fall-inspired cocktails…and by the time Thanksgiving rolls around, I find myself making more runs to the liquor store than I probably do the 10 other months of the year combined (the holidays are stressful, folks!). And after Thanksgiving, the Christmas festivities begin—that means a packed schedule filled with holiday parties, holiday shopping, and squeezing in time to have drinks with friends before we all head home to celebrate the season with our families. To sum it up: the entire month of December (and most of November) is basically one big excuse for myself to drink...and drink, and drink, and drink. That being said, once Christmas is over and it's time to ring in the New Year, my body has pretty much had it with the drinking. So, on day one of the New Year, I take a pledge of sobriety and quit drinking for the entire month of January.
Being a beauty editor, this year I opted to add an extra layer to my Dry January plan. I vowed to journal my experience of going booze-free to see if it had any effect on the appearance of my skin—after all…this is Skincare.com! Since we've written about how excessive drinking can affect the skin in the past, we all thought this would be a perfect opportunity to test the theory that going alcohol-free can, in fact, improve the way your skin looks. Here's how it all went down:
WEEK ONE OF DRY JANUARY:
For me, the first week of dry January was all about setting myself up for success and implementing healthy habits—such as, eating a well-balanced diet (as opposed to my high-calorie holiday diet), drinking the recommended amount of water, and taking my time with my morning and nighttime skin care regimen. Instead of drinking wine in the evenings, I opted for a glass of seltzer water with some lemon slices. And on the weekend I tried to make plans with friends that didn't involve boozy brunches or, worse, hanging out at our favorite neighborhood bar.
By the end of the week, I was starting to get back into the swing of my usual sober lifestyle and even began to notice a few small changes to the appearance of my complexion, too. Drinking too much alcohol can dehydrate your body—and your skin—and leave it looking less plump and fresh… and my skin appeared to be going in the opposite direction. After seven days of sobriety and incorporating healthy lifestyle changes, my puffy, tired-looking holiday skin was less noticeable, and the overall texture of my skin looked (and felt) less dry—despite the frigid winter weather. With week one of no drinking under my belt, I was ready for week two.
WEEK TWO OF DRY JANUARY:
As much as I love my job, it's always hard to get back to work after the holidays—especially if, like me, you spent your winter break in a different time zone—however, my commitment to sobriety helped make the transition practically seamless. Instead of hitting the snooze button over and over (like I usually do), I was up and ready to start the day after just one alarm.
With my energy levels up, I was able to take more time for myself—and my skin—in the morning, and even gave myself a quick facial one morning, using a complimentary sample of Vichy's Quenching Mineral Face Mask. What I love about this drugstore face mask, is that it only requires five minutes of your time left my skin feeling hydrated.
By the weekend, I noticed that my puffy-looking skin had subsided even more—even in the mornings, when it is seemingly at its worst—and the dry, dull-looking skin that I usually experience after multiple nights—read: a season—of drinking was becoming much less noticeable.
WEEK THREE OF DRY JANUARY:
By week three, my month of no drinking was becoming easier and easier...especially after I looked in the mirror and noticed that my skin appeared to be glowing! It's almost as if my skin was saying "thank you," and that is all the motivation I needed to see this resolution through.
In addition to better-looking skin, one of the biggest changes I noticed in week three was how well-balanced my diet had become (without even trying). When I drink, I tend to splurge on junk food and greasier, high-calorie meals. But, with this new lifestyle change, I was making healthier options without even realizing it.
WEEK FOUR OF DRY JANUARY:  
When week four rolled around, I couldn't believe it has already been a month! The negative effects of my holiday drinking had subsided, the puffiness was less noticeable and my skin appeared more hydrated and illuminated than before. What's more? I felt great, too! The healthy choices I was making in terms of my diet and drink choice (i.e. water) left my body feeling well-nourished and energized.
Read more

Back to top