Celebrating National Yoga Month with Decléor
September 19, 2016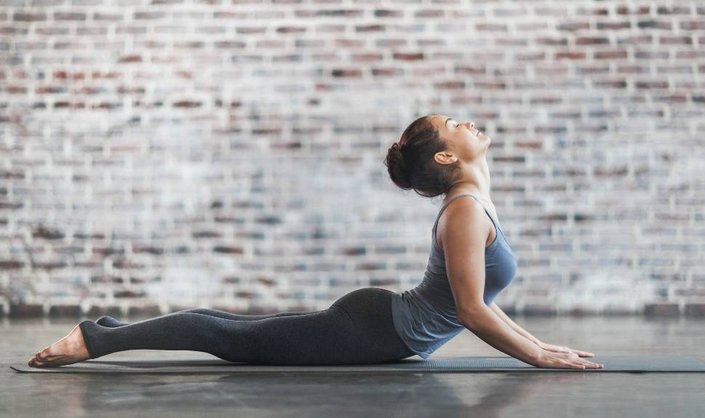 September is National Yoga Month and as with every holiday—social media-inspired and otherwise—we're finding ways to celebrate with skin care. Since stress can do a number on your complexion—more on that here—we are always seeking ways to calm our minds. Below we share morning yoga poses and an aromatherapy skin care routine from Decléor that fits the bill!
Celebrate National Yoga Month by calming up your mind, body, and skin—the pillars of Decléor's philosophy—with this easy morning routine. Start with a few simple asanas—those are yoga poses for those of you who aren't seasoned yogis—and finish with a little aromatherapy care of Decléor. Namaste!

Morning Yoga Poses
Start your day with a few sun salutations. These gentle yoga poses can help you to stretch out your sleepy muscles each morning.
To start, stand tall, feet shoulder-width apart, raise your arms up—feel the stretch in your reach—and then slowly fold your body over, touching your hands palm down to the floor (only if you can!).
Next, step back and lower your body into a plank, hold for a moment and then gently drop down to the floor.
Elongate your arms and lift your body from the waist up off the ground into a Cobra pose, gently arching your back and tilting your head up toward the ceiling.
Bring your body down again and then lift yourself up into Downward Dog: your legs and arms are straight and extended, palms and soles flat on the ground, neck relaxed, and head down.
Slowly walk your hands back until you are folded over once again, then gently reach your arms up, out and over your head, joining your hands at the top and then bringing them down palm-to-palm and rest over your heart.
Repeat a few times and then move onto the next step!
Aromatherapy Skin Care Routine
Now that you've relaxed your mind and body, it's time to focus on your skin. This skin care routine incorporates aromatherapy skin care products from Decléor and helps to cleanse, hydrate, and prepare your complexion for the day ahead!
Read more

Back to top