Career Diaries: How Craig Dubitsky, Founder of Hello Products, Is Making Toothpaste Fun
March 12, 2020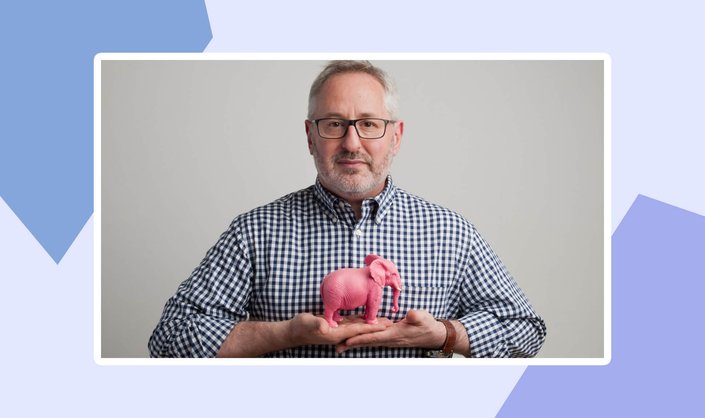 Craig Dubitsky is a serial entrepreneur with a mission to personalize personal care. After noticing that the toothpaste giants were lacking in friendliness and fun, he decided to create Hello, a new kind of oral-care brand created with natural, good-for-you (and good-for-your-family) ingredients. Here, Dubitsky is sharing everything from what inspired him to step into the oral-care space to the reason he insisted on having a direct Skype line on the brand's website. 
Can you give a little background on your career before Hello? 
I'm a life-long entrepreneur. I was literally a little kid with a lemonade stand behind the car wash. I had lots of businesses in college, too. I had a trucking business, I had a carpet business selling custom-cut carpets for dorm rooms. Then, my first job out of school was as a commodities trader. It was all this crazy stuff, you know, like jumping around, yelling and screaming in a pit with people. Then I traded off the floor for what became Citigroup. After that, I was a London Metal Exchange trader. The thread is that I'm an arbitrageur and just see opportunity everywhere. I've done other things, too, but in terms of consumer packaged goods, I got involved really early with a company called Method, which is house and cleaning products. I met the founders when they were two guys just mixing products in the bathroom. I helped identify and lead the original investment method. I went to everyone I knew to co-invest, and they all said, you're crazy, it's cleaning products and nobody cares. My thesis has always been that people care about everything. There's no such thing as a boring category, there's just boring executions. And, well, Method, went on to become an incredible brand. I was on the board of Method for about five years. After that, I went on to found a company that founds other companies. I was one of the original co-founders of eos. I'm the guy who sat there with a sculptor and made a sphere of lip balm. I made up the flavor names for my wife. She developed an allergy to pitted fruits, so I made a flavor that was peach, plum and nectarine for her and called it Summer Fruit. It all came from a very pure place.  
You were clearly pretty busy! What inspired you to expand your career and found Hello Products? 
There was a very specific moment for me: I'm a hyper-visual person and I was in a big chain drugstore walking through the aisles and I happened to walk past the oral-care section. All I noticed were these boxes with pictures of extracted teeth on them. It just hit me. I thought, what a weird way to explain good oral health. It seemed a little antithetical to me. That stopped me in my tracks and I picked up a couple of boxes of toothpaste, started looking at these ingredients and I saw things that made me shudder. Why is there alcohol in this product? Or, what's triclosan? I Google it, and it turns out the FDA had banned triclosan from our hand soap, but it was allowed in our toothpaste? In our kids' mouths? Why is there saccharin? Didn't diet sodas banish saccharin decades ago? Why is that in toothpaste? I thought that everything I knew about the category and everything seemed to be about fear and shame and very masculine. Your job was to kill, eliminate and destroy everything going on in your mouth. I'm sitting there like, god, this is the most aggressive, scary sell job I've ever heard in my life. The whole thing is just so unfriendly. So I thought, what's the friendliest word I can think of? It was Hello. 
I trademarked the word Hello all over the world in all these different categories because no one had done it. Lionel Richie and Adele, you know, they missed out. Then, the first thing I did was bring on a formulator because I really wanted to own the formulations. It's one thing to have an idea, it's another thing to make it real. I was very prescriptive about what I thought, as a non-scientist, could or should never be in the products that are going in our children's mouths and in our mouths. The other crazy idea I had was anything that goes in your mouth should taste awesome and should be as natural as possible. It was kind of a simplistic point of view, but believe it or not, people just weren't thinking that way about oral care. 
Did you have any fear about getting in competition with  giant oral-care companies?
I have no fear of failure, I have fear of not trying. For me, this actually got me really excited. I knew that there were these really big companies that effectively own the categories and that most people are kind of on autopilot. They just buy one brand or another one, get a sample from the dentist or pick up what's on sale. I took it as a great opportunity to have a very different kind of conversation in the category. I kept saying to people, "Yeah, these brands are amazing brands. They've stood the test of time. They're really all trusted brands, but I see my grandparents' teeth. Why would I use the same toothpaste as them?" And people were like, "Oh my god, I never thought about it that way." It just gave me more confidence than anything.
You have a personal Skype line open to customers at all times. Tell us about that. 
When we started, I wanted our entire website just to be Skype. I literally wanted you to go to our URL and get a ping that said, "Hey, please turn on your camera." And I was advised against that. They said that  people come to the web because they want to learn about the ingredients in your products. And I said, "Then I'll tell them about that." They told me they would wonder where to buy the products. And I said, "I'll tell them where to buy it." Everyone kept telling me that I couldn't do it. So I replied, "I can't or I shouldn't?" We can't call the company Hello and want to be the friendliest company in the world and then be unreachable. That's the opposite of friendly. Anyway, the compromise was a Skype button. I get pings from all over the world, and I love it. I get calls from a lot of entrepreneurs, dentists, hygienists and regular people who want to ask questions. A lot of people don't think it's real, but it's real. It just comes to me. And it's fun. I'm really lucky. If you keep putting positive stuff out, more positive stuff will come back in. 
I'm trying to make personal care personal again, and you can't do that and then be unreachable. If you write to us, we write you back. I used to write a note in every single outbound e-commerce box. Now, I have the whole team doing it. We take turns. I know it doesn't scale very well, but that's exactly why we do it. People actually care enough to order our stuff, what we care about, and we're just letting people know how much we appreciate it. 
What's next for Hello? 
I kind of like lip care, as you can imagine. Last I checked, lips are a part of the mouth. We like mouths. We have a brand new vegan lip balm. I want to stress that we're vegan because most lip balms use beeswax. It's launching in Ulta, and it's really cool for us, as an oral-care brand, to be in Ulta. It's a really beautiful product, too. It's super hydrating and it has this beautiful pack. I love design and the aesthetic is just really clean, minimalist, elegant and simple. But the stuff inside is what counts — it's very moisturizing and contains CBD. There's more to come in the skin-care realm, too. 
Fill in the blanks.
My three desert island items are: my family, a guitar and some way to write stuff down. 
The best part about being my own boss is: getting to keep my own hours. Oh, and having dogs and music in the office. 
My personal brand is: terminal optimist. 
What makes me the happiest is: seeing other people happy. 
Read More:
How to Care for Combination Skin the Right Way 
What Does SPF Mean? A Crash Course in Sunscreen and Sun Safety
6 Reasons Your Skin Looks Dull, Plus What You Can Do to Restore Radiance
Read more

Back to top