Career Diaries: How a Cancer Diagnosis Inspired Hillary Peterson to Create True Botanicals
March 04, 2020
Hillary Peterson's career in the beauty industry didn't start like most. She was working as a marketer when she was diagnosed with thyroid cancer, and as one would expect, it changed everything. It led to her taking a closer look at the ingredients in her skin-care products, and as a result, the ingredients she was putting in her body. That's how she got the idea to start her own brand and True Botanicals was born. The all-natural, non-toxic beauty brand prides itself on being good for both people and the planet. 
Ahead, Peterson tells us more about how she channeled her frustration into a vision, as well as the natural ingredients she's most passionate about (and why you should be, too).
Can you tell us about your career path and the journey that brought you to where you're at today?
As a marketer, having worked with several iconic Bay Area brands, including Levi Strauss & Co., I had always thought that someday I might like to start my own business. My direction became more clear following a thyroid cancer diagnosis as a young mother of twin babies. This led me to take a closer look at my personal-care products, only to realize that they all had one thing in common: their ingredient labels contained toxins. Understanding that what goes on your skin goes into your body, I threw myself into an eight-year study of botanicals and their healing powers, consulting with the world's leading green chemists and sustainability experts.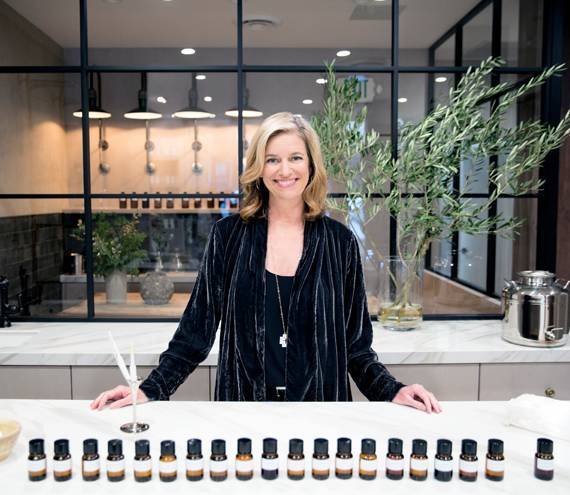 What sparked your interest in the beauty industry?
My ultimate goal is to formulate transformative skin-care products that won't compromise the health of people or the environment. I want more people to know that they don't need to risk unnecessary exposure to toxins in order to get results in their skin-care. True Botanicals is the proof. Again, as someone who knows what it feels like to find out that you have cancer as a young mom (which is truly terrifying), I want to inspire more people to use products that do not contribute to their toxic load.
Tell us a little bit about your brand, True Botanicals? 
We are building a brand that benefits our customers, the farmers who grow our ingredients and the planet. It is so rewarding to be a part of a movement that is proving that there is a lot of demand for mission-driven brands that make great products. 
What kinds of ingredients are used in True Botanicals products?
Our standard is to ensure that all of our ingredients are non-toxic, backed by MADE SAFE certified. To make the most effective formulas possible, we combine potent naturals with safe synthetics. As it relates to organic ingredients, we use them whenever possible, although it can get tricky because certain naturals aren't even available in organic form. Take the seaweed that's featured across all of our collections: Because this ingredient is wildcrafted, it can't be certified organic, but that doesn't mean our products are any less pure and good for you. 
All that said, I'll give you an example of some specific ingredients I'm wildly passionate about. Apple peel is found in our antioxidant booster, and I cannot get over what this formula does for the skin. It contains this patented, whole apple peel powder that's naturally rich in antioxidant polyphenols, rutin, quercetin and ursolic acid. It's thanks to these components that apples are one of the longest-lasting fruits, which is really cool to think about. Mother Nature is truly the best cosmetic chemist. 

I'm also incredibly impressed by the super antioxidant astaxanthin from red algae. It can help with everything from hyperpigmentation to moisture levels to firmness — a real jack of all trades — so we included it in all of the products in our Renew Collection.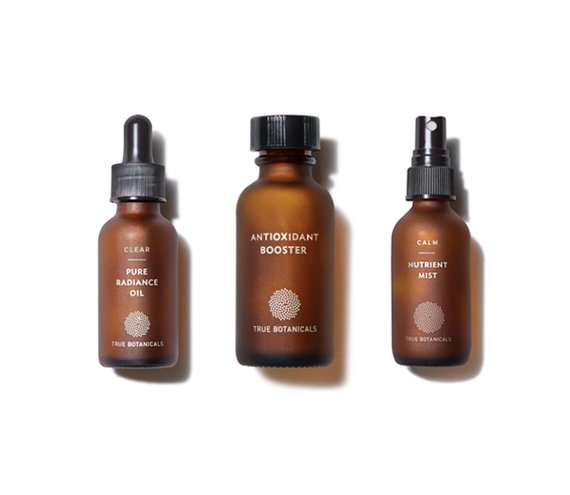 What's your daily skin-care regimen?
I am a True Botanicals super-user (surprise, surprise!) and try to keep things pretty simple when it comes to skin care. In the morning on a daily basis, I use a splash of water on my face, Calm Mist and Clear Pure Radiance Oil. At night I use Pre Cleanse Oil, Clear Cleanser, Clear Pure Radiance Oil again, Renew Repair Serum and Antioxidant Booster. My hair and body routine includes the Nourishing Shampoo, Nourishing Conditioner, Nourishing Wash and Nourishing Lotion.
And I'll add that I try to take a Dead Sea salt bath almost every night — it's the best way to put yourself to sleep.
Can you pick a favorite True Botanicals product?
I love all of the products in our lineup for so many different reasons, but these are three of my absolute favorites: I love how the Calm Nutrient Face Mist hydrates and calms skin at the same time. It is great to have on flights to avoid epidermal water loss. While it may seem like at the age of 57 I don't have to worry about breakouts, I absolutely do. When I consistently use the Clear Pure Radiance Oil, my skin has a glow, it feels hydrated and it does not break out. The Antioxidant Booster harnesses the antioxidant power of the peel of apples to help preserve our skin. It really is a miraculous product! 
Favorite part of your job?
I love hearing from our customers about how our products have been truly transformative for them. There is nothing more satisfying than hearing someone talk about the real results they see. It is so rewarding to know that we are changing the beauty industry for the better one woman and one result at a time.
Consumers are more informed than ever. I'm excited to continue to provide consumers with the best, most effective products that they know without a doubt are safe for them, the people they love and the planet. By doing so, more people will discover and share that we all deserve better!
Photo: Courtesy of the Brand
Read More:
What Is Clean Beauty Anyway? Two Skin-Care Experts Weigh In
The Truth About Transitioning to Natural Deodorant
Career Diaries: Meet Nichole Powell, the Woman Who Founded Kinfield
Read more

Back to top