Hit the Pause Button: 4 Ways to De-Stress At Home
March 15, 2017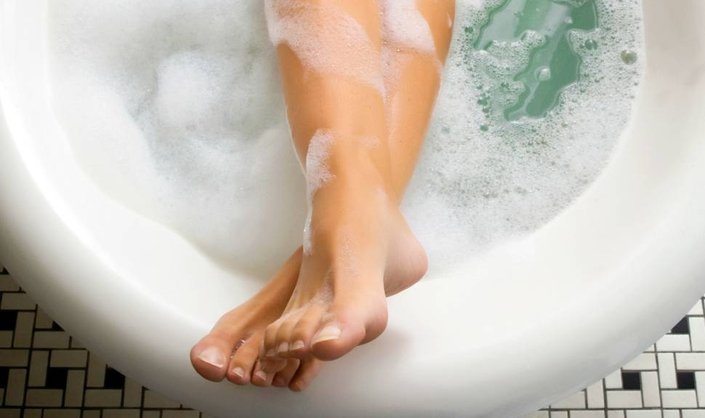 TAKE A BATH
Feeling a bit rundown after a long work week? Let your hair down—literally—in a warm, luxurious bath. Add a cup of sea salt and a few drops of your favorite essential oil or scent. You can also opt for a foaming bath product with soothing properties, like Kiehl's Lavender Foaming-Relaxing Bath with Sea Salts and Aloe Vera. It contains moisturizing and conditioning ingredients that are beneficial in maintaining optimal skin condition. Plus, the calming scent of lavender is truly divine. Add two or three capfuls to running bath water and dive in. Don't forget to light some candles to set the zen mood even further.
For a little extra TLC, lather your skin in cocoa butter after the bath. We're suckers for The Body Shop Cocoa Butter Body Butter. The super-rich and creamy formula leaves skin feeling soft and nourished.
EXFOLIATE
There's something about sloughing off dead skin in the shower that's particularly calming. When you're feeling stressed, hop into the shower and lather on a body scrub. Try The Body Shop Fuji Green Tea Body Scrub. It's infused with replenishing green tea from Japan and the scent is extremely uplifting. Apply in circular motions two to three times a week for smooth, healthy-looking skin.
GIVE YOURSELF A PEDICURE
Pampering your feet is a great way to pass time (and treat yourself) in a relaxing way. First, soak your feet in a warm tub filled with your favorite essential oil, bath foam or scent. Next, use The Body Shop Peppermint Cooling Pumice Foot Scrub to remove any rough, callused skin from your feet. The peppermint oil provides a cooling sensation that will leave your feet feeling refreshed. Follow up the scrub with a moisturizing foot cream or lotion that keeps with the peppermint theme. Finally, apply your favorite coat of nail polish—we love Essie Shades On from the spring 2016 collection—and voila, you're done!
Want to know more about DIY pedicures? We've laid out four easy steps here.
PUT ON A FACE MASK
You've treated your body and your feet, and now it's time to pamper your face. Kiehl's Turmeric & Cranberry Seed Energizing Radiance Masque is great for energizing the look of dull, fatigued skin and restoring a healthy glow thanks to its unique use of cranberry and turmeric extract. The cranberry seeds in the formula help to gently exfoliate the skin. To use, apply to the face after cleansing and toning. Allow it to dry for five to 10 minutes, rinse off, and gently pat dry. 
Read more

Back to top