How Clay Benefits Skin: Find The Best Clay for Your Skin Type
October 11, 2019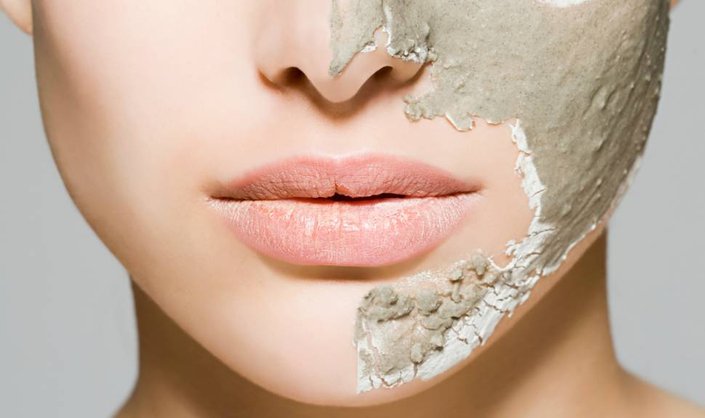 Whether you worship skin-care and are willing to try anything for the sake of clearer, more radiant skin, or, you simply stick to the basics, chances are you've crossed paths with a clay face mask. As one of the oldest forms of skin care, clay masks can provide the skin with a wide-range of benefits from clearer pores to a glowing complexion. "Too often, clay is an unsung hero of a formulation," says The Body Shop's Beauty Botanist, Jennifer Hirsch, "Its purifying power acts as the backup player for a more glamorous ingredient." According to Hirsch, there are 12 different clays used in beauty and all have the ability to remove impurities from skin's surface, but of the 12, she always opts for four: White Kaolin, Bentonite, French Green, and Moroccan Rhassoul. Want to know the skin care benefits of each of these different clays for your skin type? Keep reading.
White Kaolin Clay for Dry & Sensitive Skin
"Better known as China or white clay, this is the mildest of all the clays. It is less powerful at drawing out oil and impurities—making [this clay] perfect for dry and sensitive skins." Hirsch says. She recommends trying The Body Shop's Himalayan Charcoal Body Clay from the brand's Spa of the World Line. Its formula has a Kaolin base—mixed with charcoal powder—and can draw out impurities, giving the skin on your body a much-needed deep cleanse. This body clay is perfect for an at-home spa day, as it may not only prove to be a relaxing treat for your skin, but for your mind, as well.
Bentonite Clay for Oily Skin
"Hugely absorbent, Bentonite is the opposite end of the spectrum from white clay [and its] powerful absorption makes it perfect for oily skin," she says. We love this type of clay, as it not only gives our skin a deep, clarifying cleanse but it can also work to remove the environmental aggressors that we are faced with every day from our skin's surface. We like to create a mask using one-part bentonite clay and one-part apple cider vinegar. Apply the mask to your face and body, let it dry, then rinse in lukewarm water, or soak it off in a nice, relaxing bath.
French Green Clay for Oily & Acne-Prone Skin
"Being both rich in minerals and phytonutrients, and effective at drawing out impurities, French Green clay is a prized beauty ingredient," Hirsch explains. In addition to its detoxifying attributes, French Green clay can also be highly absorbent—which makes the clay great for oily or acne-prone skin, as it can work to clarify the complexion. Create a DIY French Green clay mask by mixing 1 tablespoon (or more, depending on how much skin you want to cover) French Green clay with enough mineral water to create a paste (start with half a tablespoon and work your way up). Apply the mask to your face and body for a once-a-week deep cleanse.  
Moroccan Rhassoul for All Skin Types
"Super fine in texture and packed with skin-essential magnesium—as well as a host of other minerals—Rhassoul is a potent detoxifier [that can] replenish critical minerals," Hirsch says. The Body Shop's Spa of the World line features a World Moroccan Rhassoul Body Clay that is formulated with both Kaolin and Rhassoul clay from the Atlas Mountains of Morocco.
Read more

Back to top