How to Make Your Skin Look Like You Got a Good Night's Sleep
February 18, 2022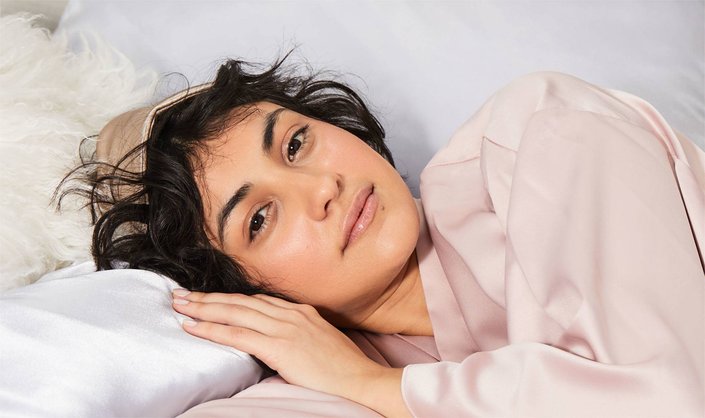 In a perfect world we'd get eight hours of sleep every night and wake up with refreshed skin. But let's be real — life happens and it's not always possible to get a full night's sleep. While you can mask tiredness with makeup, there are other ways to revitalize your skin so you look like you slept through the night (even if you didn't). So put down your coffee, grab a sleep mask and keep reading to learn how sleep affects your skin and for tips to help you look more awake.  
How Sleep Affects Our Skin
While we sleep the skin works overtime to revitalize itself — something it can't focus on doing if you aren't catching some zzzs. "Seven to eight hours of sleep is ideal to keep your skin looking refreshed," says Dr. Jeannette Graf, a New York-based, board-certified dermatologist. "This allows your body enough time to get adequate REM sleep so your cells can turnover, regenerate and repair skin damage overnight."
According to Dr. Graf, there's actually some truth behind the idea of getting your beauty sleep. "Lack of sleep can drastically affect the look of your skin by causing signs of inflammation, dryness and dullness as well as emphasizing the look of fine lines and dark under-eye bags," she says. Studies have also shown that not getting adequate sleep can affect the skin's collagen production which in turn weakens the skin barrier function making it more susceptible to dryness and irritation. 
We all have days when getting a full eight hours of shut eye isn't possible. Luckily there are a few things you can do to make it look like you slept through the night. 
How to Fake a Full Night's Sleep
You may be tempted to pour another cup of coffee if you didn't get adequate sleep, but Dr. Graf advises not to. "Coffee reduces skin circulation by constricting blood vessels," she explains, which can make your skin look even more dehydrated. Instead, swap your coffee for green tea —  you'll still get your caffeine fix without the crash or skin side effects. 
Dr. Graf says the best thing you can do for your skin is drink lots of water. "When you want to freshen up your skin, water is your best friend because it helps hydrate your whole body." She recommends trying to drink the daily recommended amount of water to keep your skin looking dewy. That's 125 ounces for men and 91 ounces for women.
Two of the most obvious signs of sleep deprivation are puffiness and dark under-eye circles. To address the former, Dr. Graf recommends placing cold compresses on the affected area. For the latter, try using an eye cream that contains vitamin C or caffeine. "Both ingredients can help brighten dark circles and depuff under-eye bags," she says. We like using the L'Oréal Paris Revitalift Derm Intensives Hyaluronic Acid + Caffeine Eye Serum because the hydrating formula works to brighten dark circles while the unique triple roller applicator helps to depuff the eye area so you look more awake.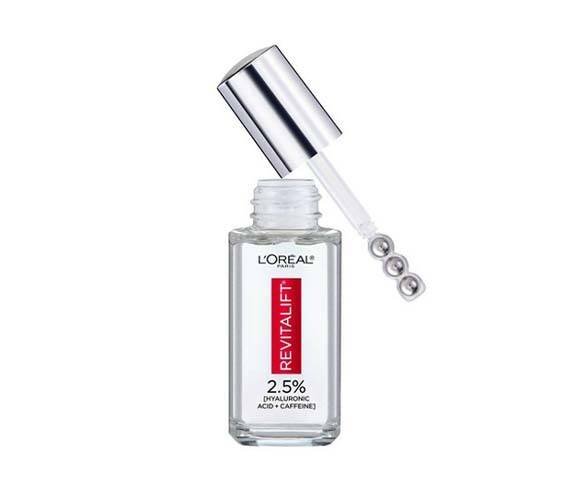 A good rule of thumb is to avoid anything that can dehydrate your skin, too — that includes salty foods and alcohol. "High sodium foods can make your face look puffy, and alcohol, well, it will dehydrate your skin even more," says Dr. Graf. Try to eat water-rich foods, like watermelons and oranges, instead (and don't forget to drink water!) to help restore hydration from the inside out.
These quick fixes can help you look more awake in a pinch, but nothing compares to letting your body rest and rejuvenate naturally — so try to squeeze in those eight hours. Trust us, your skin will thank you. 
Photo: Chaunte Vaughn
Read More:
You Need Vitamin E for Your Skin — Here's Why
6 Affordable Ways to Reduce the Appearance of Dark Circles
5 Tips to Make Your Glowy Skin Goals Totally Achievable 
Read more

Back to top