Kristen Noel Crawley Talks KNC Beauty, Supporting Black Entrepreneurs and Having a Voice
February 11, 2022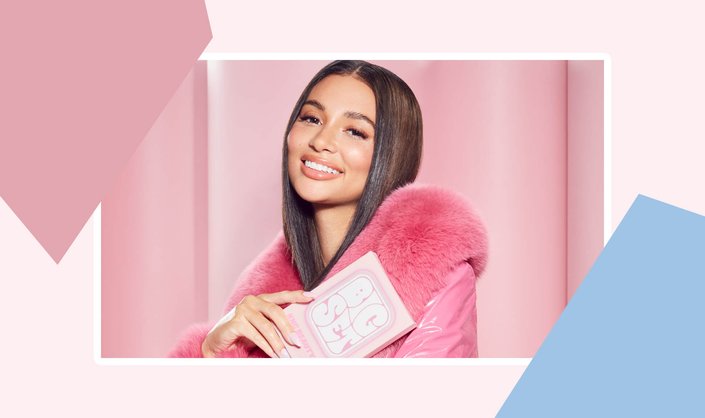 From lip masks that will make your lips as soft as can be to retinol-infused eye masks that are shaped like shooting stars, KNC Beauty offers effective, clean and seriously Instagrammable products. Trust us, every single one is a photo-op in the making. And after chatting with the brains behind the brand, Kristen Noel Crawley, it's no surprise that the brand has such an effortless, cool-girl feel. The magazine editor turned beauty boss gives off the exact same vibe. KNC doesn't just make great skincare though, the brand is also creating a program where black beauty businesses can share their stories. From lifting up other Black entrepreneurs in beauty and finding her voice in the industry, Crawley shares it all, ahead. 
Can you give a little background on your career?
I worked as an editor for ELLE.com and through that I was able to gain an abundance of experience and exposure.  
What inspired you to start your own beauty brand? 
I went on a beauty trip to Tokyo with Dior. When I was there, I discovered classic Japanese lip masks. I loved how playful yet effective the product was, so I decided to launch my own perspective on the trend by starting KNC Beauty. 
As KNC Beauty has grown, what guiding principles have remained at its core?
One thing that has remained true to our core mission over time is that KNC Beauty encourages various definitions of beauty. Our products are for all ages and genders. The products should feel chic and timeless to everyone. We are an inclusive brand that aims to support people from all walks of life on their journey to better skin care. 
KNC Beauty has gained so much popularity through Instagram. How did you develop the brand's tone on social media? 
I've always loved a pop of color and wanted to bring that playful, fun energy to my own line. I think the branding is representative of my personal style. I've always hoped to inspire others to use KNC Beauty's products to express themselves in their own unique way. 
What's been the biggest challenge for you? 
There have been many of the traditional roadblocks that come with having a business that in themselves are so difficult to navigate. When you don't have a lot of experience and begin to go through those trials as an entrepreneur it can be hard. There are a lot of disappointments along the way, and people love to tell you no. You just have to keep going and know what inspired you to pursue this dream in the first place. 
What's been your biggest pinch-me moment? 
When I got the letter from Violet Grey that the site wanted to feature my brand! 
Tell me a little about the KNC School of Beauty.
I launched the KNC School of Beauty in direct response to the Black Lives Matter movement. I wanted to create a space where leading Black female entrepreneurs could get together to share their stories of both success and failure. It was important for me to use my influence to provide aspiring business women with real-life examples.
What's next for the brand? 
I want to continue to grow at a steady pace, supporting the people and communities that have shown me love over the years. I hope to lift others up while releasing products people can truly carry with them forever. 
Fill in the blanks.
My three desert island products are Supa Balm in OG Rose, Black Girl Sunscreen and a fishtail comb. 
To me, beauty means feeling yourself and owning that confidence both inward and outward. Beauty exudes from within and manifests when you are your most authentic self. 
The best part about being my own boss is being able to make my own hours, so I can juggle my time as a mom and not have to report to anyone on specifics. 
A beauty trend I regret trying is getting the Japanese straightening treatment on my hair over ten years ago. It ruined my hair, and my curl pattern has never recovered.
What keeps me motivated is positive feedback from my customers! When I hear they love my products, it makes me feel like I've been able to support people on their personal beauty journeys. 
I would tell people entering the beauty industry to stay strong! It's so cliché, but seriously, don't back down. Know your worth and be confident in your vision when you walk in the room. The industry has become so much more inclusive over the years, and it's important to know that you have a space in it. 
Photo: Courtesy of KNC, Design: Hannah Packer
Read More: 
6 Indie Skincare Brands to Keep on Your Radar
Career Diaries: 'When Life Gives You Lemons' Founder Nita Sederholm Bridges the Gap Between Skincare and Makeup
5 Tips to Make Your Glowy Skin Goals Totally Achievable 
Read more

Back to top