The Future of Sun Protection: My Skin Track UV
November 14, 2018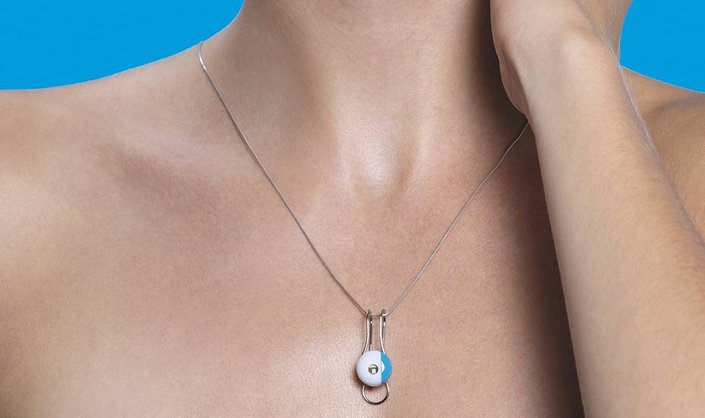 Of all the non-negotiables in skin care, sun protection is the one that ranks up at the top. But did you know that there are other external aggressors that are affecting your skin each and every day? UV rays, humidity, pollution, and even pollen exposure can all negatively affect the look and feel of your skin. Thankfully, La Roche-Posay is here to help. The always innovative skin care brand recently unveiled its newest launch, My Skin Track UV and its corresponding app, to help you track your exposure to external aggressors and offer personalized skin care routine recommendations for what you can do to keep your skin healthy.
What Is My Skin Track UV?
Your skin is open to aggressors every day. Things like UV rays, pollution, and even pollen can negatively affect exposed skin in ways you may be completely unaware of. "We have oxygen in our environment, but environmental factors—like smoking and the sun—cause free oxygen radicals," says board-certified dermatologist and Skincare.com consultant, Dr. Lisa Ginn. These free radicals are what bombard your skin on a regular basis, sticking to and breaking down your collagen and elastin fibers and causing skin to show the many signs of aging: dull tone, wrinkles and fine lines, dark spots, and more.
"Unprotected UV exposure is one of the biggest factors of visible aging," states Angela Bennett, General Manager of La Roche-Posay USA. "Skin cancer is on the rise, and it is a preventable disease." But before you get completely paranoid, put your woes at ease. The My Skin Track UV has you covered.
My Skin Track UV is the first ever battery-free sensor that clips onto clothing and measures your personal UV, pollution, pollen and humidity exposure via its companion app. Not only will it remind you when it's time to reapply sunscreen—or get out of the sun!—you'll also receive personalized tips and skincare recommendations to help improve healthy skin habits. For example, when pollen levels are high, those with eczema can experience flare-ups and sensitivity. My Skin Track UV will track these levels in your environment and prepare you with a skin care recommendation.
"La Roche-Posay believes that better looking skin starts with healthy habits. That's why we are committed to bringing scientific progress directly to consumers, so that they can make well-informed decisions that will help them take exceptional care of their skin," says Laetitia Toupet, Global General Manager of La Roche-Posay. "The research that went into the development of this technology indicated that wearables have the power to inspire true behavioral change by helping people measure and understand their exposure to various environmental aggressors and take action."
How Does My Skin Track UV Work?
Within each My Skin Track UV wearable, there's a light-emitting diode (LED) sensor within the device that's able to detect and capture UV light. The data is then transferred from the sensor to your phone, showing you your unique levels of environmental exposure and how those exposures are contributing to your specific skin care concerns. This information also includes your max sun-stock, the recommended maximum daily allowance of sun exposure for your skin based on your skin tone and the UV index. "Our hope is that through everyday use for extended periods of time, My Skin Track UV will help people to easily and naturally become not only more sun savvy, but more sun safe every day," explains Ms. Bennett.  
"Our research has long indicated the need for better consumer understanding of personal UV exposure," adds Guive Balooch, Global Vice President of L'Oréal's Technology Incubator. "We created this battery-free sensor to seamlessly integrate into the lives, and daily routines, of those using it. We hope the launch of this problem-solving technology makes it easier for people to make smart, sun-safe choices." He also emphasizes the fact that the future of beauty is closely tied to health, along with a focus on something else. "We see our mission of beauty-for all as evolving into beauty-for you where everyone has experiences tailored just for them," he explains. "All of this really came together in the intention for this product [which can] help craft a customized regimen that keeps your skin looking healthier." 
How to Use My Skin Track UV
The best part about wearable technology is how simple it is to use. To use the My Skin Track UV, place the sensor on your clothing or accessories—essentially any area where it will be as exposed to the environment as you are—and go about your day. "Beauty consumers are incredibly savvy, and we've found they are always eager for more knowledge," states Mr. Balooch."This product is intended to provide a deeper understanding of the wearer's individual needs, and can recommend a personalized skin care regimen based on those concerns. My Skin Track UV is part of a shift that is really focused on offering individual, unique experiences for our consumers. This is something that we've seen people come to expect, and we are committed to delivering on that with all the tools we have access to." 
My Skin Track UV is a part of a shift that is really focused on offering individual, unique experiences for our consumers. This is something that we've seen people come to expect, and we are committed to delivering on that with all the tools we have access to. 
Thanks to La Roche-Posay's collaboration with visionary designer, Yves Behar, My Skin Track UV is so small and discreet you'll barely notice it's there. Throughout the day, check in to the companion app to track your exposure to the elements and receive your customized recommendations. It's also totally waterproof and, as was stated previously, battery free—no charge necessary! "My Skin Track UV is a durable wearable that can last for years," says Mr. Balooch "and we hope will become a part of users' skin care routines for years to come." 
Available now exclusively on apple.com and select US Apple Stores
Read more

Back to top