Tiny Acts of TLC: How Meditation Can Super-Charge Your Skin-Care Routine
May 21, 2019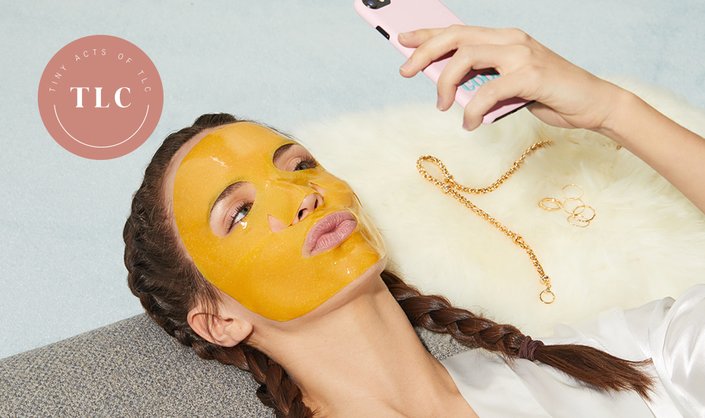 Self-care can look like a lot of different things: Depending on the person, it can mean kicking your feet up, applying a sheet mask and scrolling Instagram, or it can mean going for a run every morning or even sitting quietly for 10 minutes every night to meditate. Here at Skincare.com, we fully embrace all of the above. As we round out May (our self-proclaimed month of self care), we challenge you to continue to take a few minutes for yourself every day for tiny acts of TLC.
If you're looking to try something new, think about incorporating some meditation into your skin-care routine. We chatted with Sarah Romotsky, Director of Healthcare for the meditation app Headspace, about why and how to do it. "Just like a skin-care routine, you can experience the benefits of meditation with consistent practice, but it doesn't need to take a long time," Romotsky tells us. "For example, a study found that only ten days of using Headspace reduced stress by 14%. We are all used to putting in the time to care for our skin, so I encourage everyone to do the same for meditation to improve health and happiness from the inside out."
Ahead, learn more from Romotsky about meditating, how it can reduce stress and common misconceptions she hears about the practice. It goes hand in hand with skin-care more than you might think!
1. Is there a connection between how meditation can affect the skin?
Meditation has been shown to reduce stress, and there is strong evidence to support the connection between stress and skin.
2. In your opinion, why do skin-care and meditation go hand in hand?
Research has shown that the mind body connection is real, and how you are experiencing emotions like stress and anxiety can have a direct impact on physical health.
3. Tell us about the benefits of meditation in general.
Meditation can have a positive impact on both mental and physical health. Research shows that it can improve resilience, focus, happiness, and compassion, while also reducing stress, negative emotions and decreasing aggression.
4. Many people think meditation can only be done while sitting in a quiet room, on a floor cushion with their legs crossed. Is that thinking flawed?
There is a misperception that meditation can only be practiced in one particular way, but in reality, meditation and mindfulness can be fit into any lifestyle. The formal practice of meditation includes sitting with your eyes closed, no cushion or leg crossing required! However, the techniques we are learning and practicing at Headspace are mindfulness techniques that can be incorporated into our life at any time. For example, you can integrate mindfulness into exercise like a walk, or into the practice of eating or during your commute.
5. Can you walk us through a meditation exercise you could do while using a sheet mask?
A skin-care routine like using a sheet mask or waiting for lotion to dry is the perfect time to integrate meditation because you already have a few extra minutes to spare. Headspace has sessions that last from 1 minute to 20 minutes, so you can choose how long you want to practice that day and what fits best with your routine. A good place to start might be in the "personal growth" category in the Headspace library where you'll find meditation packs like "Appreciation," "Acceptance," and "Balance," so you can make your self-care routine complete with both mind and body.
Download the Headspace app or sign up online to start meditating and masking. You can also enter our giveaway for a chance to win a one-year subscription!
Read More:
Where to Find the Best Facial for You in New York City
A Glow-Inducing Facial Massage to Add to Your Skin-Care Routine
Why We Need to Redefine What Self Care Means
Read more

Back to top