The Skin-Care Products Our Female Editors Steal From the Men in Their Lives
June 11, 2019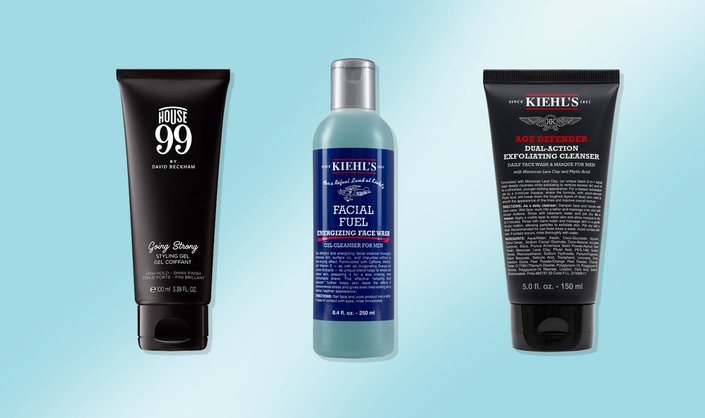 Let's be real: Men's skin-care products aren't just for men. In fact, there are many so-called men's skin-care potions, creams and cleansers that have become holy grails for women, too. Ahead, we rounded up seven of these very products that our female editors steal from the men in their lives.
Dawn, Senior Editorial Director
Kiehl's Facial Fuel Eye De-Puffer
My husband uses basically nothing (a bar of soap on a good day), but I've been bringing fancy men's skin-care products home for him for the last ten-plus years. Of everything I've given him, this Kiehl's de-puffer that I received courtesy of the brand is the one I immediately stole back. It's an eye cream in a stick, which is an unusual format, and it feels instantly cooling, like you're rubbing an ice cube on your face. I made a point not to tell him how amazing it is for fear he might actually use it. It's mine now.  
Lindsey, Content Director
Kiehl's Facial Fuel Energizing Face Wash
For some reason I never remember to pack face wash when I travel, so I'm forever stealing my husband's Kiehl's Facial Fuel Energizing Face Wash. It's not the best choice for my perpetually dry skin to use on the regular, but it works great in a pinch — especially when we're somewhere warm and humid and my face is oilier than normal.
Alanna, Associate Editor
House99 Seriously Groomed Beard & Hair Balm
I love to take a little bit of my boyfriend's beard balm and run it through my hair. I really do find that it tames flyaways and makes my hair feel silky smooth. Lately, he's been using the House 99 Seriously Groomed balm, so in true army pants and flip flops fashion (Mean Girls, anyone?), now I use the House 99 Seriously Groomed balm.  
Marisa, Associate Editor
Kiehl's Age Defender Dual-Action Exfoliating Cleanser
Fun fact: When I was younger, I always used to steal my dad's foaming shaving cream to shave my legs because I found that his version gave me a cleaner, better shave than the floral-scented women's version I was using. This was the beginning of my love of adopting unexpected products into my beauty routine — like that Internet-famous post-shave balm in place of a tacky makeup primer, or this Age Defender Cleanser as a multipurpose must-have. I love how it doubles as a deep-cleaning, exfoliating face mask to draw out excess dirt and oil. I leave it on for just about five minutes once a week at night, and I find that my pores look smaller and my skin looks fresher right after using it.
Tembe, Associate Editor
Native Sensitive Skin Deodorant in Coconut & Vanilla
While most children spent their younger years using Teen Spirit (my cousins did and I was jealous), I was stuck slathering my pits in a very un-sexy natural deodorant, courtesy of my father. It's what he used, and when we visited for summers, it was by default what we used, too. These days, I'm grateful he got me into natural deos because my armpits are both aluminum-averse and baking soda-intolerant. My go-to pick lately is Native Sensitive Skin Deodorant in Coconut & Vanilla, which has a pleasant scent, doesn't pill like some of the other natural options I've tried and keeps me pretty inoffensive (I think) to others most of the day.
Jessica, Assistant Editor
House99 Neat Cut Shaving Cream
I'm not exactly sure if he knows it or not, but I'm constantly stealing my boyfriend's shaving cream in the shower. I find it gives me a way smoother and closer shave than any of the women's shaving creams that I've picked up at the store. The House99 shaving cream has a rich texture that is both hydrating and helps my razor glide. It's also designed for the sensitive skin on your face, so it leaves behind absolutely no irritation when I use it on my legs.
Jillian, Social Editor
The Ordinary's Natural Moisturizing Factors + HA
Lucky for me, my brother and I have the same skin type (very dry and in constant need of hydration), and as he's gotten more into skin-care, he's been showing off his latest picks. A fave of his, and now mine, is The Ordinary's Natural Moisturizing Factors + HA. It's chock-full of good-for-your-skin ingredients, including hyaluronic acid, which work wonders on my skin. My skin is dry year-round, so I make sure to include this in both my AM and PM routines for round-the-clock hydration.
Read More:
The Dos and Don'ts of Men's Skin Care
Read more

Back to top