10 Skin-Care Products Our Editors Are Using Religiously This November
November 01, 2019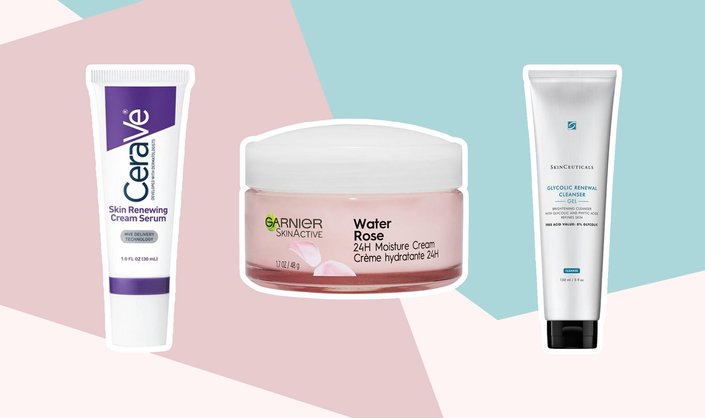 It's a brand new month, which means different products are making their way into our bathroom cabinets and skin-care routines. These are the products Skincare.com's editors can't live without this November.
Alanna, Associate Editor
SkinCeuticals Glycolic Renewal Cleanser
I've always been wary of using acids on my skin every day, but this Glycolic Acid Cleanser really changed the game. It's soothing, lightweight and doesn't irritate my combination skin in the slightest — making it a natural choice every time I'm looking to deep clean my face without worrying about it being too harsh. Not to mention, I love that the fragrance is fresh yet subtle.
Naturally Serious Illumi-Nation Anti-Fatigue Power Serum
Glass skin has always been hard for me to come by due to my combination complexion, where I'm often oily everywhere but my cheeks. It wasn't until I stumbled upon this Illumi-Nation Anti-Fatigue Serum by Naturally Serious that I actually realized it was possible to achieve that glowy look minus the excess shine. The lightweight formula smoothes, hydrates and calms my redness, all while giving me a sufficient amount of dew and glow.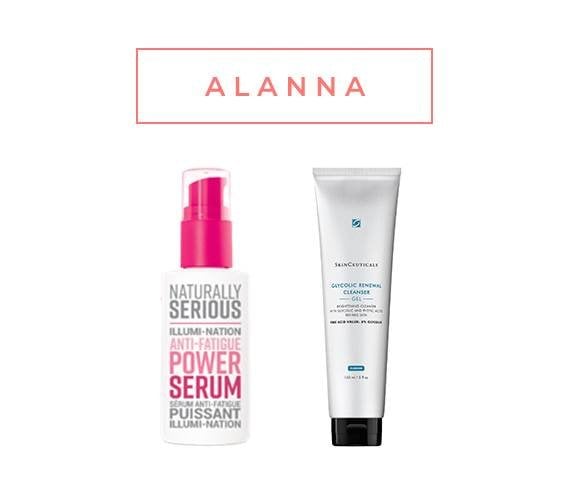 Lindsey, Content Director
Eve Lom Cleansing Oil Capsules
Real talk: I hate washing my face at night. It's annoying, it's messy, it's nothing like those face wash commercials told me it would be — and most of the time, the cleanser I use doesn't even remove all of my makeup, making a double- or sometimes triple-cleanse a necessity. These biodegradable cleansing capsules have completely changed my mind, though. A) They're fun to use. Who doesn't like a pretty-looking capsule? B) They remove every trace of my makeup without the need for a secondary cleanse. And C) They're infused with loads of omega fatty acids and botanical oils, so my skin feels super soft and hydrated after I pat it dry.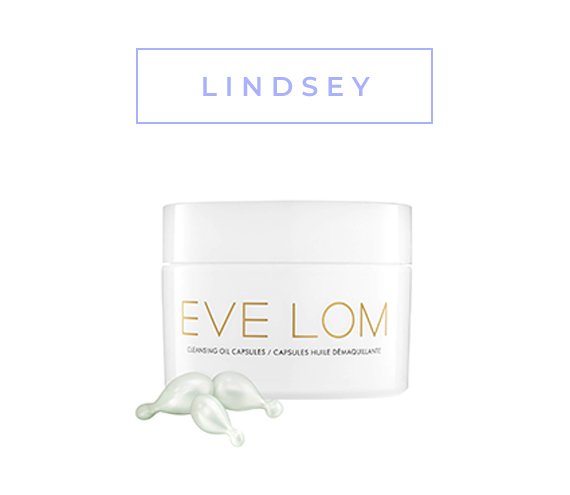 Jessica, Associate Editor
CeraVe Skin Renewing Retinol Serum
I have light acne scarring on my face from a bad skin phase in my early 20s, so I use retinol on a daily basis to help lighten that discoloration. The CeraVe Skin Renewing Retinol Serum addresses that, plus uneven texture and other signs of aging like fine lines and wrinkles, by increasing cellular turnover. I like that it's gentle enough for me to use every night thanks to the blend of hydrating ingredients like ceramides, yet it's still very effective. I'm definitely noticing a boost of radiance in my skin and a fading of scarring — a win-win!  
Fresh Chemistry Glow Getter Serum 
This brand just launched at the end of last month and I'm already obsessed. The Glow Getter Brightening Serum specifically is my favorite. It comes with a base and two add-ins — active vitamin C and active alpha-hydroxy acid — so that you can mix your own potent glow-inducing serum. Because the active add-ins are mixed in by hand when you first go to use the product, it delivers the ingredients at their most potent form. Plus, I get to feel like a skin-care chemist which is fun.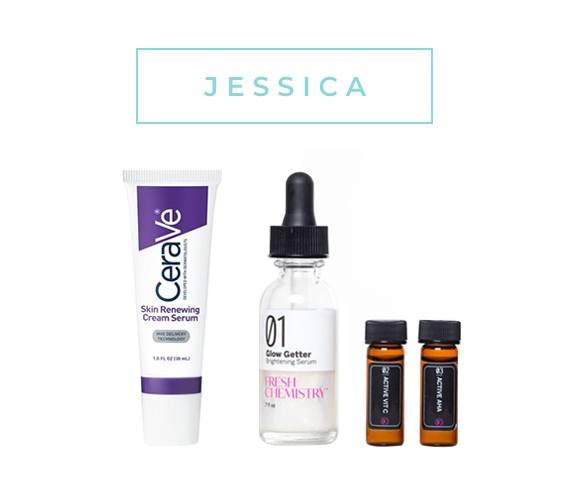 Genesis, Assistant Editor
Plant People Restore Face Mask
Plant People recently added skin-care products to its all-organic, vegan brand and I couldn't be more in love with the new Restore Face Mask. This brightening and nourishing formula is made with different cannabinoids (CBD + CBC) to help fight against free-radical damage and environmental stressors. Apply a thick layer all over your clean face, leave it on for 15 to 20 minutes and unveil skin that is more even in tone and texture, noticeably brighter and rejuvenated. 
While I love fall because it gives me the chance to wear all of my favorite boots, coats and dark lipstick, I don't love how the colder temperatures cause my skin to feel extra dry. Enter the AcneFree Convenience Kit, which perfectly pairs the brand's Adapalene Gel (a.k.a my go-to product to address pimples), a Gentle Face Cleanser and an SPF Face Moisturizer. This blemish-clearing trifecta works to unclog pores and clear acne without drying out your skin, so you can always count on having smooth-looking skin without sacrificing any moisture.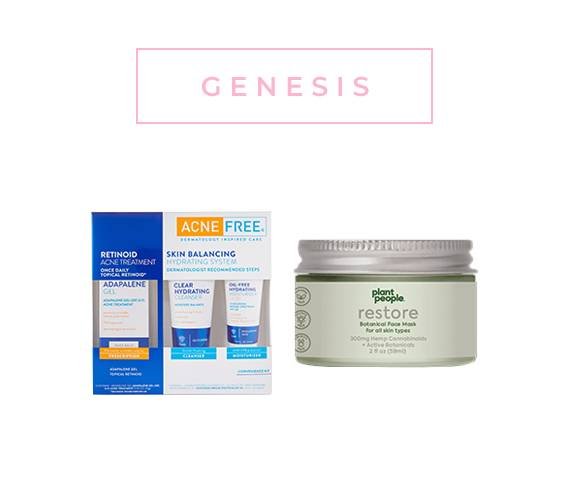 Samantha, Assistant Editor
I'm fully obsessed with Ouai's new body créme — and not just because it makes my bathroom look a thousand times more aesthetically pleasing. It has warm and floral notes that make for an unreal, spa-like smell. A sticky film is my biggest pet peeve when it comes to body lotion, but Ouai Body Créme doesn't leave anything behind. It's fast-absorbing and leaves my legs and arms feeling soft and hydrated without a greasy post-application coating. It's been a smooth skin savior, especially for my perpetually dry hands. 
Garnier SkinActive Water Rose 24HR Moisture Gel 
A good moisturizer is key to healthy, glowing skin. Recently I've found that Garnier SkinActive Water Rose 24HR Moisture Gel gives me unbeatable hydration. It has a lightweight gel-like texture that doesn't clog my pores or feel too thick under makeup. I love storing this product in my skin-care fridge and grabbing it for a morning wake-up call. The cool texture and rose water smell makes my mornings a whole lot easier … especially on Mondays.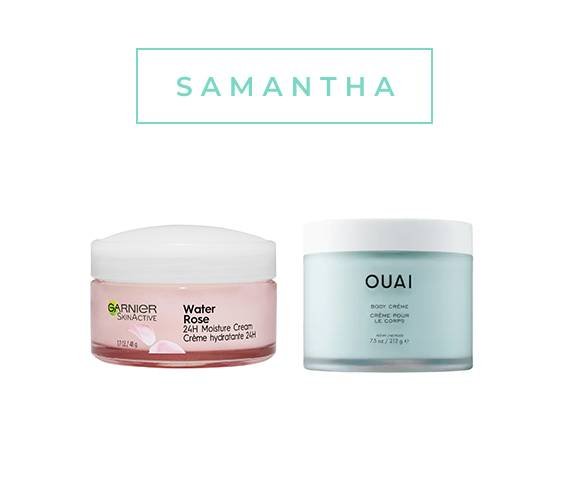 Jillian, Social Media Editor
Bliss Glow & Hydrate Day Serum 
When Bliss dropped this new Glow & Hydrate Serum, I knew I had to try it. It has a powerful mix of hyaluronic acid, niacinamide and vitamin E, which is basically the perfect ingredient cocktail to help give my skin life. I use it in the morning before my face oil and moisturizer. Pro tip: Stick it in the fridge overnight for an even more refreshing feel.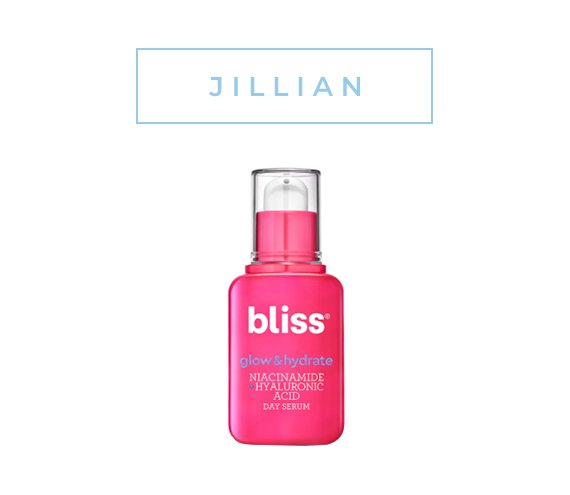 Read More:
Can You Get Rid of Stretch Marks?
The Best Moisturizers for Tattooed Skin
Why You Shouldn't Use Body Scrub on Your Face
Read more

Back to top