The CeraVe Eczema Soothing Body Wash Is an Eczema Life Saver — Here's Why
October 17, 2022
I've had eczema for as long as I can remember. It used to riddle the spot where my forearm meets my upper arm, and I'd lay awake scratching at it every night for months at a time as a kid. As I got older, I turned to my dermatologist for help with these itchy spots (cortisone proved to be no help) and was finally prescribed a cream that cleared it up but did not prevent it from recurring. Once I became more involved in my body-care routine, however, something happened: I began to notice triggers that caused my flare-ups.
Fragrances — particularly those found in coconut-, fruit-scented or otherwise thick, perfumed body washes triggered my eczema to no end. Since coming to this realization, I've been searching for fragrance-free, itch-relieving replacement that doesn't feel too clinical — which you think would be an easy feat, but spoiler alert, is not.
A lot of medicated washes for eczema are plagued by ugly packaging and odd smells. Worse yet, many are completely foam-free. I'm a person who loves the feeling of a good lather in the shower, and the non-foaming body washes that I felt forced into using made me psychologically feel like I was missing out on a deep clean. (I know that's not the case, but it was in my head.)
That all changed when the CeraVe Eczema Soothing Body Wash landed on my desk. The product is intended for dry, itchy skin and works to cleanse and calm with ceramides and omega oils. Better yet, it actually has the National Eczema Association seal of approval, and is formulated to be ultra gentle.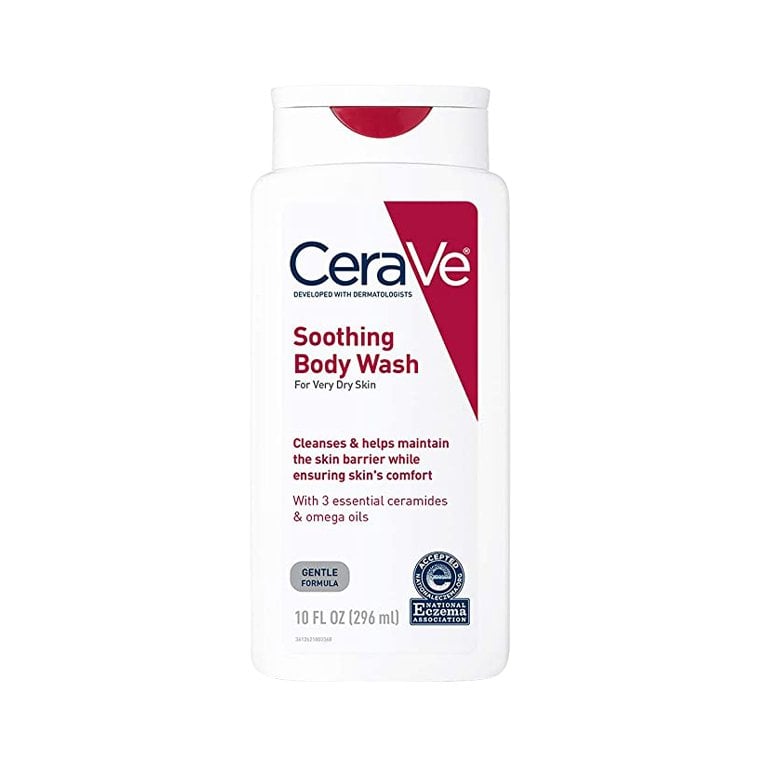 I took it home and used it the night I got it. As I opened and poured out the product, I was completely surprised: the body wash felt thick but not too greasy, and once I began to lather it up, it became a soft, creamy foam. Yes! I focused the product on areas where my eczema tends to flare up — on my arm's joints, around my wrists and inner forearms. It felt soothing, calming and lightweight on my skin. It also didn't feel like some of the washes I've used for eczema prone skin.
There was just about no scent, it wasn't thick or gross like some prescription topical washes I've tried, and it didn't give me a burning sensation when I applied it. I loved that it felt like a normal foamy wash I could finally bask in.
I followed it up with a moisturizer for sensitive skin after I hopped out of the shower, and my skin was left feeling as calm as can be. The worst part to me about having eczema is how hot and rashy your skin feels after you shower, but this time, it felt cool, calm and serene — the way I believe just-cleansed-skin should feel.
I think it's going to become my new go-to when unwanted patches do surface. Even though eczema isn't a completely curable skin condition, this wash makes me feel like I can balance a delectable, lathering wash with my eczema woes.
Design: Hannah Packer
Read more

Back to top