Yes, a CeraVe Moisturizing Cream Dual Pack Exists at Costco (You're Welcome)
January 26, 2022
Love CeraVe? Addicted to Costco? ICYMI, we're happy to inform you of a deal you're not going to miss out on. The CeraVe Moisturizing Cream — a much-loved, no-fuss cream that's great for all skin types — is available in a dual pack at the wholesale retailer. This deal is so good that it found a top spot on the Skincare Addiction wall on Reddit. The dual pack consists of two Moisturizing Creams — one 16 oz. tub with a convenient pump and a 16 oz. refill. One tub of the holy grail cream can run normally for nearly $20, but you can find this pack for $26.99 at Costco making it a savvy purchase.
If you're wondering what's so amazing about this moisturizing cream, one Redditor sums it up nicely by saying, "It's a super-heavy, super-simple cream moisturizer that a lot of people find works for them! I have acne-prone skin, as well as super sensitive and this stuff is gold." Another user writes, "For me, it's an amazing, affordable moisturizer that plays nicely with my acne-prone skin. Not to mention, the tub lasts forever."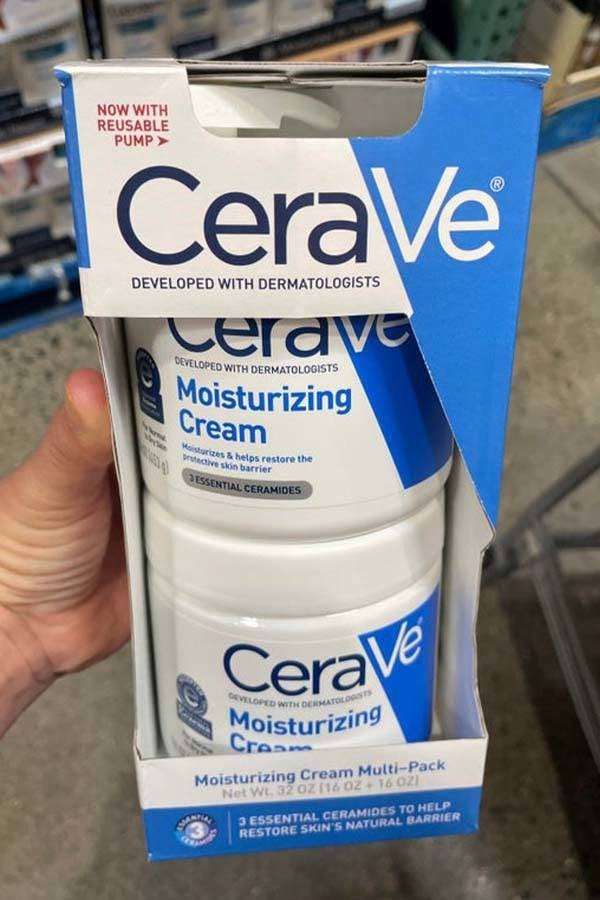 We're particularly obsessed with it because we can use it on both our face and body when our skin is feeling particularly dry. It's unscented, oil-free non-comedogenic formula is the perfect addition to any morning or evening routine — plus its price is hard to compete with (dual pack or not).
CeraVe lovers are stoked about the deal, so much so, that people are searching their local Costco stores and commenting with their own success stories. "Yesssssss!! It's on sale at my Costco! So much cheaper than Shoppers, Rexall, etc. Thank you," explains one very excited shopper. And if you don't feel like hunting the aisles at a location near you, shop it. Your skin will thank you and so will your wallet.
Design: Juliana Campisi
Read More: 
The Best CeraVe Moisturizers for Dry Skin, According to a Dermatologist
Quiz: Find the Best Moisturizer For Your Skin Type
Read more

Back to top