Clarisonic Mia Smart Versus Clarisonic Mia 2: How to Choose the Right One for You
February 20, 2019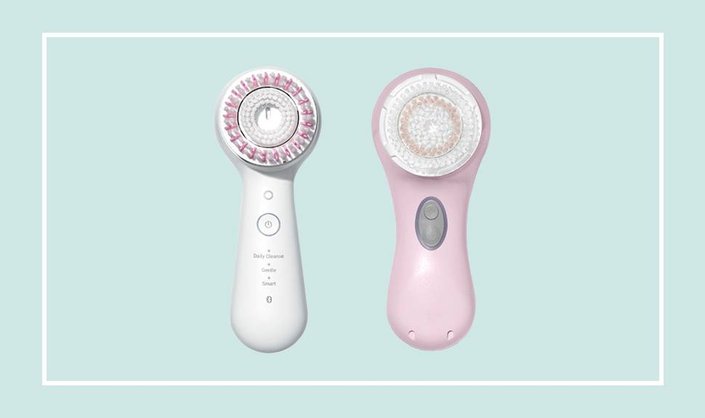 Simply put, the Clarisonic is a gift to this planet. That's dramatic, sure, but if you've ever owned one, you understand how it just becomes a part of who you are (or at least, a very necessary part of your skin-care routine). Those who are new to the world of Clarisonic cleansing brushes should know there are some key differences between the Brand's facial brushes. Take the Clarisonic Mia Smart and the Mia 2, for example. Depending on your skin-care needs, one of them might be more suitable for your skin-care routine than the other.

The biggest difference between these two cleansing tools is that the Mia Smart has Bluetooth capability to connect to the Clarisonic app, and the Mia 2 does not. In the app, you can set skin-care goals, sync your skin-care routine and track your skin-care progress. Plus, you'll even get reminders to cleanse your face, which, let's be honest, we could all use sometimes.
Below, find a guide to the difference between these two popular Clarisonic cleansing brushes.
A Rundown of the Clarisonic Mia Smart:
Considered the "new-and-improved Mia 2," this three-in-one facial cleansing device is designed to simplify your skin-care routine. There are three cleansing modes to choose from: gentle, daily and smart. Each mode is intended to help you personalize your routine. The Mia Smart also has a built-in time strip that will turn red when it's time for you to replace your brush head. The device comes in white, pink and mint.
Price: $199
A Rundown of the Clarisonic Mia 2:
The Clarisonic Mia 2 has two facial speeds: delicate and universal. It's not compatible with Bluetooth, so you can't sync it to the app. There's a one-minute timer feature to guide your cleansing routine and you're able to interchange your brush head with others. Lastly, you can choose from two color options: lavender and pink.
Price: $169
OMG, How Do I Make a Decision?
If you're torn, we recommend going with the Mia Smart, especially if you're keen on creating a personalized skin-care routine. The price difference isn't drastically different ($30) and there are certainly benefits to opting for the new model.
Read more

Back to top