5 Cooling After Shaves to Try
June 12, 2019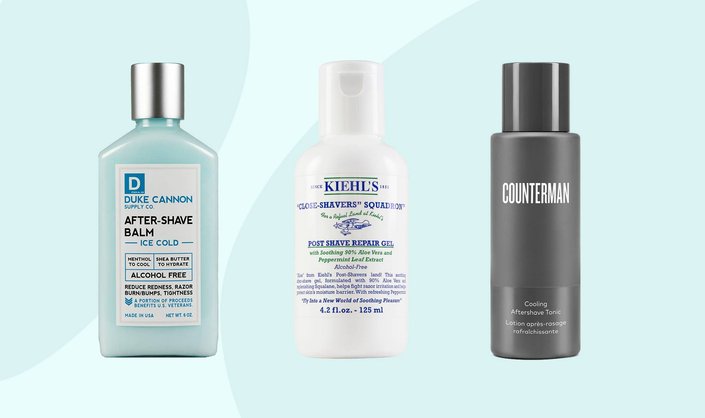 Popular opinion: Sometimes shaving your face really sucks. Razor burn is one of the most frustrating and worst-feeling things ever, right up there with ingrown hairs, redness and dryness. To address these struggles and look forward to shaving more than you ever have before, hear us out as we make our case for cooling after shaves. Not only do they leave you smelling fresh, but they can also calm that post-shave irritation, hydrate skin and cool you down. Ahead, we've rounded up five cooling after shaves we think you'll reach for time and time again.
Meet the minimalist after-shave balm meant to complete your shaving routine. This post-shave moisturizer is an alcohol-free, soothing formula. It's the perfect double-duty (after shave + moisturizer) formula for busy dudes.
Formulated with 90% aloe vera to soothe and squalene to nourish, this post-shave repair gel helps fight irritation caused from your razor and protect your skin's moisture barrier. It also contains peppermint leaf extract for that refreshing, cooling feel.
Beautycounter Counterman Cooling Aftershave Tonic
For a sleek-looking product that you'll actually like looking at  in your medicine cabinet, try this cooling after-shave tonic. It's formulated with witch hazel, menthol, taurine and the brand's signature Sequoia Stem Cell Complex. Oh, and did we mention that the bergamot and vetiver essential oils in it smell like the outdoors in the best possible way? Check out the entire regimen at beautycounter.com, and if you're hesitant to add a certain product to your cart (like this one), take note that you get a free sample of your choice with every purchase.
Formulated for all skin types and with the objective of "extinguishing the fire" that sometimes comes with shaving, this after shave balm has allantoin to soothe skin, aloe vera to heal and vitamins A, C and E to nourish and protect.
Made with menthol, this bright-blue formula has a cooling effect and helps to close pores and soothe the skin. Plus, a portion of profits from this product benefit U.S. Veterans. See? It's cool on multiple levels.
Read More:
5 Aluminum-Free Deodorants to Try
Derm DMs: Do Men Need an Eye Cream?
7 Exfoliating Facial Scrubs for Men
Read more

Back to top