Skin Sleuth: Why This Glycolic Acid Is Gentle Enough to Use on Sensitive Skin
August 30, 2021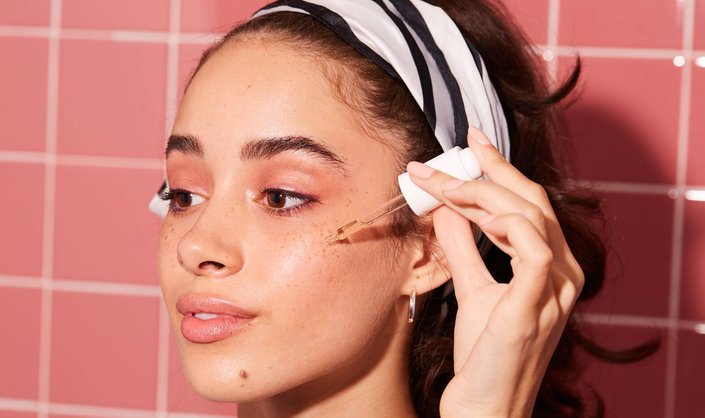 Glycolic acid is lauded for its exfoliating and skin-brightening benefits, especially among those with normal, oily and acne-prone skin. But the alpha-hydroxy acid (AHA)'s powerful ability to peel away dullness and impurities from the skin's surface has also earned it a bad rap in the sensitive skin community. It was this very issue that inspired the team at L'Oréal Paris Skin to come up with a new type of glycolic acid formula that even people with sensitive skin can use regularly: the L'Oréal Paris Derm Intensives 10% Glycolic Acid. Keep reading to find out more about how this game-changing product in a little red bottle differs from other glycolic acids on the market. 
The Benefits of Glycolic Acid
According to studies, glycolic acid works by exfoliating away the dead skin cells that sit on the surface and can make our skin dull. Serving as a resurfacing agent, it also helps smooth out the skin and reduces the appearance of wrinkles. It has also been shown to  minimize the appearance of dark spots and promote a more even complexion.


What Makes the L'Oréal Paris Derm Intensives 10% Glycolic Acid Unique  
According to the brand, the L'Oréal Paris Derm Intensives 10% Glycolic Acid has the highest concentration of glycolic acid that you can use at home that's approved by the FDA and that also contains a pH level that's safe yet effective for the skin. The best news for sensitive skin types, however, is the serum's added hydration benefits. The serum also contains ingredients like aloe vera, glycerin and hyaluronic acid, which help make this particular serum effective, hydrating and optimal for everyday use. If you're still worried about how your skin will react, start by using the product two or three times per week and work your way up. And because glycolic acid does have the potential to make your skin more sensitive to UV light, it's important that you wear sunscreen daily. 
As for results, the brand notes that after about a week, your skin will appear brighter, after two weeks you'll notice dark spots visibly minimized and after four weeks, fine lines and wrinkles will become less noticeable. 
Photo: Chaunte Vaughn
Read More:
Should You Use Fragrance-Free Skin-Care Products?
Read more

Back to top