I Tried the Hanacure Face Mask and It Was An Experience, To Say the Least
February 26, 2019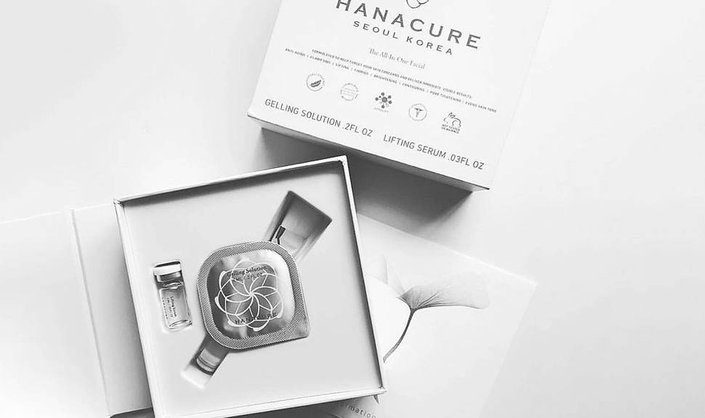 As the beauty and skin-care "experimenter" on our team, I've tried a lot of weird stuff. Such experiences include, but are not limited to: running a half-marathon in a full-face of waterproof makeup and getting an intense face workout involving some slapping and radio frequency. So unsurprisingly, I was excited to test the Hanacure Face Mask, a multi-action mask that "freezes" your face in pursuit of benefits like brightening, evening of skin tone, detoxifying, lifting, firming, clarifying and  more.
So at 10:30 on a Sunday morning, I woke up my boyfriend and told him he needed to help me apply a face mask — you can imagine that he was thrilled to pursue this early morning adventure (all before coffee). Upon first glance at the packaging, we observed that this system is luxe. Housed inside of sleek, white packaging was the Multi-Action Treatment Mask Set containing four lifting serum ampoules, four gelling packs and a brush to paint on the product. It's the ultimate skin-care DIY, but an expensive one at that. The set costs $110 — less than a nice facial and substantially more than your average sheet mask. It gives you a total of four masks, or one per season (if you're Type A and prefer that everything in your life is structured).
How It Went Down
After opening the lifting serum ampule, I peeled back the corner of the gelling solution to the dotted line as indicated. From there, I poured the serum into the gelling solution, closed the solution and then shook the two for about 20 seconds. Unsurprisingly, I managed to spray some across the room due to my own clumsiness —  you really want to make sure the edges are sealed with your fingers.
After the fervent shaking, I used the provided brush to quickly apply the gel formula to my face and neck. I didn't apply the formula too close to my undereyes because I was nervous about the mask's effects, but in hindsight I wish I went a little bit closer. From there, I embarked on 30-minute waiting game in which my face "froze," leaving me incapable of talking without mumbling and looking as if I aged more than ten years. At one point, I put my face in front of a fan, as this is supposed to increase the mask's intensity — aka, that face-freezing feeling. As the air blew on my face, I could feel the mask tightening. It's a weird feeling, but it's also oddly satisfying.
When the 30 minutes were up, I rinsed off the formula with warm water and was surprised to find that my face was bright red. I looked as if I had ran ten miles or had ended up contracting some sort of disturbing rash. My dive into YouTube's Hanacure tutorials didn't give me any warning about this, which led me to believe I'd done something very, very wrong. It was hard for me to focus on the benefits of the mask with such a crazy flush, so my first matter of business was to calm my skin. I slathered on a soothing moisturizer and after about an hour and a half, the redness finally went down. If you have sensitive skin, know that you might experience this for a longer period of time.
The Verdict
For me, the biggest overall differences in my skin were that my pores appeared to be smaller, and overall, my skin looked brighter and more even. I reveled in the results of this mask the following morning, instead of the same day (I was too busy dealing with my redness-induced anxiety). The next day, my skin was finally calm and it looked brighter than it had in so long. My day is generally predicated on how my skin looks when I wake up in the morning and on this day things looked very, very promising.  
When I use the Hanacure mask again, I'm going to make sure I apply every last bit of formula. I left a little behind in the gelling solution package because I had covered my entire face and neck already. I think that might be why my skin didn't "freeze up" as intensely as some other people's on the Internet. As for whether or not I'm going to purchase this again the future, next time I'll probably opt for the single-use one. I got my first set for testing purposes from Hanacure and while it left me with great looking skin, I'm not sure I'm willing to dish out $110 for the same set.

So if you're a curious masker, I highly recommend you give the starter set a go. It contains the essentials for one use to determine whether or not it's right for you. If you love it, you can commit to the big set one day — and if you really love it, you can show off your frozen-face selfies on the 'gram.
Read More:
Editor's Pick: Vichy Clarifying Charcoal Mask Review
We Tried It: Kiehl's Herbal-Infused Micellar Cleansing Water Review
We Review the Very Best Facial Cleansers
Hero Image Courtesy @hancure on Instagram
Read more

Back to top